Common
bike rental & tour faq
We're here to help! If you have questions about our bike rentals in San Francisco, or want to learn some great tips on biking the Bay City, you're at the right place! Continue reading below to get answers for our most frequently asked questions.
Where are you located?
We are located at 2627-A Taylor Street, San Francisco, California 94133. Our exact location and transit help can be viewed on Google Maps.
I reserved a bike online but won't be able to make that date, what do I do?
If your plans change, no problem! Please contact us before the day of your reservation to reschedule or get a refund. Call us at 805-650-7770, and we will be happy to help you. Note: you must contact us before your reserved date.
I made a reservation and it says to go to Taylor Street, but I want to pick up my bike at the Pier 43 ½ location. What should I do?
Reserved bikes may only be picked up at our main Fisherman's Wharf location at 2627 Taylor Street location. We do not offer reservation pick ups at the Pier 43 ½ location.
What do I do if I can't get back to return my bike before store closing?
If you choose to take your bike on the ferry and can't make it back before closing, simply keep your bike overnight in a secure place like your hotel room, and return it tomorrow.
What should I bring with me? What should I wear?
San Francisco is known for its micro-climates, and it can get pretty windy and cold along the waterfront and when going over the Golden Gate Bridge. We recommend wearing comfortable layered clothing, a jacket, and athletic shoes. Our bikes come equipped with a tour bag to hold your personal belongings, as well as a rear rack with a bungee to hold a backpack, jacket, or item(s). Please note: we do not have storage at our stores, so only bring what you can take with you on your bike.
Can I pick up at one Wheel Fun location and drop off at another?
Wheel Fun Rentals does not have one-way rentals. You must drop your bike off at the same location you rented from.
Do you offer any discounts for large groups?
Yes, for groups of 10 or more, please contact our Group Reservation Coordinator at 805-650-7770.
I need to rent a bike for a week. How much is it and what is required?
Our weekly rates start at $99 for our Comfort Hybrid Bike (the one that rents at $32 daily) and $129 for our Deluxe Infinity Shifting Bike (the one that rents at $37 daily). Our high-performance bikes also have special discounted weekly rates. Please give us a call at 805-650-7770 to make your week-long bike reservation.
Do I need a driver's license, ID or credit card to rent a bike?
We require a government-issued photo identification to rent. Bikers under the age of 18 must be accompanied by a parent or guardian. Credit cards are not needed to complete the rental transaction; we gladly will accept cash.
Are helmets required by law? Can I bring my own helmet?
California State Law requires helmets be worn by riders under the age of 18. Helmets are not mandatory for riders over the age of 18, however we highly recommend them and offer them free with ever rental. You are welcome to bring your own helmet if you would like.
How old do I need to be to rent a bike?
Renters must be 18 years or older. Bikers under the age of 18 must be accompanied by a parent or guardian.
Which bike should I choose?
If you are unsure about which bike is best for you, please come to our 2627 Taylor Street location, and our knowledgeable and helpful rental clerks will be happy to help you find the right type and size of bike for you. You'll be able to try out the equipment to make sure everyone is comfortable and safe for their ride before you depart. We have hundreds of bikes, so we are sure to have the right one for you!
If you are making your reservation online, but are unsure which bike(s) to rent, no problem. Select the bike you think is best, and then we are happy to adjust your reservation based on your needs when you arrive at the store.
What's included with every rental?
Your rental comes fully loaded with a bike bell, helmet, bicycle lock, rear rack and bungee for larger items, front bike bag for smaller items such as cameras and phones, detailed map and ferry schedule, and front map holder with an extra zipper pocket.
I'm not an athlete, do you think I can still bike the Golden Gate Bridge?
Yes – this is an easy-to-moderate ride that is mostly flat. The ride is on dedicated bike paths, away from heavy traffic, most of the time. You can customize your ride by utilizing the various gears, ride at your own pace, and make as many stops as you'd like. You can even get off and walk if you ever feel uncomfortable. We have riders of all ages and abilities ride over the Golden Gate Bridge. You do not need to be a pro-athlete at all.
What do I do with the bike once in Sausalito? Is there a place to return there?
There is not a place in Sausalito to return your bike. You must drop your bike off at the same location you rented from.
If you decide to return to Fisherman's Wharf by ferry, you can lock up your bike at the ferry terminal while you explore the town.
I loved my bike so much I want to buy one! What's the closest model and where can I find one?
Loved your ride? Our Deluxe Infinity Priority Hybrid bikes were designed just for our company, and now they are available for you to purchase. It's called the Priority Glide, and if you rented from us, you are eligible for a discount coupon equal to the price of your rental. Go to: http://PRIORITYBICYCLES.COM/WHEELFUN
Which location should I go to if I want to rent an electric bike?
All of our electric bikes rent exclusively from our 2627 Taylor Street location. It's the best ride in San Francisco. Conquer any SF hill without breaking a sweat.
Can my child ride an electric bike?
By California State Law, you must be 16 years old to ride an electric bike.
How long does the battery last on an electric bike?
There are many factors that impact how long your electric bike battery will last on a single charge. Road conditions, terrain, use of gears, the amount of pedaling, rider height and weight, speed, and how long the battery is left on all impact the battery life. Because these factors are out of our control once the bike leaves the shop, we cannot guarantee an exact mileage. We recommend you keep an eye on your battery life indicator while out on your ride. You should be able to ride from Fisherman's Wharf to Sausalito and back without any problem.
Does the battery on an electric bike recharge while I pedal?
We wish! Our pedal-assist electric bikes help to conserve battery life as you and the bike share the effort, but it does not add more charge to the original amount in the battery when you left the store.
Can I attach a trailer, baby seat or tag-a-long to an electric bike?
Electric bikes are very powerful and we do not recommend attaching kids' equipment to electric bikes.
I'm not sure what size bike my child will need, which bike should I reserve?
If your child is capable of riding a two-wheel bike by themselves, then you'll want to rent the "Youth Bike." We have a variety of sizes, so we'll get your child fit to the right size upon your arrival. If your child is still new to riding a bike, we recommend you get the "tag-a-long" to attach to your bike rental.
What do you recommend for riding with small children?
We have many different options for small children, and it all depends on how comfortable you and your children feel. Very young children may prefer a bike trailer or baby seat, which attaches behind an adult bike. The trailer is lower to the ground and can fit up to two small children – many come back fast asleep! For children who like to know what's going on at all times, the baby seat is higher and offers a much better vantage point.
My child can ride a bike just fine, but I'm not sure he'll make it all the way to Sausalito. What do you suggest?
A tandem bicycle is perfect for older children who might not be up for going solo just yet. The stronger rider controls the gears, steering, and braking from the front seat, while the second rider helps to pedal from behind. The "tag-a-long" is a great option for children just getting a feel for their biking legs; it attaches to the back of an adult bike and allows the child to help with pedaling, or free-wheel if they're not quite at that stage.
Can I attach a trailer or baby seat to a tandem bicycle?
Due to the length of the bicycle and the difficulty in turning corners, braking and general control of the equipment, we do not recommend attaching kids' equipment to a tandem bicycle.
Can I attach a trailer, baby seat or tag-a-long to an electric bike?
Electric bikes can be very powerful and we do not recommend attaching kids' equipment to these bikes.
I'm planning a long distance ride from San Francisco to Los Angeles, one-way. How can I get my bike back to you?
You're in luck! We have many locations in Southern California, and are happy to assist you in making a one-way bike reservation for your journey. Please contact us at 805-650-7770 to set up your one-way bike rental to Los Angeles.
Where can I go to pick up a high-performance road bike?
All of our high-performance road bikes are exclusively located at our 2627 Taylor Street location. Our specially trained staff can assist you in your bike fitting and recommend some great routes!
I'm planning an early morning ride on one of your high-performance road bikes, but I see the earliest you open is 8 am. What should I do?
You're welcome to pick up your bike the evening before your ride! Your rental is good for a full 24hrs, so if you return the bike by the same time the next evening, you'll pay the same rate. Just make sure you have somewhere safe inside to keep your bike overnight.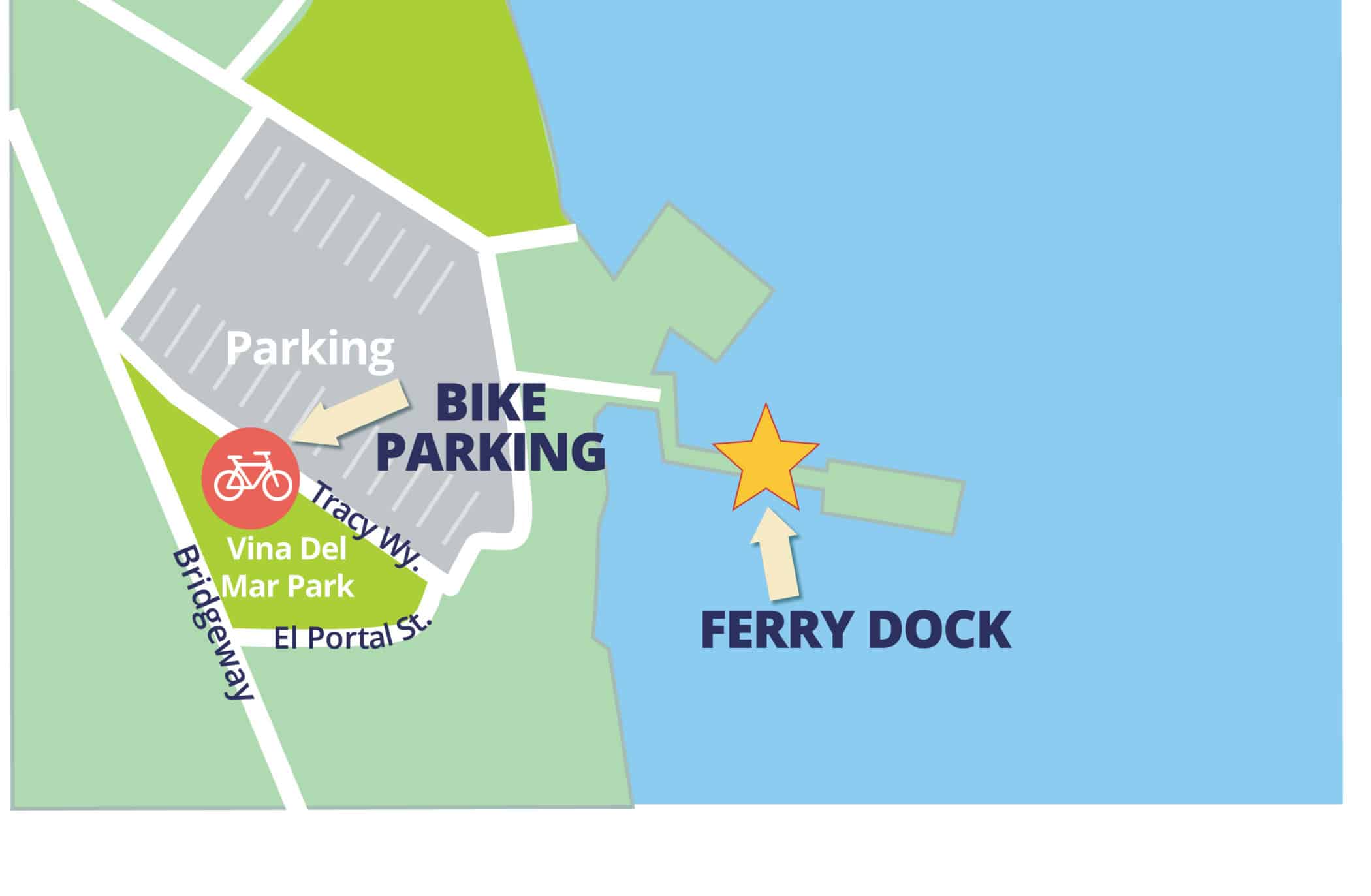 Which ferry should I take?
There are two ferry operators that serve Sausalito. The Blue and Gold Ferry will drop you off at Pier 41 (right by Pier 39) and the Golden Gate Ferry will drop you off at the San Francisco Ferry Building (near Justin Herman Plaza). Please note: If you are riding an electric bike, you can only ferry back on the Blue and Gold Ferry.
Where can I purchase tickets?
Tickets for the Golden Gate ferry (headed to the SF Ferry Building) must be purchased at the vending kiosk prior to boarding.  Tickets for the Blue and Gold Fleet ferry (going to Fisherman's Wharf / Pier 41) should be purchased onboard the ferry itself.
Are ferry tickets included in the tour?
As the ferry is run by a separate company, the tickets are not included in your rental or tour price.
How much does the ferry cost?
One-Way Fares are as follows:
Adult (12-64): $12.50
Senior (65+)/Youth (5-11): $7.50
Children 4 and under: FREE
Can I make a ferry reservation?
During peak times of the year, you can make Bike reservations for the ferry by visiting www.BikeSausalito.com or www.BikeTiburon.com. Please note: You will still need to buy a ferry ticket in addition to your reservation. Reservations cannot be canceled. If you have a reservation and miss your ferry, you should get in the STAND-BY line and you will be boarded on a space available basis.
Do you have any insider tips for the ferry ride?
When you arrive into Sausalito, check into the ferry terminal before you explore the area. This will allow you to purchase your ticket and know what time(s) the ferries are leaving. Then park your bike in the designated ferry terminal bike valet (there is a $3 charge) and explore the area.
Once on the ferry, many bikes look alike, so we recommend you do something that makes your bike unique. It will be easier to identify when it's time to unload. For example, you can put an empty water bottle, sweater, or another object on your rear rack so you know the bike is yours. You could also put something that's not valuable inside your open handlebar bag
Current Ferry Schedule