Back to All Press Release
Wheel Fun Rentals
Illuminated 4-Wheel Surrey Cycles Light Up The Marriott Marquis San Diego Marina
For Immediate Release:
August 3, 2023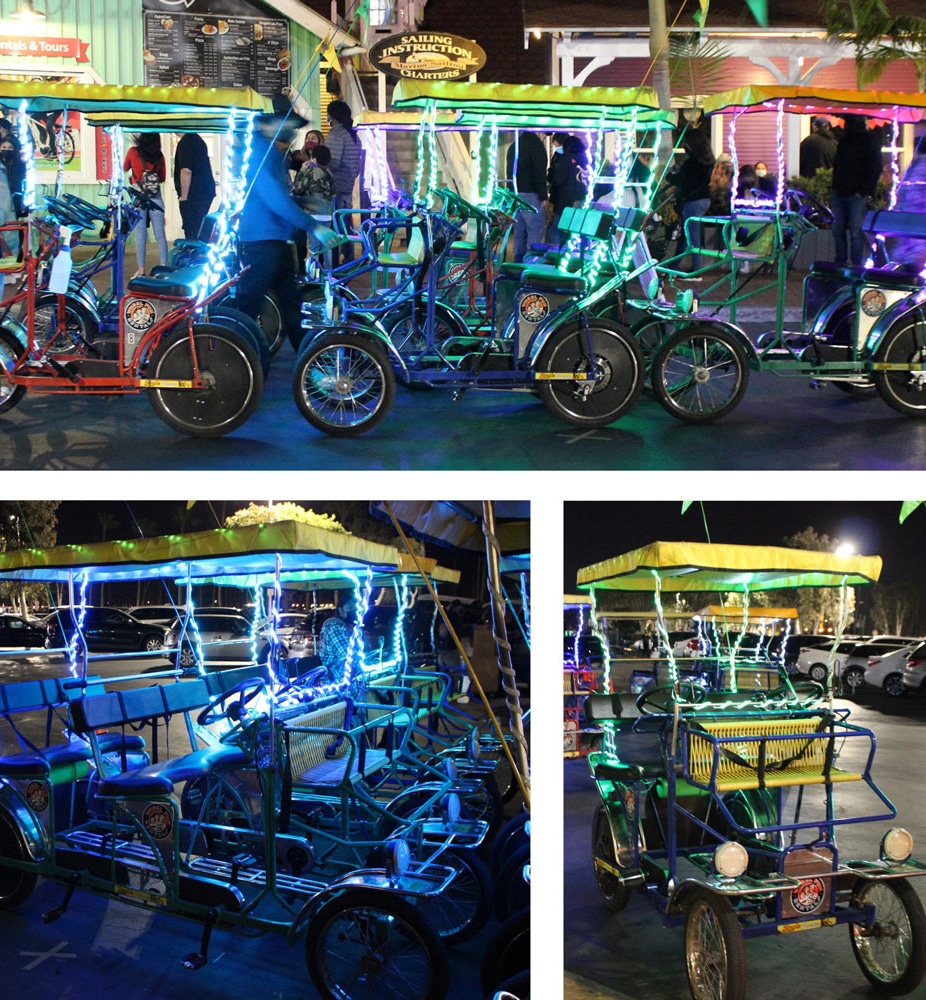 San Diego, CA – As the sun sets, the fun is just getting started! Wheel Fun Rentals is thrilled to announce they are extending their hours and adding LED-illuminated 4-Wheel Surrey Night Rides at their Marriott Marquis San Diego Marina location. Night rides launch on Saturday, August 5th and are available from sunset until 10pm every Saturday and Sunday evening.
Both locals and visitors can now light up San Diego's famous Embarcadero with Wheel Fun Rentals' illuminated 4-wheel Surrey cycles. These iconic bikes have been equipped with vibrant LED lights mounted on the canopy and frame, creating a mesmerizing rolling twilight experience perfect for enjoying the salty night air of the San Diego Marina.
Illuminated Surrey night ride pricing is $30 for a Single Surrey (seats up to 3 adults and 2 small children), and $40 for a Double Surrey (seats up to 6 adults and 2 small children). For more information on LED-Illuminated Surrey Night Rides, visit wheelfunrentals.com/SD-night-rides
"It's hard to believe the Surreys could become even more exhilarating" noted Mike Ullerick, Director of Operations at Wheel Fun Rentals, stating, "We are continually seeking more innovative ways to provide our guests with unforgettable fun in San Diego, and illuminating the bikes truly offers a whole new adventure."
With over 30 years of experience in the recreation industry, Wheel Fun Rentals stands as the leading provider of outdoor recreational activities nationwide. Wheel Fun Rentals at the Marriott Marquis San Diego Marina location is open seven days-a-week and offers an extensive range of bike rentals including their flagship 4-wheel Surrey cycles, sporty recumbent specialty bikes, multi-speed city bikes, electric bikes, cruiser bikes, self-guided bike tours, and more. Wheel Fun Rentals also operates two additional locations in San Diego at the Wyndham San Diego Bayside and on Coronado Island. For current hours of operation, available rentals, and Wheel Fun Rentals location information in San Diego, visit wheelfunrentals.com/SD.
###
Media Contact:  Sheena Walenta  •  (805) 650-7770  •  sheena@wheelfunrentals.com
About Wheel Fun Rentals
Founded in 1987, Wheel Fun Rentals started with four wheel Surrey cycles, evolved into specialty bike rentals and bike tours, and now offers recreational rentals of all kinds from more than 100 outlets in 16 states.  Specializing in unique bikes and tours, Wheel Fun Rentals has been offering clean, healthy family fun and affordable outdoor entertainment to more than 3 million customers annually from city and state parks, resorts, and retail outlets through corporate locations and franchised territories. For more information about Wheel Fun Rentals please visit www.wheelfunrentals.com or call 805-650-7770. Follow Wheel Fun Rentals: @WheelFunRentalsOfficial and @WheelFunBend on Facebook, @WheelFunRentalsOfficial on Instagram, and @WheelFunRentals on Twitter.