We Proudly Support
Big Brothers Big Sisters of America
---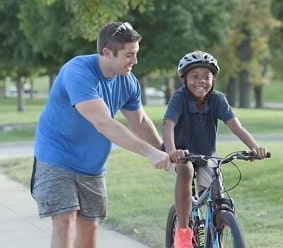 Wheel Fun Rentals supports Big Brothers Big Sisters by offering free rentals to the volunteers and the children they mentor. This program, named "Biking & Boating Buddies," was founded in 2006 and has continued to grow. Since then, we have offered free rental use to tens of thousands of Big Brothers Big Sisters matches across the nation.
What began as an idea to provide a fun outdoor activity for matches to enjoy together, has grown into a nationwide program, supporting Big Brothers Big Sisters chapters across the United States. The chapters we support provide volunteer mentors to more than 16,000 youth. The Biking & Boating Buddies program is in place to ensure that those volunteers always have something fun, fit, and free to do with the children they mentor.
Wheel Fun Rentals Proudly Supports:

---
17
YEARS
LENGTH OF PROGRAM
16,000
VOLUNTEERS
SUPPORTED EACH YEAR
16
CHAPTERS
SUPPORTED NATIONWIDE
$2,311,372
DONATION
EQUIVALENT IN RENTALS TO DATE
Biking & Boating Buddies Program

---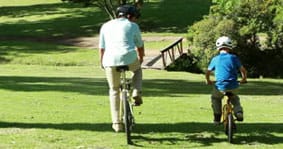 We encourage Big Brothers Big Sisters volunteers to bring their Little Brothers and Sisters to any of our participating locations for a FREE rental to enjoy together. Big Brothers and Sisters can show their BBBS ID or Biking & Boating Buddies card at our participating locations for a free one-hour rental.
The program is valid for one multi-user product (i.e. Surrey, pedal boat, tandem bike) or two single-rider products (i.e. cruiser bikes, single kayaks, etc.) each day.  The best thing about the program is that it is unlimited – volunteer "Bigs" can come back again and again with their "Littles" aka the children they mentor.
Why We Chose Big Brothers Big Sisters

---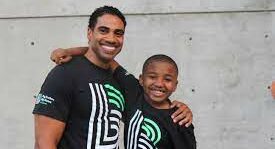 We wanted to provide fun, fit, and free outdoor activities to help children realize their potential and build their futures. Some of these children may never have had the opportunity to ride a bike or go kayaking with a friend. When we heard about Big Brothers Big Sisters and what they stood for, we realized that donating to these kids also meant giving something back to the amazing mentors who volunteer their time. We couldn't think of a better way to give back!
Resources
---
If you're a Big and are looking to take advantage of this program, here are some resources for you.

Biking Buddies In the News 
---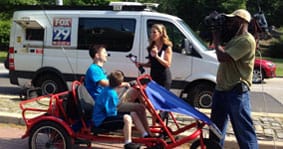 We are proud of the success of this program. Check out Biking & Boating Buddies in the media: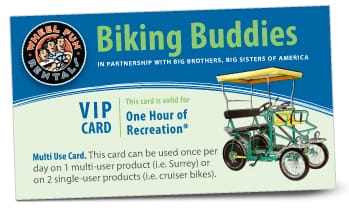 See What Bigs Have to Say About Biking & Boating Buddies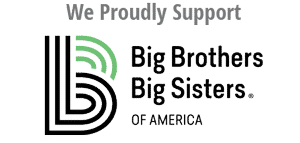 You've read a lot about what we have to say about the Biking & Boating Buddies Program. Now hear what the Big Brothers and Sisters have to say about it.
"I took my little brother to Washington Park in Denver as part of your summer program for Big Brothers last week and want to thank you.  We had a great day and the staff were very helpful.  Thanks again, it is much appreciated!
– Steve Lewis, Big Denver Chapter
"I'm a big sister and I just wanted to thank you for offering these free rentals to us. My little had never done it before and she had such a great time. It's incredibly generous of Wheel Fun Rentals."
-Pattie Braga, Big
"Everyone was so kind and helpful."
– Beverly Perna  Marketing Communications Big Brothers Big Sisters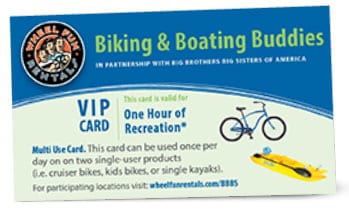 "Thank you for giving us cards to use free rentals. We rode the slingshot and Deuce Coupe. We both loved the Slingshot because it had a sharp turning radius and fast speed. The Deuce Coupe had a little harder turn but it was a blast because we got to ride it together!  Thanks for a fun day!"
– Chaz Ware, Little & Rob Maly, Big
"This is a great gesture on your part and will bring lots of fun to our Littles.  It is these types of activities that mean so much to them and may be something they might not get to try otherwise.  Thank you so much."
– Lonna Radford Big Brothers Big Sisters Advisory Board
"I just want to thank your organization for allowing myself and my "little" Mary from Big Brother Big Sisters to rent bikes on Saturday for free.  We really had a great time.  The weather was perfect and the young man that helped us with the rental was very very friendly. Thank you for extending this very generous donation to BBBS.  It truly was a memorable day in Dana Point.
– Anonymous
"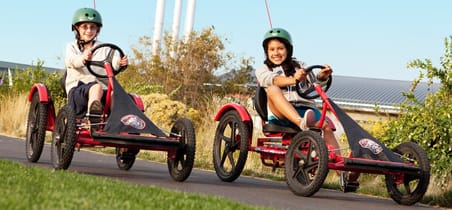 I just wanted to express my gratitude to your company for providing the BBBS free rentals.  I was taking my little sister to the Chinese Festival in Military Park today and we were just thrilled to get a paddle boat ride! The canal is so fantastic and paddling down it on this magnificent day was an amazing experience. Thanks so much for making a memory! My Little is Margaret, and her dad is in prison for armed robbery and the sexual molestation of children. She was born with a cleft palate and had surgery last week for a skin graft on her eardrum. Thanks for helping me give this new 13yr old a great day!!!!"
– Anne Guthrie, Big
Learn  More  About  BBBS


---

Big Brothers Big Sisters is the oldest, largest, and most effective youth mentoring organization in the United States. Big Brothers Big Sisters mentors children, ages six through 18, in communities across the country. For more information, please visit www.bbbs.org.

 BBBS  Volunteer Resource


---

If you are a Big and want to take advantage of the Biking & Boating Buddies Program – Check out the Biking & Boating Buddies Overview and click here to view the locations list to see if this program is offered in your city. Then reach out to your local chapter for a Biking & Boating Buddies card. And enjoy the fun!

Get Involved


---

Big Brothers Big Sisters is always looking for support. There are still thousands of kids nationwide patiently waiting for a mentor.
Click here for more information on how to become a volunteer.>

Monetary donations are also greatly appreciated. Click here to make a donation>

BBBS  Chapter Resource

---

Are you a Chapter Director or staff member interested in taking advantage of this great program?  Visit our locations page to find a participating location near you. Then contact info@wheelfunrentals.com for more information.