Back to All News
Simply Wander
9 Things To Do In Orange County With Kids
Orange County is the perfect spot for a family vacation. Beautiful weather, miles of beaches, fantastic parks, kid-friendly activities and of course, the Happiest Place on Earth. If you're planning a family trip to sunny Orange County, here are 9 fun things to do in Orange County with kids! (And while you're in the area, be sure to check out our Family Friendly Los Angeles guide!)
1. Things to do in Orange County with kids: Take a Ferry to Balboa Island
One of our favorite things to do in Orange County with kids is to visit Balboa Island. Balboa Island is a charming man-made island that was created in the early 1900's. It is possible to access it from a two lane bridge on the north side of the island off the Coast Highway CA-1. However, it is more fun to experience a ride on the historic Balboa Island Ferry. This family owned ferry service has been in operation for the past 100 years and shuttles passengers and up to 3 cars the short 800 feet from Balboa Peninsula to Balboa Island. There is a minimal fee of $1 for adults and $.50 for kids 5-11 years (under 5 free). Cars and bicycles are an additional charge. Your kids will love it, and it is a very inexpensive way to have fun! Once you get to Balboa Island, it is such a quaint and fun place to stroll around.
Top things to do on Balboa Island:
Stroll along the charming Marine Avenue, the town's main street. Browse the shops and grab a bite to eat at one of the cafes.
Try a frozen chocolate-dipped banana or Balboa Bar (chocolate dipped ice-cream bar) from Dad's Donut & Bakery Shop. It has been a favorite Balboa Island sweet treat since the 1940's.
Rent a bike and ride around the island along the two-mile Balboa Boardwalk.
In the summer months be sure to check out the South Bayfront Promenade, where the Balboa Island Artwalk takes place.  It is a lively event with live music, performances and displays by artists showcasing jewelry, paintings, blown glass, and many other hand crafted gifts.
Rent a paddle board, kayak, surfboard and other water sport equipment from Balboa Surf & Style.
Go on whale watching tour with Newport Coastal Adventure. Their inflatable navy and coast guard grade boats are not only some of the safest vessels, but since they are smaller and closer to the water they allow a more intimate whale watching experience.
Take a Celebrity Homes Boat Tour to see the beach front estates of current and former movie stars and learn the inside scoop by your knowledgeable tour guide. Tickets are only $14 for adults and $7 for kids.
While at the ferry terminal on Balboa Peninsula, be sure to visit Balboa Village. Ride the Ferris Wheel and play the arcades at Balboa Fun Zone. Also grab some ice cream to eat on the deck of the historic Balboa Pavilion, Newport Beach's most famous landmark.
2. Things to do in Orange County with kids: Bike the Newport Beach Bike Path
Newport Beach is located on Balboa Peninsula and is one of our favorite beaches in Orange County. We love to rent bikes or a family surrey and ride along the paved bike path. Although I'm not going to lie, that surrey is a killer quad workout! The path runs right along the beach with the ocean on one side and charming beach cottages along the other. You can even ride the 3 miles to Huntington Beach. While you're at Newport, walk out on the pier and watch the fishermen bringing in their catch. Also, be sure to stay for sunset, there is something special about watching the sun set over the ocean and Newport Beach is the perfect spot to do this!
3. Things to do in Orange County with kids: Explore Heritage Park Play Island
Although Heritage Park Play Island is located just outside Orange County in Cerritos, it is such a fun and unique park and definitely worth a visit! The park sits on a man-made island surrounded by a moat. It is made up of a cluster of colonial style buildings with playgrounds hidden in each one, like a tunnel slide from the top of the church! There is even a pirate ship and covered bridge leading to the restrooms. It is one of those places where your kids can spend hours exploring every nook and cranny while letting their imaginations and energy run wild.  It is also a great way to inspire questions about history while having fun! A few things to note:
Address to the park: 18600 Bloomfield Avenue, Cerritos
There is no food allowed on the play island
Hours are Monday/Wednesday/Thursday/Friday: 10 a.m. to dusk; Tuesday: 2 p.m. to dusk; Saturday/Sunday: 10 a.m. to dusk
There is an additional playground off the island
There are plenty of turtles and ducks swimming in the water, just don't feed the ducks.
4. Things to do in Orange County with kids: Get Lost in Imagination at Pretend City
I can't say enough good things about the Pretend City Children's Museum located in Irvine. When visiting California we usually like to try new places, but this is one of those places that is worth a repeat visit. It is definitely one of the best things to do in Orange County with kids. It is designed like a miniature city with 17 different interactive play areas. Kids can pretend to be a construction worker, firefighter, grocery clerk, artist, bank teller, mailman, farmer, chef, dentist, doctor and so much more! The kids will interact with the amazing staff as they help foster creativity, critical thinking, problem solving, organization, teamwork, self-confidence and socialization skills. I only wish we had one close to where we live, it's such a fantastic museum! A few things to note:
Admission is $12.50 for kids and adults, children under 12 months old are free
Hours are Sunday 11-5; Monday 10-1; Tuesday-Saturday 10-5.
Address: 29 Hubble, Irvine, CA 92618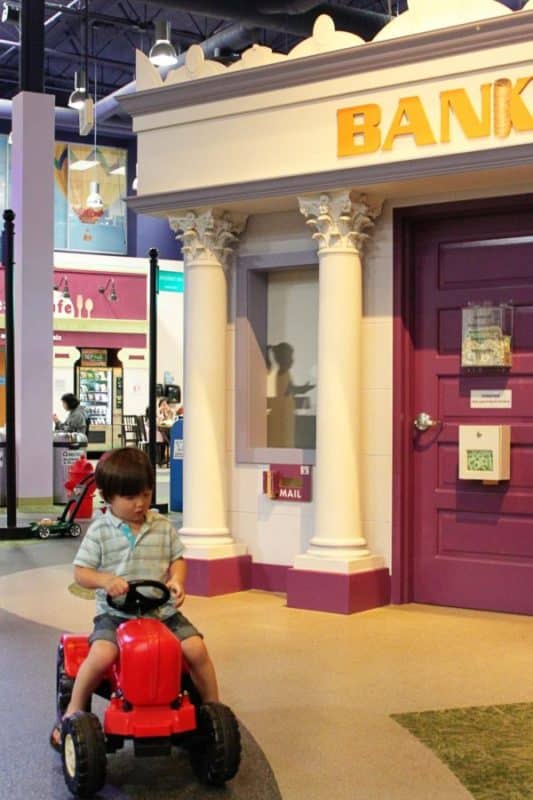 5. Things to do in Orange County with kids: Ride the Ferris Wheel At the Irvine Spectrum Center
The Irvine Spectrum Center is a fun outdoor mall that is a great place to stroll around on a warm evening. Even if shopping at a mall with kids isn't your idea of fun, there are several great attractions that makes this place a great spot for kids!
Best things to do at the Irvine Spectrum Center with kids:
Take a ride on the Giant Wheel. Covered in an astounding 52,000 colored LED lights, your kids will be mesmerized, especially when you take in the views of Orange County from the top. Tickets are very reasonably priced at $5. Children under 36" must be accompanied by an adult. You must be at least 63" tall to ride alone.
Ride the carousel featuring antique-designed horses and other animals. Cost is $3 for a single ride, $15 for 6.
Play on the Lucky Climber. This three-dimensional climbing structure featuring 75 platforms was designed by a kid architect! It is free to play on and is located near Target.
Enjoy live entertainment in the courtyards on the weekends.
Watch a movie at 21 IMAX & RPX. They offer traditional stadium seating or IMAX movies on an 8 story screen. Enjoy one of the eight newly upgraded auditoriums with plush recliners, reserved seating, and an enhanced menu.
6. Things to do in Orange County with kids: Take a Ride in a Helium Balloon at Orange County Great Park
We scored when we came across this little gem at Orange County Great Park. It may not be the most creative name for a park, but with so much to do, "Great Park" really does describe it!  This 1,300 acre park is located in Irvine on a section of a former Marine Corps Air Station, and offers plenty of family fun.
Top things to do at the Orange County Great Park:
The Great Park Balloon is the top attraction at the park. It is one of the largest tethered helium (not hot air) balloons and is the first one to be introduced in the United States. It can hold up to 30 passengers as it soars 400 feet in the air offering unobstructed views over Orange County. On a clear day you can see up to 40 miles away! In the Fall they even decorate it to look like a jack-o-lantern. Tickets are $10 for adults 19 years and older, and free for children 18 years and younger with a paid adult. Children are $5 without a paid adult. Hours:

Thursday–Friday:10 a.m.–3 p.m.; 7 p.m.–10 p.m.
Saturday–Sunday: 9 a.m.–3 p.m.; 7 p.m.–10 p.m.
Monday–Wednesday:Closed

Riding the vintage inspired carousel is classic fun for all ages! Cost is $3 for an unlimited all day pass, or $2 for a single ride. Hours:

Thursday–Friday:10 a.m.–10 p.m.
Saturday–Sunday: 9 a.m.–10 p.m.
Monday–Wednesday: Closed

Pick up some fresh locally grown fruits and vegetables at the Farmers Market. It is held every Sunday from 10 a.m. to 2 p.m and also features handcrafted artisan products and food trucks.
The Great Park Sports Complex features 25 tennis courts and Championship Soccer Stadium as well as facilities for volleyball and basketball. Check Here for walk-on field use and reservation information.
There is also a playground and some reflecting ponds with a viewing pier.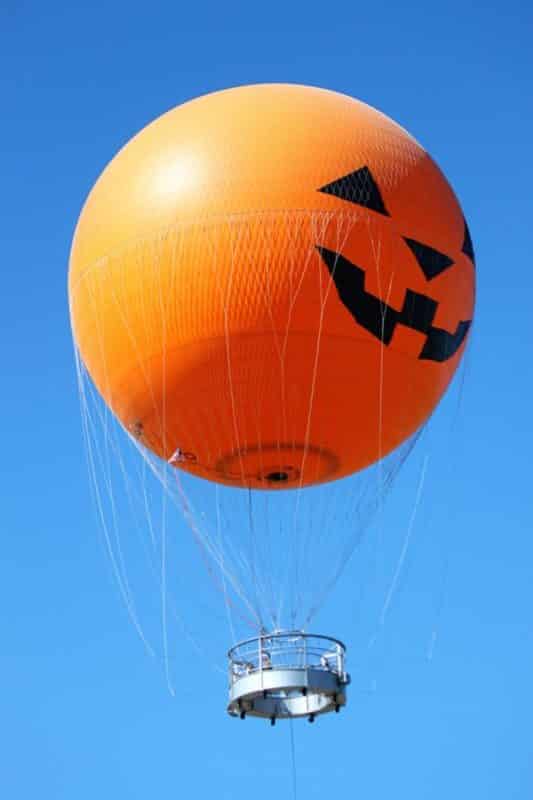 7. Things to do in Orange County with kids: Ride the Train at Irvine Park
We lucked out and visited the Irvine Park Railroad in the Fall. They have a pumpkin patch and all sorts of Fall activities. The park is located within Irvine Regional Park where there is a $3 entrance fee per vehicle on weekdays and $5 on weekends. Entrance to the Railroad Park and pumpkin patch are free, however, you can purchase tickets for various activities such as the train ride, hay ride, moon bouncer, John Deere Racers and more. Tickets are $5 each $60 for 15. They do offer free activities such as the haunted house, hay maze and pumpkin patch. Even if you don't visit in the fall, there are plenty of other things to do at Irvine Regional Park.
Things to do at Irvine Regional Park: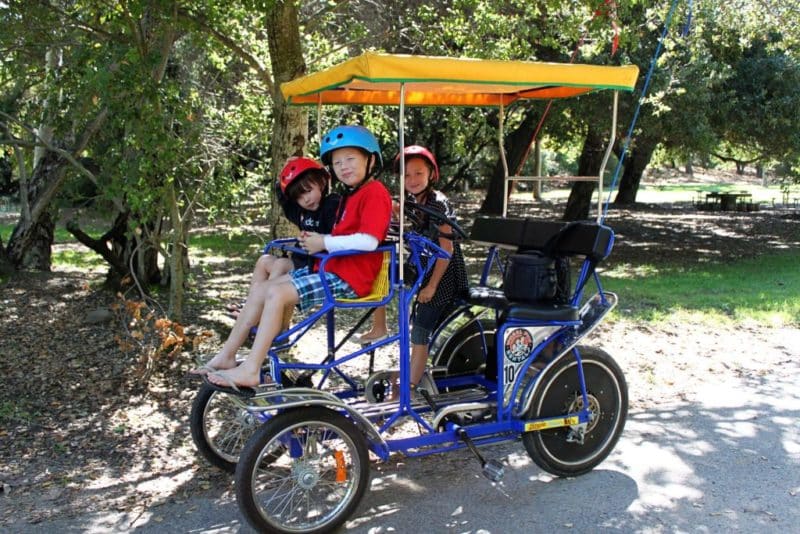 8. Things to do in Orange County with kids: Visit Crystal Cove State Park
Crystal Cove State Park is made up of 3.5 miles of beach between Newport and Laguna. There are several different beaches that you can access along the coast. We like Treasure Cove near Pelican Point. In order to access it, you need to follow a fairly steep hiking trail from the day-use parking lot inside the Pelican Point entrance. However, the added effort means that this beach is usually less crowded than other beaches in the area.
Another popular beach is Los Trancos Beach located in the Crystal Cove Historic District. Parking is found in the day-use parking lot across Pacific Coast Highway. It requires a long walk down to the beach, but there is a drop off area so that the whole family doesn't have to make the long haul with all the gear. The big draw to this beach is the charming historic cottages. These seaside cottages were built between 1920-1940. They have been restored to preserve the charm of the original structures and allows visitors to experience what life was like at Crystal Cove in the mid 1900's. There are 46 cottages in total, and you can even spend the night at one of the 14 individual cottages or 10 dorm-style cottages. Reservations get booked 7 months in advance, check the Crystal Cove Beach Cottage website for booking information. The cottage rentals open up at the 1st of the month at 8:00 am EST, and they go fast. You can reserve them here. Every third Sunday of the month the Historic District offers a Founder's Tour. Cost is only $5 per person and you'll learn stories of the Cove's colorful past, including the cottages. You can grab a bite to eat at Beachcomber Cafe, or you can walk up to the top of the steps to Ruby's Shake Shack. The beach itself is good for body boarding and has great tide pools to explore.
9. Things to do in Orange County with kids: Spend a day at Disneyland with these Tips and Tricks
Disneyland is the obvious draw to Orange County with kids, so we can't NOT mention it. We have visited quite a few times with our kids and have gathered our favorite tips and Tricks for visiting Disneyland with kids. Visit our Tips and Tricks for Visiting Disneyland guide to find out our top 13 tips to help make your trip to Disney a dream come true!