Back to All News
OC Mom Blog
Irvine Park Railroad's 12th Annual Pumpkin Patch
Irvine Park Railroad's 12th annual Pumpkin Patch is fun for the entire family. Children and adults are invited to the Pumpkin Patch which is open daily at 10:00 am, beginning September 16th through October 31st. Irvine Park Railroad is located inside of Irvine Regional Park in the foothills of Orange, California.
The Pumpkin Patch is located in Locomotive Loop and Miner's Meadow just behind the train station. Thousands of pumpkins, in all shapes and sizes, fill the areas behind the train station. All visitors are sure to find the perfect pumpkin.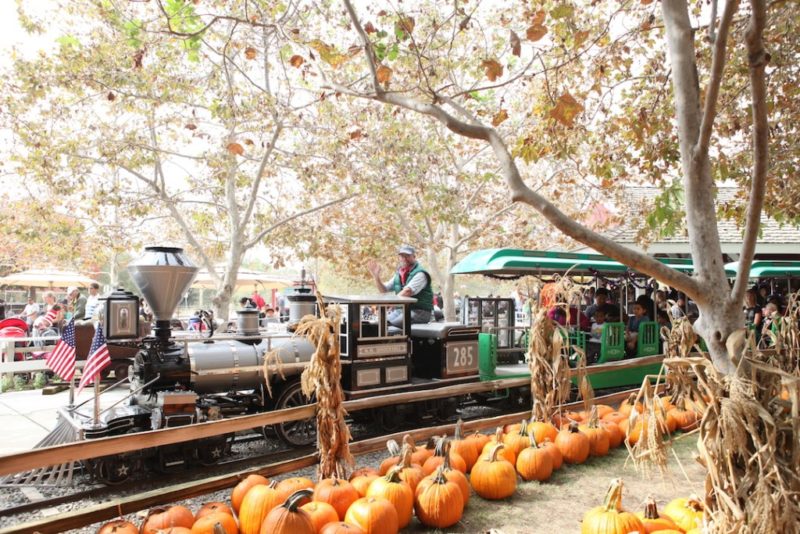 Pumpkin Patch activities include: Train rides, hay rides, panning for gold, a child-friendly haunted house, a hay maze, a moon bounce, pumpkin ring toss, carnival games, cookie decorating, John Deere tractor racers, face painting, picture stands, great food, and a lot more.
Irvine Park Railroad's 2nd annual "Great Pumpkin Weigh-Off" will take place on Saturday, September 23rd starting at 11:00 am. Come see if pumpkin growers have what it takes to grow the biggest pumpkin. Cash prizes will be awarded. KTLA Channel 5 weatherman Henry DiCarlo will host this event and a live band will play on this day only from 10:00 am to 2:00 pm.
Admission into the Pumpkin Patch is free. Prices for all other activities vary; please visit www.IrvineParkRailroad.com for additional information and costs.
The Irvine Park Railroad Pumpkin Patch is open daily from
September 16th through October 31st
Weekdays 10:00 am – 5:00 pm
Weekends 10:00 am – 6:00 pm
The parking fee for Irvine Regional Park is $3.00 per vehicle on weekdays and $5.00 per vehicle on weekends.
Important parking information: As Halloween nears, we encourage visitors to plan to arrive early to help avoid crowds, particularly on the weekend.
Visit Irvine Regional Park's other activities including Wheel Fun Rentals® at Irvine Park — fun and unique bike rentals that can be enjoyed by single riders or an entire family — paddle boat rentals, the Orange County Zoo and pony rides. Bike and paddle boat rentals are open daily at 10:00 am. Visit www.IrvineParkRailroad.com for full details including hours of operation and costs.