Back to All News
VC Reporter
Wheel Fun Rentals Featured on The VC Reporter Summer Guide 2022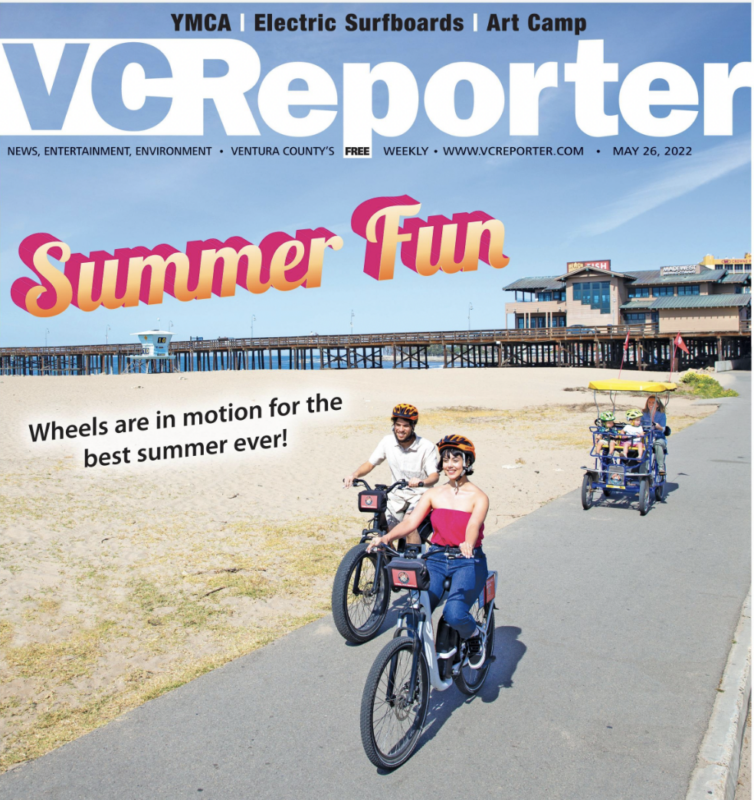 Wheel Fun Rentals Ventura Pier has been featured on the cover of the 2022 Summer Guide of the Ventura County Reporter!  Wheel Fun's newest offering, Electric Bikes, is featured along with their flagship 4-wheel Surrey, the ultimate in family Summer Fun!
Wheel Fun Rentals fleet of electric bikes feature a robust battery life that provides enough power to easily ride over 20 miles.  They are the perfect cycle choice for riding Ventura's incredible bike trails to Ojai or Carpentaria on the self-guided e-bike tour provided free with every half-day and full-day electric bike rental. Lightweight, comfortable, and easy to ride, these class 1 electric bikes offer varying levels of power so riders can choose to let the e-bike do most of the work and just enjoy the amazing Ventura County coastal views.
Electric Bike rentals are $20 for an hour, $49 for a half-day (up to 4 hours) and $75 for a full-day rental (up to 8 hours) and online reservations are available at Wheel Fun Rentals' Ventura Pier location. Electric bike riders must be a minimum of 16 years of age or older, and one member from each party must be 18 years of age or older to sign the rental waiver.
✦Reserve a Ventura E-Bike Rental Online & Save 15%!✦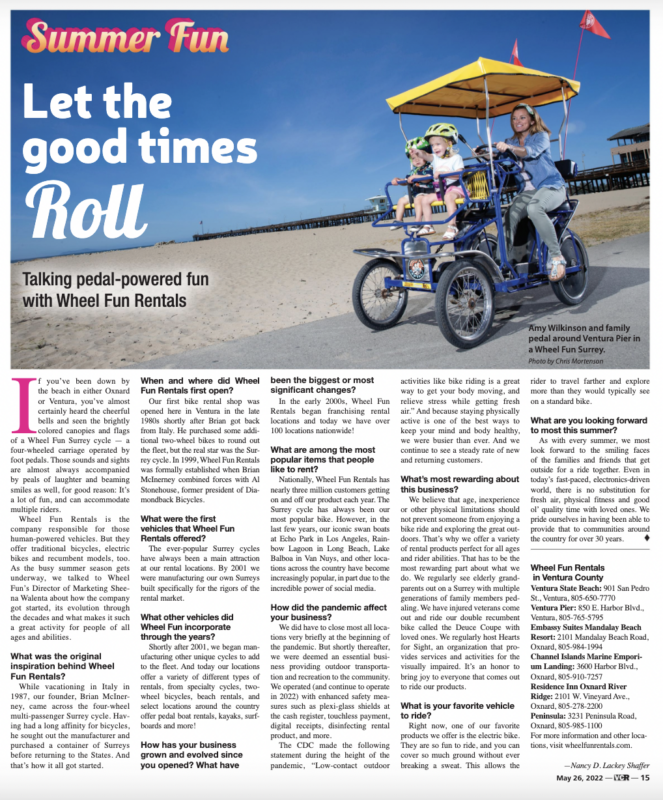 Along with the cover feature, the Reporter published an article which includes an interview with Wheel Fun Rentals; National Director of Marketing, Sheena Walenta, covering how Wheel Fun Rentals was founding right here in Ventura over 30 years ago in the late 1980s and how it has evolved while still maintaining a draw with the classic wonder of outdoor family fun! Wheel Fun Rentals is proud to have been able to  provide fun and safe outdoor recreation activities nationwide throughout the pandemic and is excited to do so into the future.
See the Cover and Read the Full Guide on VCReporter.com >>