Back to All News
Aging Well Denver
Summer Date Nights That Won't Break The Bank
The idea of "date night" can come with a lot of pressure. Have you gotten stuck in a rut of going to a chain restaurant and then heading home? If that's what you enjoy then go for it! But for some, that just means the same meals, same conversations, and $100 plus dollars out the window. So let's change it up! Summer in Denver is packed with events that will break up your date night monotony.
Here are our 8 favorite date night ideas to help you spice it up!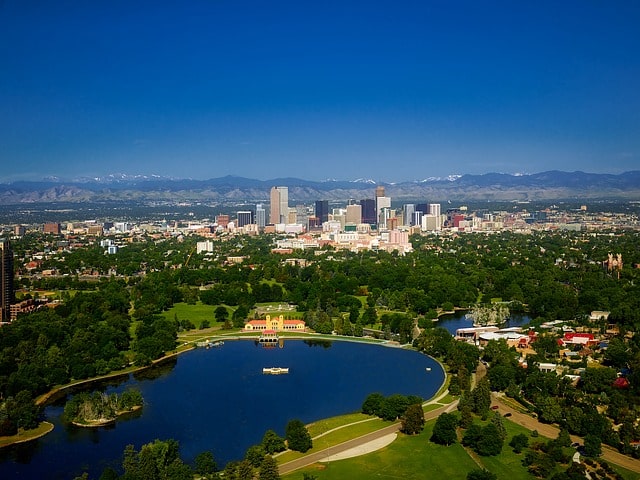 What a fun way to switch up the usual movie date! Join hundreds of other Red Rocks lovers for a classic movie in America's favorite amphitheater. It's such a luxury to live so close to something so amazing – so enjoy it for more than just concerts. Film on The Rocks tickets start at $15 dollars and you can bring a picnic! Pack of some of your favorite snacks and a cozy blanket for a memorable night under the stars. Remember the weather can be tricky here in Colorado during the summer so be sure to check the forecast! Check out the schedule here.
Bonus: If you have a little extra time, sneak in a quick hike beforehand. If you get there early you'll get a great parking spot and a little exercise!
Do you love camping but never have time for it anymore? We get it – weekend trips require so much planning! But what about just an evening? Here in Denver, we are close to so many lakes, state parks, and beautiful open spaces. Load up a hammock or a couple of lawn chairs and find a place to park for a few hours. Pack a fun dinner, bring along a bottle of wine, and some board games and relax with your sweetie out in nature. You'll both leave feeling recharged and reconnected.
Take the light rail to a Rockies game
You can find Rockies tickets starting at $12.00 per seat for a weeknight game. Grab dinner and drinks (or start at home with a barbecue) and then hop on the light rail to start your trek downtown. The train ride will provide you with some good time to chat and people watch, not to mention you won't have to deal with parking. Then settle in for some summer ball and enjoy the atmosphere! Even if they lose, the energy in the stands is fun and it beats sitting on the couch!
Catch a free concert in the park
Levitt Pavilion Denver has 50 free concerts this summer season, giving you the perfect opportunity to check out some new music, grab dinner at the food trucks and get out in the fresh air! Can't find a babysitter? Outdoor concerts are notoriously kid friendly. Take the little ones and let them run around while you enjoy the show from a picnic blanket. Here is a roundup of all the venues around Denver hosting free concerts this summer.
Who says your date has to be at night? Go grab breakfast together and then head to a local farmers market. There are always new local products to try out and fun people to talk to. You may even get inspired to make a fun new dinner that you've never tried before!
It may seem counter-intuitive to leave your house and pay to cook dinner for yourselves somewhere else, but trust us! It's fun! Learn new techniques, try new foods and relax knowing that all you have to do is follow the directions and you'll be walking out of there after eating an amazing gourmet meal! Here is a list of the places that offer classes nearby.
Bonus: Make it a double date! If you have kids, share a sitter with your besties and hit a wine bar afterward for a nightcap.
Head to Wash Park and cruise around the lake for an hour or two. Rent kayaks, stand up paddle boards and even beach cruiser bikes if the water's not your thing. Wheel Fun Rentals offers reasonable hourly rates, a snack bar and even self-guided bike tours of your favorite Denver spots. Afterward hit an ice cream shop to end the night on a sweet note.
We know that you can't always spring for a babysitter, especially not if you're trying to make date night a weekly event. Put everyone in their pajamas, pack some popcorn and hot cocoa and load up in the car when it's close to dark. Drive just far enough out of town to see to where the light pollution isn't as bad. Lay a blanket down on the hood of the car or in the back of the truck and watch the stars. Tell stories, make up your own constellations and enjoy the quiet time.