Back to All Press Release
Illuminated 4-Wheel Surrey Cycles Return For New Orleans City Park's Celebration in the Oaks 2023 Bike Nights
For Immediate Release:
November 9, 2023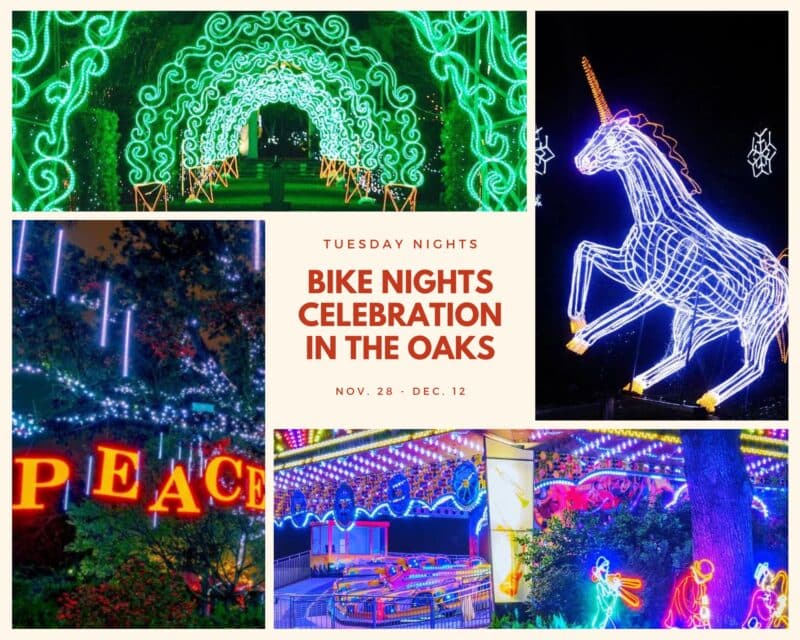 New Orleans, LA – Wheel Fun Rentals is excited to offer LED illuminated Surrey cycles along with their two-wheel bike rentals for the 2023 Celebration in the Oaks Bike Nights at their location in the heart of New Orleans City Park on Big Lake. Celebration in the Oaks is City Park's largest fundraiser running from Thanksgiving through December 30th and boasts more than 1 million lights to create a winter wonderland in the Big Easy. Exclusive Bike Nights will be offered on Tuesdays November 28th, December 5th, and December 12th and event tickets are required.
Available bike rentals include cruiser bikes, tandems, kids bikes and Wheel Fun Rentals' flagship 4-wheel LED Illuminated Surrey cycles. Colorful LED lights are mounted onto the Surrey canopy and frame creating an electrifying twilight experience perfect for exploring the light displays in New Orleans City Park after dark. For more information on available rentals and pricing, visit wheelfunrentals.com/CITO-Bike-Nights. Event tickets are also required for each bike rider, and they can be purchased directly from https://celebrationintheoaks.com/.
"It's hard to believe Celebration in Oaks could get even more exciting," said John Fryhling, owner and operator of Wheel Fun Rentals, on the decision to include the illuminated Surrey rentals for the event. "We're always looking for fun new ways for guests to enjoy the Park and our products; and, lighting up the bikes really makes for an entirely new adventure."
Reservations for all bike rentals are available and strongly recommended for the Celebration in the Oaks Bike Nights. To reserve a bike rental for the event, guests can email Wheel Fun Rentals at wheelfunrentalsnola@msn.com or call (504) 300-1289. Walk-up bike rentals will be available ONLY if bikes are still available and will be first-come, first-served.
Wheel Fun Rentals has been in the recreation business for over 30 years and is the nation's leader in outdoor recreation activities and operates an additional location in New Orleans City Park across from Carousel Gardens Amusement Park. Wheel Fun Rentals offers a large selection of bike and watercraft rentals including their iconic night-time LED illuminated Surreys and Swan Boats, available 7 days-a-week at their Big Lake location starting at sunset daily. Available rentals vary by location. For current hours of operation and more information about Wheel Fun Rentals in New Orleans City Park, visit wheelfunrentals.com/NOLA.
###
Media Contact:  John Fryhling  •  (504) 300-1289 •  wheelfunrentalsnola@msn.com
About Wheel Fun Rentals
Founded in 1987, Wheel Fun Rentals started with four wheel Surrey cycles, evolved into specialty bike rentals and bike tours, and now offers recreational rentals of all kinds from more than 100 outlets in 16 states.  Specializing in unique bikes and tours, Wheel Fun Rentals has been offering clean, healthy family fun and affordable outdoor entertainment to nearly 3 million customers annually from city and state parks, resorts, and retail outlets through corporate locations and franchised territories. For more information about Wheel Fun Rentals please visit www.wheelfunrentals.com or call 805-650-7770. Follow Wheel Fun Rentals: @WheelFunRentalsOfficial and @WheelFunBend on Facebook, @WheelFunRentalsOfficial on Instagram, and @WheelFunRentals on Twitter.
About City Park Conservancy:
City Park Conservancy is the 501(c)3 that operates the day-to-day care of City Park, in partnership with the City Park Improvement Association, and oversees programming, fundraising, and membership management of the 1,300-acre Park. For over 170 years, City Park has provided access to abundant natural and cultural resources to residents of the region and visitors from around the world. The Park's 1,300 acres make it one of the largest urban parks in the United States. City Park is a popular place to fish on the bayou, picnic, experience safe outdoor play, or engage in athletic pursuits—as evidenced by more than 3.2 million unique visits each year. The Park's annual operating budget is largely derived from self-generated activities, often weather dependent. To learn more about the Park and to contribute to help maintain its greenspaces and community programs, visit NewOrleansCityPark.org.