Back to All News
Courier-Journal
Segway Tours Highlight Louisville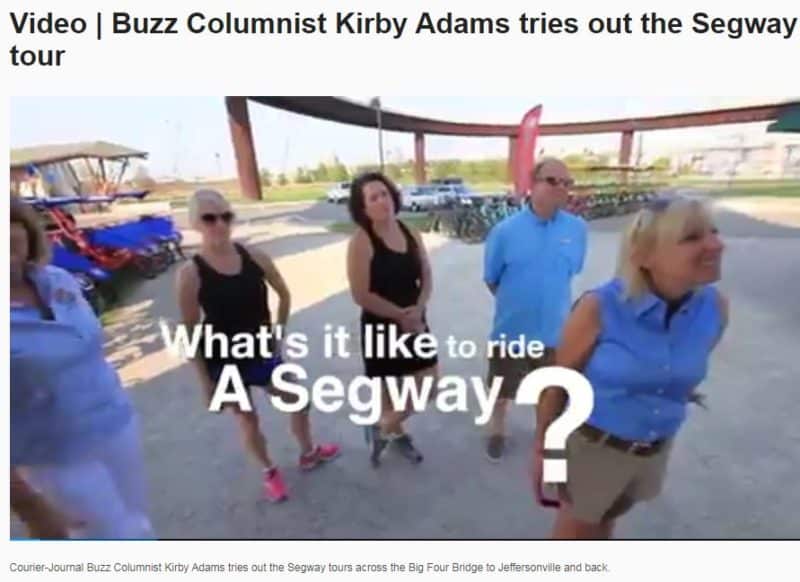 The Segway Personal Transporter was publicly unveiled on "Good Morning America" in December 2001. At the time, it was touted as a technological marvel with the potential to revolutionize urban transportation.
For a variety of reasons — including the unfortunate fact the owner of the company backed his Segway off a cliff and died — the self-balancing scooter never really caught on as a replacement for the car or bicycle. It also has a bit of an image problem as the lazy "ride."
The truth is, the Segway is neither lazy or dangerous. Used correctly, it can maintain its balance better than a human and is much more fuel efficient than a car. Plus it's a fun and different way to get from here-to-there.
As long as it's not a replacement for your bicycle or a nice hike, what's the harm?
In Louisville and other cities around the world, Segway tours are available as a fun and unique way to see the city's sights.
"We have a lot of people from out of town stop in to take our tour who make it a point to ride Segways in every city they visit that offer this type of tour," said Rob Reynolds, owner of The Segway Tours in Louisville.
A Google search brings up Segway tours in Paris, Berlin, Munich, New Orleans, Chicago, Washington D.C., San Antonio and more.
Reynolds' tours take off from his Wheel Fun Rentals at the base of the Big Four Pedestrian Bridge in Waterfront Park. That's where I met up with three Courier-Journal readers — Suzie, John and Susan — who were anxious to give the motorized scooters a whirl.
"I have always wanted to ride a Segway and it's great that this tour also teaches me something about the place where we live. It's going to be a blast," said Susan Childs.
Each tour starts with a seven-minute safety video and 30 minutes of instruction.
Cyndie Winger, our Segway tour guide, explained how to maneuver the scooter and sent us through an obstacle course a few times before she deemed us "ready to ride."
When a rider steps onto a Segway, on-board computers, sensors and motors keep it upright. The rider commands the scooter by shifting his weight forward or backward, and steers by pushing handlebar left or right.
"It's pretty easy to learn to control. I had never been on one before today," said Suzie Zigenfuss, who added she was glad for the detailed instruction before the tour began.
Personally, I found the phrase "toes to go, heels to slow" very helpful. Shifting your weight is the key to controlling your speed and direction. I repeated the phrase to myself for the first 15 minutes of the tour until it became second nature.
Every rider is provided a safety helmet and headset which allows you to hear the tour guide no matter where you are in the pack. Tours are made up of as many as eight riders accompanied by two guides.
You must be able to stand for the duration of the tour, which takes about an hour and half and covers a total of five miles including Waterfront Park on the Kentucky side of the Ohio River and a spin through Jeffersonville, Ind. on the other.
"I tell people to plan on spending two hours from start to finish," Winger said.
While zipping (these particular Segways top out at 12-miles per hour) through the 85 acres of Waterfront Park, our guide shared fun facts and folklore and pointed out urban art and sculptures like the Finn Garden and Abraham Lincoln statue. The highlight for most riders is heading up and over the Big Four Pedestrian Bridge for a magnificent view of the Ohio River and both Indiana and Kentucky shorelines.
"The Big Four Bridge is what everyone wants to ride and if you haven't been up top, you won't believe the view," Reynolds said.
North of the river, the tour takes you along the flood-wall in Jeffersonville and through Spring Street, where we stopped at Schimpff's Confectionery, one of the oldest, continuously operated, family-owned candy businesses in the United States. Anyone who wants a sweet treat or a bathroom break will welcome the pit-stop.
The Louisville Segway Tours are offered weekdays at 11 a.m. and 2 p.m. with added sunset tours at 6 p.m. on the weekends. If you can't find a time that will work for your group, special tours can be booked. During the summer months, downtown Segway tours are also offered on the weekends.
"The city is not as crowded on Saturday and Sunday so we take riders through the NuLu neighborhood all the way down to the Louisville Slugger Museum," said Reynolds.
Something else that has become popular is the Louisville Segway Experience. For $10, riders get a 15-minute safety and driving lesson and then get to take the scooter out for 15 minutes around Waterfront Park.
"It's a great way for anyone who wants to experience what it's like to ride a Segway but doesn't have time for the entire tour," Winger said.
Louisville Segway Experience customers receive a discount coupon to come back and take the full tour at a later date. The business is also available to accommodate company and group events.
A nice touch is a storage bag on each scooter, big enough to zip up your cellphone, car keys and a small bottle of water. Each Segway is named for a Kentucky Derby horse and I thoroughly enjoyed my ride aboard "Big Brown."
To safely ride, Louisville Segway Tours requires customers to be at least 14 years old and weigh no more than 260 pounds. The standard tour costs $50.
Reserve your tour online at louisville.segwaytoursbywheelfun.com or call 502-938-7433.
View Original Courier-Journal Article Here >
Article written by: Kirby Adams at kadams@courier-journal.com and on Twitter @kirbylouisville.