Back to All News
Louisville Courier Journal
Try These 4 Quick Family Adventures In or Near Louisville Before Summer is Over
Are the kids spending a bit too much time inside this summer zoned out on their bum in front of the electronics?
It's time to get out and have an adventure. (Let's be honest, we might all need a reason to break free from binge-watching our latest guilty pleasure on Netflix.) But what if you're strapped for time? Don't worry. You don't have to travel far from home to experience a breezy adventure that will break the boredom and routine of a long, hot summer.  If you hope to add to the collective family memory book before summer's end, picking one from this batch of affordable, fun, family-friendly outings is just the ticket.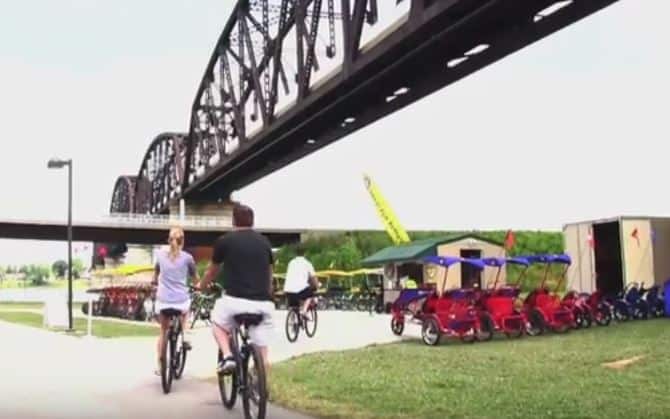 Ride the Ohio River Greenway
WHAT: Ride the new bicycle trail in Southern Indiana
WHERE: There are many points to jump on the trail. Consider the base of the Big Four Pedestrian Bridge across the Ohio River in either Kentucky or Indiana.
We love the fact that a large portion of this new bicycle path, which is part of the Ohio River Greenway, allows your family to enjoy a bike ride without fear of motor vehicles.
It's also a winner since you can start and stop wherever is comfortable for those riding in your group. A longer ride will take you up and over the Big Four Bridge at Waterfront Park. Or you can start at the parking lot at the base of the bridge across the river in Jeffersonville, Indiana.
For new riders and young kids, ride the smooth path for as little as a mile and stop for ice cream at The Widows Walk Ice Creamery near the Clark Memorial Bridge, 415 E. Riverside Drive in Clarksville, Indiana.
You can't miss it. The bright yellow shop is a combination of a classic Victorian home on the East Coast and the Hemingway home in Key West, Florida.
On the Kentucky side of the Ohio River, bicycle rental and helmets are available at Wheel Fun Rentals,1001 E. River Road.
So just how long could this journey take you if you rode the whole way? We clocked our course one way at just shy of 8 miles from Louisville to New Albany, Indiana.
Along the way we enjoyed a spectacular view of downtown Louisville from Ashland Park, pedaled past the fossil beds at Falls of the Ohio State Park, rode by the spot where the Corp of Discovery began its expedition in October 1803, crossed over three bridges and spotted wildlife in the wetlands on our way to New Albany.
The end of the Ohio River Greenway is plain as day — there is a sign at the end of the trail under the Sherman Minton Bridge that says "End of Trail." Easy.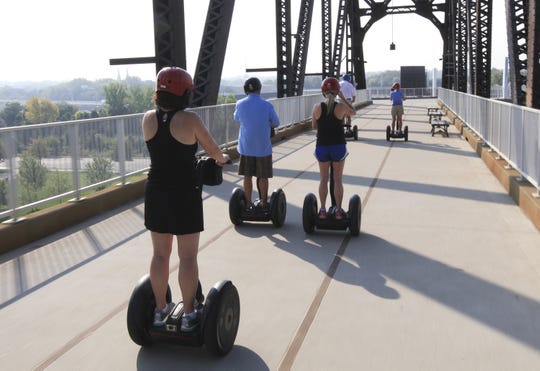 Segway Tours Even a Teen Will Enjoy
WHAT: Segway tours
WHERE: Waterfront Park,1001 E. River Road
We know it can be hard to convince your 15- or 16-year-old to hang out with you on a summer evening, but the chance to ride a two-wheeled Segway and some free candy samples might lure your kid into spending time together.
Louisville Segway Tours depart from our Wheel Fun Rentals location at Waterfront Park under the Big Four Bridge (Red Lot) at the corner of Witherspoon and East River Road.
No experience is necessary to ride the Segway; however, before you head out on a guided tour along of the Waterfront or Southern Indiana, an experienced, certified staff member puts you through the training you'll need to ride confidently.
Plan on spending about two hours on this outing — that includes the training and the tour. During the ride, your guide will have constant communication with you through headphones.
You'll explore the 80-plus acres of Waterfront Park from the Belle of Louisville to the Lincoln Memorial and all the various artwork and scenic spots in between. You'll ride up and over the Big Four Bridge to Southern Indiana, where the tour makes a stop to watch candy being made at the historic Schimpff's Candy, 347 Spring St., in Jeffersonville. (We hear free samples are always a treat.)
Each rider must be at least 14 years of age, be a minimum of 48 inches tall and must weigh between 100 and 260 pounds. At least one adult must accompany any minor.
Segway Tours are also available for groups of 10 to 15 riders at a cost of $25 per person. So make it a multifamily affair and save some major cash.
Call ahead of time to ensure there are guides and Segways available.
Read Full Article at Louisville Courier Journal >>
Written by Kirby Adams