Back to All Press Release
Announcing New Location and 20 Years of Fun in the Bend, Old Mill Area
For Immediate Release:
May 25, 2023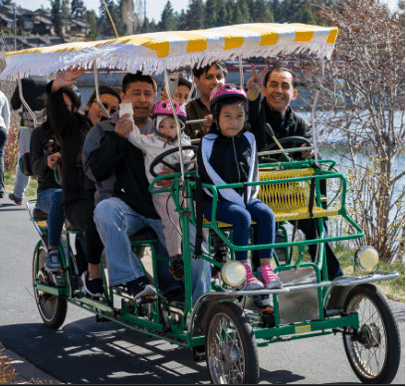 Bend, OR – Calling all biking and outdoor enthusiasts! Wheel Fun Rentals is proud to announce its 20th year of operations in Central Oregon, and it has just made a move in Bend at the Old Mill District that'll get you revved up and ready to roll!
That's right, folks – the rental shop that you've known and loved in Bend has relocated across the river from the Old Mill shops to a brand-new location near Riverbend Park Dog Park just across the street from the Hampton Inn and Suites along SW Columbia St.
But don't worry, the Wheel Fun Rentals team has made sure that the new location has everything you need for your next adventure. First things first, ample parking or an easy walk over the bridge from the Old Mill shopping area. Located on the bike trails along the Deschutes River it's an ideal spot to start your ride.
The new location boasts some incredible views of the Deschutes River. Think picturesque scenery, with lush greenery and wildlife sightings aplenty. Plus, easy access to the multipurpose path means that you can get your heart pumping without any fuss or bother.
A long-time resident of Bend, owner Joanie Krehbiel started Wheel Fun Rentals in 2003 at Black Butte Ranch and added a location at Eagle Crest Resort in Redmond and opening the Old Mill District location in 2009.
Wheel Fun Rentals has been providing locals and tourists alike with a wide variety of bikes and specialty cycle rentals. From classic cruisers and multispeed bikes to Surrey cycles, and now electric bikes, Wheel Fun Rentals has something for everyone to explore the beautiful city of Bend.  One satisfied customer explains his experience: "We rented a couple of bikes and cruised along the Deschutes River. The staff were friendly, helpful, and made the process super easy. The bikes were in great condition and we had a fantastic time. Highly recommend!" This kind of positive feedback is what motivates Wheel Fun Rentals to continue providing the best bike rental experience possible in the Central Oregon area.
Not only does Wheel Fun Rentals provide visitors with a fun and memorable experience, but the rental location also offers self-guided bike tours FREE with any multi-hour rental, and supports the community by offering a variety of programs and activities. For example, they provide bike rentals for charity events, and their location is a popular destination for teambuilding events.  Wheel Fun Rentals is committed to serving the community and providing a great experience for everyone who visits.  For more information, pricing, and hours visit www.wheelfunrentals.com/oldmill
###
Wheel Fun Rentals Media Contact: Joanie Krehbiel | 541-408-4568 | info@wheelfunoregon.com
Founded in 1987, Wheel Fun Rentals started with four wheel Surrey cycles, evolved into specialty bike rentals and bike tours, and now offers recreational rentals of all kinds from more than 100 outlets in 16 states.  Specializing in unique bikes and tours, Wheel Fun Rentals has been offering clean, healthy family fun and affordable outdoor entertainment to nearly 3 million customers annually from city and state parks, resorts, and retail outlets through corporate locations and franchised territories. For more information about Wheel Fun Rentals please visit www.wheelfunrentals.com or call 805-650-7770. Follow Wheel Fun Rentals: @WheelFunRentalsOfficial on Facebook, @WheelFunRentalsOfficial on Instagram, and @WheelFunRentals on Twitter.