Back to All News
Secret Los Angeles
Quintessential Rides Around L.A. That You Need To Try At Least Once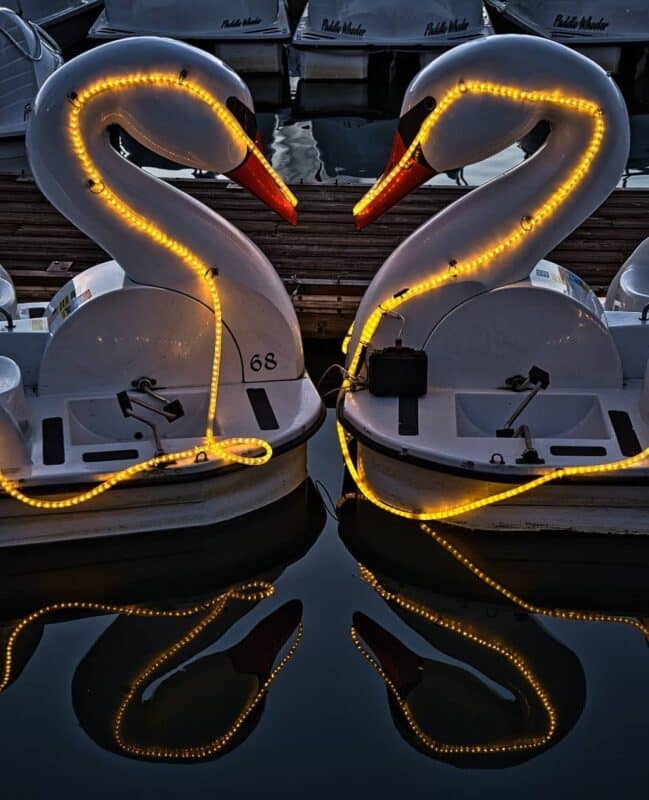 Ditch traffic jams and take one of these magical rides around the city.
Sure, traffic jams on freeways are all part of the Los Angeles experience, but working on your sleeve tan in a cloud of car fumes isn't the only way to get around. The city is home to as many unique modes of transport as there are latte variations at your corner coffee shop. Whether you're planning a little sojourn along the coast or you're just looking to spice up the journey between Hill Street and Grand Avenue on Bunker Hill, there are plenty of unforgettable rides across the city that will bring you closer to a different side of L.A.'s culture.
A couple of unforgettable rides include the Getty Tram, Pacific Surfliner to Sand Diego, Angel's Flight, the Santa Monica Ferris Wheel, a Gondola cruise, or Take A Magical Night Ride On An Echo Park Swan Boat!
The Swan Boats at Echo Park Lake is one of Los Angeles' hidden gems. It's also one of the best ways to explore the setting, in a fun but intimate way. You can paddle around the iconic lotus beds and fountain during the day or go on an illuminated boat ride with the Downtown city lights in the backdrop. Rated one of the best LA activities by tourists and locals alike, Echo Park pedal boats are a great way to make the most of this city's gorgeous weather! Find out more here.
Read the Full Article Here on secretlosangeles.com>>>