Back to All News
LA Downtown News
Swan Boat Serenade: Wheel Fun Rentals offers family fun in Echo Park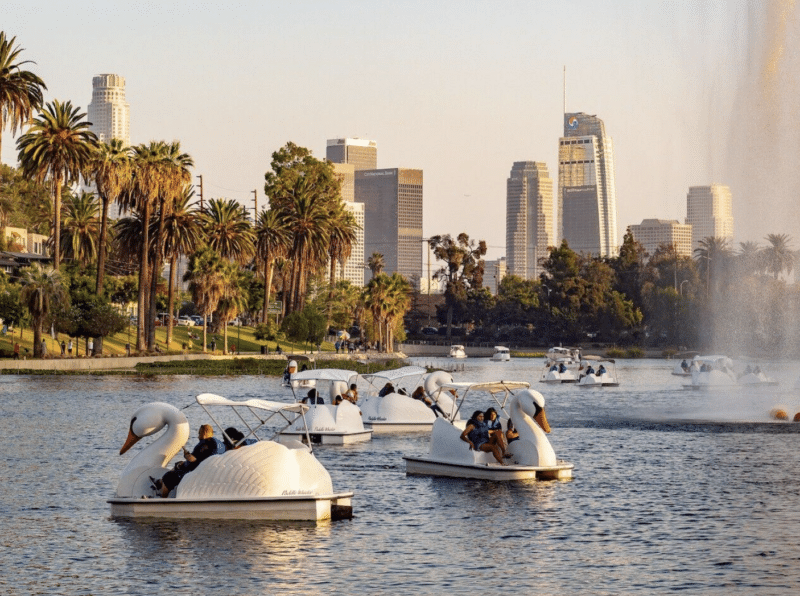 It all started with a family trip to Italy in 1987 when Brian McInerney came across a four-wheel multipassenger Surrey cycle. By the time the family got on the plane home, McInerney had bought an entire container of Surrey cycles with the intention to open his first recreational rental location in Ventura.
Today, Wheel Fun Rentals has more than 100 locations worldwide, including Echo Park, which rents out swan boats for recreational use. Sheena Walenta, Wheel Fun Rentals' director of marketing, said that whether it's passing the time before a game at Dodger Stadium, a family outing or a romantic date, its swan boat rentals offer customers an opportunity to stay active and have fun.
"We've had so many cute stories,"  Walenta said. "We've had proposals on the lake that we've orchestrated. We've had a variety of different TV shows and reality TV shows come out and film because it's the best thing to do. … Even we were surprised at the popularity."
Wheel Fun Rentals has become the official boat concessionaire for all LA City Parks and have operated in Echo Park since 2018. The rental cost for the pedal boats cost $12 per hour for adults and $7 an hour for children under 18. Walenta said the swan boats are an affordable way for families, and even dates, to spend an afternoon and that picnics are welcome aboard.
Wheel Fun Rentals' swan boats come in a variety of sizes, and people of all ages are welcome. Some people even bring their great-grandparents along for a ride, she said. For the younger kids, there is a model with an enclosed back bench that can seat up to three while the parents sit up front in the pedal seats.
Walenta said that customer feedback is valuable for Wheel Fun Rentals. During the pandemic, there was such a high demand that they noticed some customers would come and be unable to rent a boat because they were all already out on the water. To address this, the company instituted an online, timed reservation system so that customers who come to Echo Park are guaranteed to get on a boat.
Even with the rise of electronics and motorized recreational vehicles, Wheel Fun Rentals chose the pedal-powered swan boats for Echo Park intentionally.
"We chose swan boats when we first came into Los Angeles because we wanted something that brought that nostalgia back," Walenta explained. "A really long time ago swan boats were offered at Echo Park Lake, and then over the years, it was transitioned into regular pedal boats. We wanted to bring that old Hollywood, Disney nostalgia back to the people of Los Angeles."
Walenta said their swan boat model performs better than other boats she has seen on the market. Made of fiberglass, the boats are ergonomic and easy to pedal. The giant wheel underneath, she said, allows for better navigation and more comfortable seating when traversing the lake. 
The fun doesn't stop when the sun goes down, said Walenta. Wheel Fun Rentals also offers Swan Boat Night Rides after the boats have been decorated with LED lights. Customers were welcome to bring a blanket and a hot beverage along for the ride as they enjoy the view of the Downtown LA skyline at night. The last boat leaves at 10 p.m.
"It's an entirely different experience at night because you can see the lights reflecting off the downtown skyline and the lights reflecting off the swan boats — and it's the same cost at $12 per adult and $7 per child," Walenta said. "It can be a really fun evening."