Back to All Press Release
Wheel Fun Rentals Celebrates the Re-Opening of West Seattle Bridge, Easing Access to Alki Beach for Summer Fun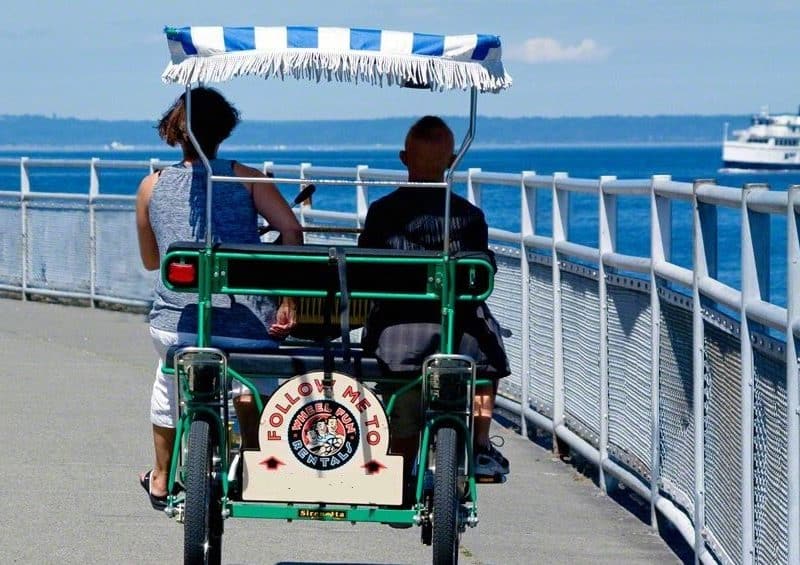 For Immediate Release:
June 21, 2023
Wheel Fun Rentals, the premier bike rental shop at Alki Beach, is thrilled to announce the long-awaited re-opening of the West Seattle Bridge. This significant development allows Seattleites and visitors alike to easily journey to Alki Beach and indulge in a perfect summer day of sun, sand, and bike riding.
The West Seattle Bridge, a vital transportation link, underwent extensive repairs due to structural concerns and was closed for 2 ½ years. We are extremely pleased with the bridge re-opened this past September, providing convenient access again to Alki Beach for locals and tourists this summer!
Alki Beach, renowned for its stunning views and vibrant atmosphere, offers an array of exciting activities for visitors of all ages. Whether you're looking to savor delicious ice cream, bask in the warm sun, take a refreshing swim, or explore the beach on two or four wheel bikes, Alki Beach has it all.
At Wheel Fun Rentals on Alki Beach, conveniently located at 2530 Alki Avenue SW, we have a wide selection of bikes suitable for every rider's preference. Families can enjoy the adventure together on our spacious family bikes, while those seeking a unique experience can try our go-cart inspired bikes. For a leisurely ride along the beach path, our cruiser bikes are the perfect choice. Additionally, we offer electric bikes for an effortless and eco-friendly journey.
As part of the Alki Beach experience, Wheel Fun Rentals also offers self-guided bike tours free with any half-day rental. Embark on a scenic tour, explore the charming neighborhood, and discover hidden gems while enjoying the freedom of cycling. Tours include a lock, helmet, bike bag to store your belongings, bike of choice, and map with turn-by-turn directions.
"We are thrilled to welcome back all beachgoers this summer," said Tim Sharman, one of the local owners for Wheel Fun Rentals Alki. "With the re-opening of the West Seattle Bridge, we are excited to provide a fun and accessible way for Seattleites to make lasting memories at Alki Beach this summer. We invite everyone to visit our rental shop and discover the joy of biking along the picturesque beach path."
Wheel Fun Rentals at Alki Beach is open 7 days-a-week for the summer season, and hours vary in the off-seaon. For more information about Wheel Fun Rentals, operating hours, and the variety of bikes available for rent, please visit our website at www.wheelfunrentals.com/alki-beach.
Wheel Fun Rentals is the leading bike rental company in Alki Beach, offering a wide range of bikes and specialty cycles for all ages and abilities. With over 100 locations nationwide, Wheel Fun Rentals is committed to providing exceptional customer service and creating unforgettable outdoor experiences for individuals, families, and groups.
###
Media Contact:  Tim Sharman  •  (206) 999-8368  •  seattlefunrentals@comcast.net
About Wheel Fun Rentals
Founded in 1987, Wheel Fun Rentals started with four wheel Surrey cycles, evolved into specialty bike rentals and bike tours, and now offers recreational rentals of all kinds from more than 100 outlets in 16 states.  Specializing in unique bikes and tours, Wheel Fun Rentals has been offering clean, healthy family fun and affordable outdoor entertainment to nearly 3 million customers annually from city and state parks, resorts, and retail outlets through corporate locations and franchised territories. For more information about Wheel Fun Rentals please visit www.wheelfunrentals.com or call 805-650-7770. Follow Wheel Fun Rentals: @WheelFunRentalsOfficial on Facebook, @WheelFunRentalsOfficial on Instagram, and @WheelFunRentals on Twitter.