Back to All Press Release
Wheel Fun Rentals Irvine Park Pumpkin Patch 2023
For Immediate Release:
September 12, 2023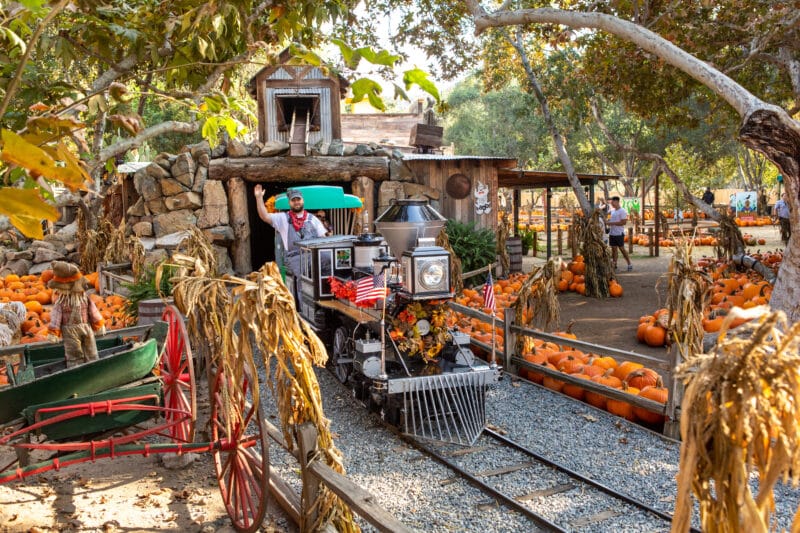 Orange, CA – Bring the whole family out to Wheel Fun Rentals' and Irvine Park Railroad's Annual Pumpkin Patch at Irvine Park, open every day, from September 16th to October 31st. Groups and families can enjoy carnival-style games and activities and the cost of admission is free. Weave through the park on one of Wheel Fun Rentals' iconic four-wheel Surrey cycles that seat the whole family or enjoy a leisurely paddle boat ride out on the lake.
Activities include hayrides, train rides, a bounce house, face painting, pumpkin decorating, carnival games, and much more. Families can enjoy sorting through farm-grown pumpkins of all shapes and sizes to find the perfect one for their jack-o'-lantern.  After working up an appetite, choose from a full menu of hamburgers, hot dogs, ice cream and soft drinks. Bike, specialty cycle, and watercraft rentals are available as well to explore Irvine Park, including classic cruiser bikes, kids' bikes, Wheel Fun Rentals' unique four-wheel Surreys, paddle boats, and more.
Wheel Fun Rentals' and Irvine Park Railroad's Annual Pumpkin Patch runs daily from Saturday, September 16th through October 31st. Hours of operation are Monday – Friday, 10:00 AM – 5:00 PM and Saturdays and Sundays, 8:00 AM to 6:00 PM. The Pumpkin Patch is located just behind the train station and admission is FREE. Activity tickets are $7 each or can be purchased in a book of 15 tickets for $90 (a $15 savings). A gate entrance fee will be charged by the County of Orange for each vehicle that enters Irvine Regional Park, entrance fees per vehicle are $3 on weekdays, $5 on weekends, and $7 on holidays.  For more information on the pumpkin patch event, please visit irvineparkrailroad.com/pumpkin-patch.
Can't make it to the Pumpkin Patch? No problem. Wheel Fun Rentals at Irvine Regional Park offers bike rentals, specialty cycles, boat rentals, and a delicious assortment of food all year-round. For regular hours of operation, available rentals, and more information, visit wheelfunrentals.com/irvine-park.                                                          
###
Wheel Fun Rentals Media Contact:: Devan Matthews • (714) 997-3968 ext. 2250 • devan@irvineparkrailroad.com
About Wheel Fun Rentals
Founded in 1987, Wheel Fun Rentals started with four wheel Surrey cycles, evolved into specialty bike rentals and bike tours, and now offers recreational rentals of all kinds from more than 100 outlets in 16 states.  Specializing in unique bikes, boats, and tours, Wheel Fun Rentals has been offering clean, healthy family fun and affordable outdoor entertainment to nearly  3 million customers annually from city and state parks, resorts, and retail outlets through corporate locations and franchised territories. For more information about Wheel Fun Rentals please visit www.wheelfunrentals.com or call 805-650-7770. Follow Wheel Fun Rentals: @WheelFunRentalsOfficial on Facebook, @WheelFunRentalsOfficial on Instagram, and @WheelFunRentals on Twitter.