Back to All Press Release
Wheel Fun Rentals Opens New Kayak & Stand Up Paddleboard Location at Geist Waterfront Park in Fishers
For Immediate Release:
June 7, 2023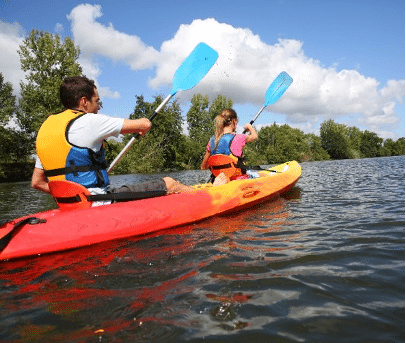 Fishers, IN – Wheel Fun Rentals is proud to announce the opening of its newest location at Geist Waterfront Park in Fishers, IN. Located in the beautiful community of Fishers, Wheel Fun Rentals now offers an exciting array of rentals, including a variety of kayaks and stand-up paddleboards (SUPs), for locals and visitors to explore the beautiful waters of Geist Reservoir. The new location is now open in Geist Waterfront Park.
Located at 10811 Olio Rd in Fishers, IN, Wheel Fun Rentals at Geist Waterfront Park offers visitors the chance to rediscover the joys of having old-fashioned outdoor fun on the water. Guests and visitors are now able to glide on Geist Reservoir on Wheel Fun Rentals' kayaks and SUPs! With beautiful waterfront views and close proximity to downtown Indianapolis, the Geist Waterfront Community is a popular destination for outdoor enthusiasts and families seeking a fun-filled day on the water.
Wheel Fun Rentals' Indiana and Kentucky Area Manager, Marc Dixon, is betting this location will be a new favorite activity for the Geist locals and visitors. "Our team is excited to be a part of the Fishers Community and to offer our customers a chance to experience the beauty of the area in a whole new way," Marc says.  "We offer a variety of watercraft rentals for people of all skill levels. We like to see everyone moving, laughing, and having fun! Our watercraft rentals will be perfect  for exploring the nooks and crannies of the reservoir."
Wheel Fun Rentals in Geist Waterfront Park is open seven days-a-week from 10am to 7pm through Labor Day, Sept. 4, 2023. Kayak rentals start at $23.00 per hour for a one-person kayak and $31 per hour for a two-person kayak, SUP rentals begin at $27 per hour with multi-hour rental options available. Parking at Geist Waterfront Park is available to Fishers residents for free with a Fishers SmartPass and to non-residents with a daily-fee parking pass. Non-residents arriving by ride-share, on foot or by bike can enter the park for free. For more parking information, to register for a resident SmartPass, or purchase a non-resident parking pass, visit playfishers.com. For more information on Wheel Fun Rentals at the Geist Waterfront Park, visit wheelfunrentals.com/geist-waterfront.
Wheel Fun Rentals has been in the recreation business for over 30 years and is the nation's leader in outdoor recreation activities. Wheel Fun Rentals also operates other nearby locations in the Indianapolis area, including Canal Walk, Eagle Creek Outfitters and White River State Park, offering a full variety of specialty cycles, two-wheel bikes and watercraft rentals including sporty recumbent cycles, swan pedal boats, stand-up paddle boards, and much more. Available rentals vary by location. For more information about Wheel Fun Rentals in Indianapolis and to find location information, visit wheelfunrentals.com/Indianapolis.
###
Media Contact: Marc Dixon |   marc@317outfitters.com
About Wheel Fun Rentals
Founded in 1987, Wheel Fun Rentals started with four wheel Surrey cycles, evolved into specialty bike rentals and bike tours, and now offers recreational rentals of all kinds from more than 100 outlets in 16 states. Specializing in unique bikes and tours, Wheel Fun Rentals has been offering clean, healthy family fun and affordable outdoor entertainment to nearly 3 million customers annually from city and state parks, resorts, and retail outlets through corporate locations and franchised territories. For more information about Wheel Fun Rentals please visit www.wheelfunrentals.com or call 805-650-7770. Follow Wheel Fun Rentals: @WheelFunRentalsOfficial on Facebook, @WheelFunRentalsOfficial on Instagram, and @WheelFunRentals on Twitter.