Back to All News
OC Register
Beach Concession At Doheny Riding Wave of Gourmet Bites & Booze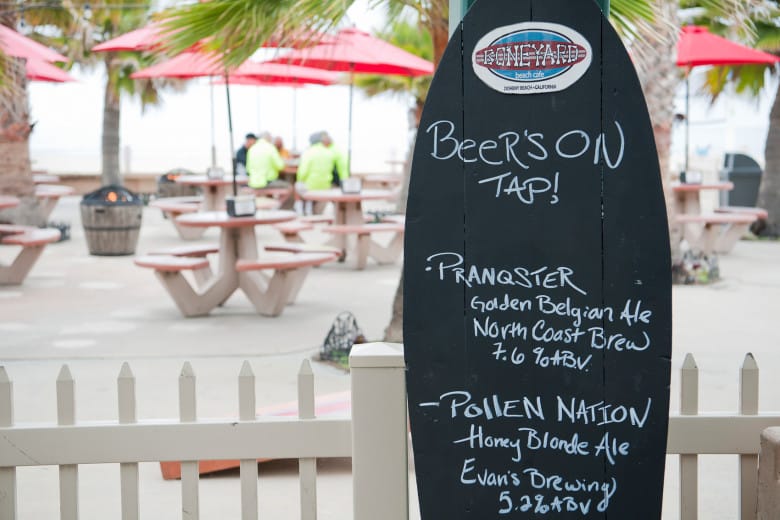 A gluten-free waffle sandwich wrapped around a black bean vegetarian patty, served with rosemary garlic fries and washed down with a craft beer? You can have that right after your surf session at Doheny State Beach while checking out the break.
A new wave of beach concessions along Orange County's coastline are going gourmet – reinventing menus and changing mindsets of beachgoers.
Not long ago, choices along the coast were slim. You could head to a cheap concession to order classic items like greasy, gooey pizza that had been sitting under heat lamps for too long, or munch on stale nachos topped with faux cheese and out-of-the-can jalapenos. Or you could spend big bucks at an upscale beach restaurant at a fancy restaurant to dine and drink overlooking the ocean.
But in the past two years, reinvented concessions —places that are more like bistros — have popped up at many beaches. (Two more are set to open soon in San Clemente.) Concessionaires are taking advantage of prime, beachfront real estate and catering to the millions of visitors looking for a unique food experience with coastal trips.
Kim Tilly, co-owner of Boneyard Café, likens the foodies-in-the-sand trend to the food-truck craze, which have opened up options to gourmet chefs and diners who liked the gourmet food- on-the-go. The tide of tastier beach concessions is undergoing a similar makeover, she said.
"Consumers are becoming better educated in food and food choices. I think they want a higher standard of food for themselves and their children. And they want a comfortable place to eat it," Tilly said.
When Jim Miller first stepped foot on the patio boarding the sand of the then-empty concession at Doheny State Beach a few years ago, he couldn't believe the potential.
"This is a gold mine," he thought.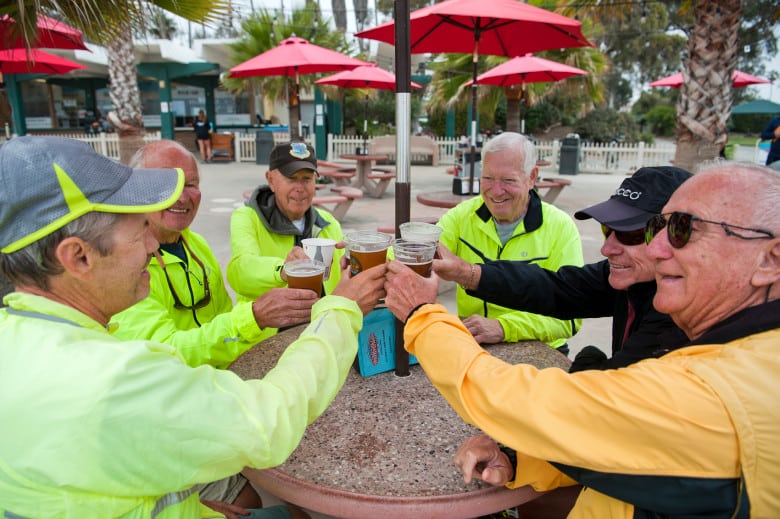 Four years after Miller, partners Kim Tilly and George Gregory,  took over the lease and launched "Boneyard Café," the concession has made a name for itself as the go-to place to have quality food with a pristine, check-out-that-wave view.
Miller and Tilly are no strangers to the Dana Point area. Miller ran Coffee Importers in Dana Point Harbor for decades; Tilly was the harbor's long-time public relations rep.
And they are no strangers to each other, either. They met in the 90s while working at the Dana Hills High School concession stand.
Twenty-some years later they were back in the concession business, with Miller's daughter Meredith Miller running Boneyard's kitchen.
Meredith, who graduated from the Culinary Institute of America in New York and whose resume boasts experience as an executive pastry chef at St. Regis hotels, refused to put out frozen patties and sub-par food.
"From doing 5-star dining my whole career, why can't we do good quality food?" she asked. "There's nowhere in a rulebook that says you can't have good, quality food on the beach."
That's why she makes her buttery southern-style biscuits fresh each morning, and all burgers are made fresh to order. All sauces, even the ketchup, are house-made.
There's a variety of gluten-free options, like savory waffles used for sandwiches, hamburger buns, cookies and a moist chocolate brownie.
While there's healthy options like a quinoa salad made with a basil dressing,  there's a fine line veering too far from concession food because there's still a nostalgia attached to what people grew up eating at the beach, Meredith said.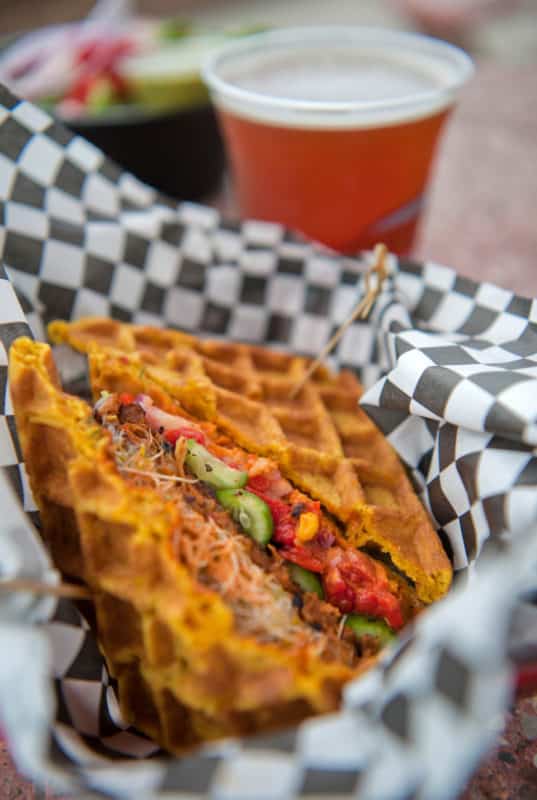 "Stick to the standard and upscale that, instead of trying to re-invent the concession-stand wheel, because that's what people want," she said.
Business really took off when they got an alcohol license two years ago. There's a variety of IPA craft beers on tap, with other cocktails like a sake-spiked Sangria or a spicy margarita (they aren't permitted to  sell hard alcohol.)
There are a few "secret menu" items, like a pulled pork grilled cheese that was the brainchild of one of the employees.
Word is getting out, even to their own surprise. On a warm, winter weekend this year, there was an hour wait for a spot on the patio, where they offer full-service at tables set out next to the palm-frond palapa and volleyball courts. Servers wear shirts with a message: "Stay Calm, You're at the Beach."
Aside from the food, the priority is to keep Boneyard Café as family friendly as possible.
"People love the fact that it's not pretentious, it is what it is. It's a bare-bones beach bar," Tilly said.
New concessions gear up for San Clemente:
San Clemente beachgoers will have two new options when beachgoers head to Orange County's southern-most beach: "Burger Shack on the Tracks," at North Beach at the city's entrance, and San Clemente Pier Grill & Tackle at the end of the pier.
While both concessions just recently got the green light from the city. The pier concession hopes to be open the first week in June, while Burger Shack on the Tracks hopes to open by July 4.
For Scott Shipley, having a small concession at the end of the pier overlooking the ocean is a dream come true.
After getting the nod from the city to operate the pier concession this summer, he quit his job as a real estate broker for the new venture, which will be opened in the next few weeks.
"I'm making about a third of what I'm used to making," he said with a chuckle. "But the thought of being able to cook the food and stand on the pier all day, it will take a lot of the stress out."
His partner in the venture is Silvie Pudilova, owner-operator of FireHouse Ribs in San Clemente.
He doesn't want to veer too much from what people expect from a concession – but that doesn't mean it can't be done better than before.
"I just don't feel the need to put out microwave pizza, anything that isn't quality food," he said.
Frozen patties are also out of the question, he said.
The menu includes the "Volcano," burger made with ½ pound of fresh ground beef on a toast Brioche bun, served with jalapeño and a pepper-jack cheese and slathered in the "Pier Grill's flaming hot mayonnaise."
There's also hot dogs – but these aren't the rubbery hotdogs sitting under heat lamps. There are options like the "Bacon Swiss Dog," served on a gourmet sesame seed bun with bacon and Swiss cheese.
The Works Fries comes topped with chili, aged shredded cheddar cheese. But if that's too much, lighter, healthier options include hummus and pita chips and veggie cups.
Adventurous eaters might want to try the gluten-free fried pickle.
"I keep in mind that there's a lot of gluten-free people, and I like to do fried things," he said. "The fried pickles are made with rice flour."
In addition to food, the avid fisherman will offer fishing pole rentals, bait and tips to visitors.
At the entrance of San Clemente's northern border, the new "Burger Shack on the Tracks" is being brought to the beach by Doug Cavanaugh, founder of Ruby's Diner and the Beachcomber at Crystal Cove, and Ted Belshe, who served as executive vice president of the same restaurants – but the newly-formed entity is separate from the Ruby's franchise.
"Our mission of "only the best for our guest" is to provide a creative and fun spin to unique and smaller opportunities that provide for more personal interaction with our customers or guests," reads a proposal to the city.
"The menu is designed to create a buzz, yet fitting of a beach concession. The intent is to surprise diners with a variety of items unexpected at a concession stand."
Breakfast options range from fresh donuts made daily, "healthy heart" egg whites, a grilled cheese made with cheddar, gruyere, tomato, scrambled egg on parmesan garlic bread.
Bouy in a blanket is also on the menu: chicken sausage wrapped in a buttermilk pancake, with salted caramel syrup.
Lunch has clam chowder and salad options, along with burgers and dogs and other options like street fish taco topped with a serrano-sriracha sauce or seared ahi burger with a ginger slaw.
View Full Article Here