Back to All News
Kristy By The Sea
Family Day In Dana Point
About a week ago, my family ventured up to Dana Point in Orange County for the day! We had been wanting to take the girls for a while now, but honestly could not find the time. I'm so glad we went and we had the best time being together before Gracyn started school this week. I wanted to share a few tips and photos if you're looking for a great weekend trip for your family.
The first thing we did was rent one of those multi-person bicycles from Wheel Fun Rentals. You guys! I don't even care how silly or how much of a tourist we looked. I have been wanting to do this for soooo long! Dana Point was the perfect place because they have a bike path that goes along the sand with ocean views during the whole ride. Our girls sat in the front and loved it too, great for all ages! In case you didn't know, my husband is a mountain biker and worked for a bicycle company for many years… aka he takes riding a bike very seriously. I about died at all the jokes he made regarding our silly bike. It was seriously the most fun we have had in a loooong time!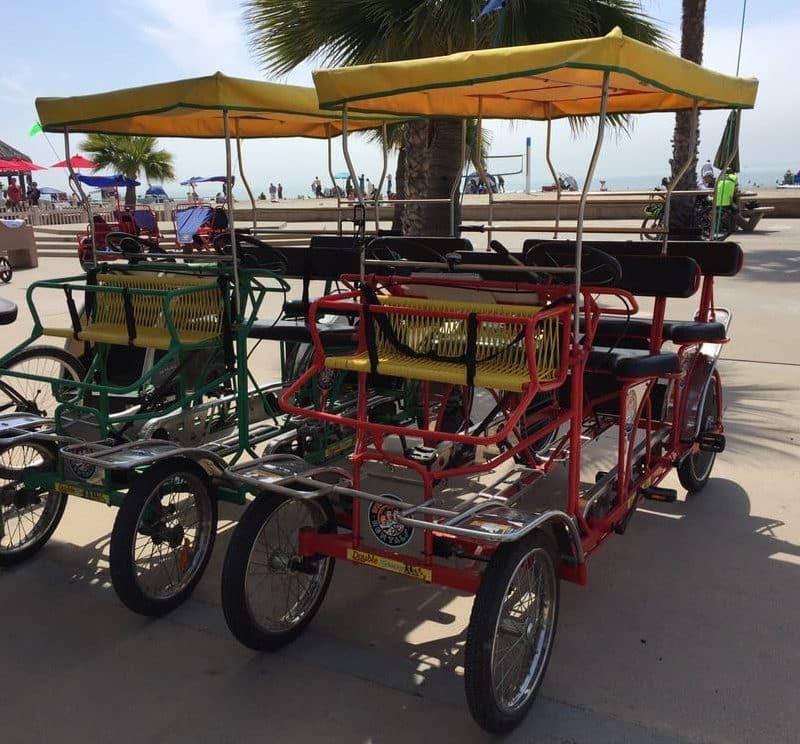 After we rode around for an hour we decided to grab some lunch. There is a little cafe right next to the bike rental place called Boneyard Cafe where they serve you at a table right on the beach. The food was great, affordable prices (think $7 burgers), and they also serve beer and wine. We saw some kids eating giant snow cones, definitely getting one next time! If you don't want to eat out, there are tons of open picnic tables and small grills where you can make your own food all along the beach.
If you are looking for a nicer place to eat, I highly recommend Chart House or Cannons. Both of these are at the top of the hill and overlook the entire harbor. We love Chart House's happy hour!
I contemplated all week if we should stay the night up there. We ultimately decided to drive home since it's only about 40 minutes away, but the hotel I was going to book was the Laguna Cliffs Marriott. We did see it while we were wandering around and I confirmed its' prime location!
There is also a campground right on the beach there called Doheny State Beach. This is a great spot and I'm sure it books up quickly so plan ahead. Also by the campground is a mini aquarium exhibit where they display sea life caught nearby such as mini sharks and lobsters. It was completely free and the girls loved it!