Bike Shares vs. Bike Rentals
Long Beach Bike Shares
Wheel Fun Rentals caters to all ages looking for fun and affordable bicycle rentals to enjoy with friends, family or loved ones. Better than a bike drop, we're Long Beach's best stocked bike station - full of a variety of bikes to choose from.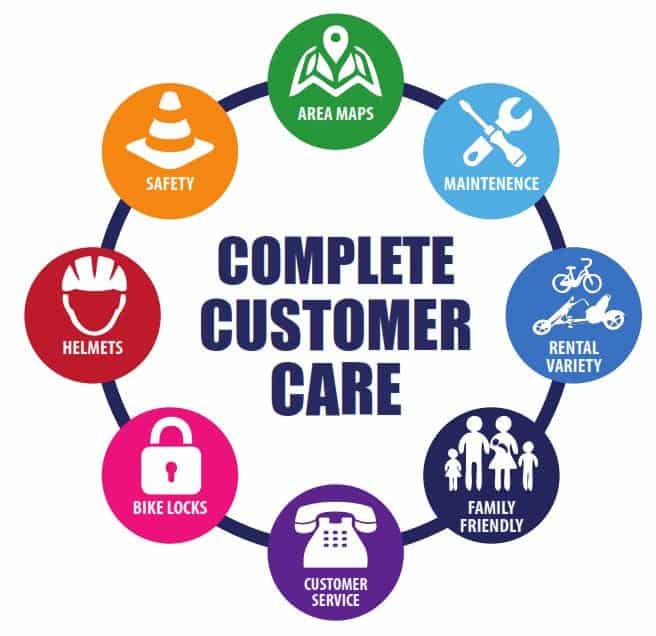 Bike-share programs (those rental bike stations) are intended to reduce traffic and the carbon footprint of large cities by providing locals with one-way rides to a destination point, usually their job. Traditional bike rentals (like Wheel Fun Rentals) serve the leisure and recreational riders and families that want to explore the city and take in the local sights.  Recreation rentals are focused around fun, family, great customer service, and are a better buy, we'll tell you why . . .
– Less Expensive     – Accommodates Kids & Families    – Greater Safety    – Size and Fit Options     – Easier to Pedal     – Maps, Locks, Helmets and More!
Cost
Wheel Fun Rentals has straightforward low pricing with no hidden fees – standard bikes start at $12 an hour, $20 for a half day (4 hrs), and $28 for a full day (8 hrs). It's important to read the fine print when renting from a bike share. Bike-Share pricing is typically low for the first hour or less, but then increase significantly after that. They are designed for short trips so they penalize you for taking the bike for longer periods of time. Take Long Beach Bike Share for example, their pre-paid three hour rental is $21 (with an additional free hour), they continue to charge you $7 for every hour thereafter. So a six hour rental is $35, and their full day rate is $49! And this doesn't include additional service fees ($2 just to take the bike out of the hub every time)!
Families, Age Requirements, & Helmets
Bike-Share systems typically restrict use to those 16 or 18 years of age or older. Therefore families cannot ride together. And helmets are not available with a bike share system. Wheel Fun Rentals caters to children of all ages (with guardian supervision) and provides a variety of helmet sizes to keep kids and adults both legal and safe.
Equipment and Variety
Bike-share systems only provide one size bike; they are twice as heavy as a typical bike, plus they only have one gear. Wheel Fun Rentals has a plethora of bikes that fit all different shapes, sizes, and age groups. Choose from cruiser bikes, hybrid bikes, tandems, and family bikes like our Surrey. We have what you are looking for! And we'll assure you get the right size; adjusted to you for greater comfort, optimal pedaling efficiency, and maximum safety.
Customer Service & Maintenance
Bike-Share docking stations, although open 24 hours, are all unmanned. Bikes in these systems do not get looked at between every customer and at times are not well maintained. Plus, docking stations have a tendency to fill up or be completely empty during peak commuter hours. Wheel Fun Rentals' kiosks are always staffed and our friendly and knowledgeable employees can assist you in picking out the right bike and becoming familiar with it, adjusting items like seat height, check tire pressure, fit you for a helmet, give you verbal directions, and so much more. Our fleet is well maintained as it's looked over by a certified mechanic regularly, and inspected for safety before every customer goes out.  Wheel Fun Rentals has a large fleet size to avoid any equipment shortages – there is always something to pedal at our locations.
Extras
Wheel Fun Rentals provides maps, bike locks, helmets, bike bags & baskets (a place for you to put your stuff), self-guided tours, and other items to make your journey safe and enjoyable. Try exploring the city with a bike-share bike: you'll receive no helmet, no map to show you where to go, and no way to lock the bike up if you want to shop, walk around, or stop for lunch.

Overview
All in all, riders looking for a quick trip over flat terrain might prefer to rent from a bike-share system. But riders looking for a more recreational experience to enjoy with their friends, family or loved one will be much more satisfied with bike rentals at Wheel Fun Rentals. With a variety of bikes to choose from, safety equipment, a well maintained fleet, bike tours, and excellent customer service, riders are free to explore and discover the city safely at an affordable price.
Long Beach Bike Share, LB Bike Share, Bike Sharing System, hop on hop off bike rentals, bike kiosk, bike rental thing, bike station, bike rental, bike share, bike drop, bicycle station, bicycle rental, bicycle