Back to All News
Los Angeles Times
Swan Lake Once Again: A Spruced-Up Echo Park Lake Reopens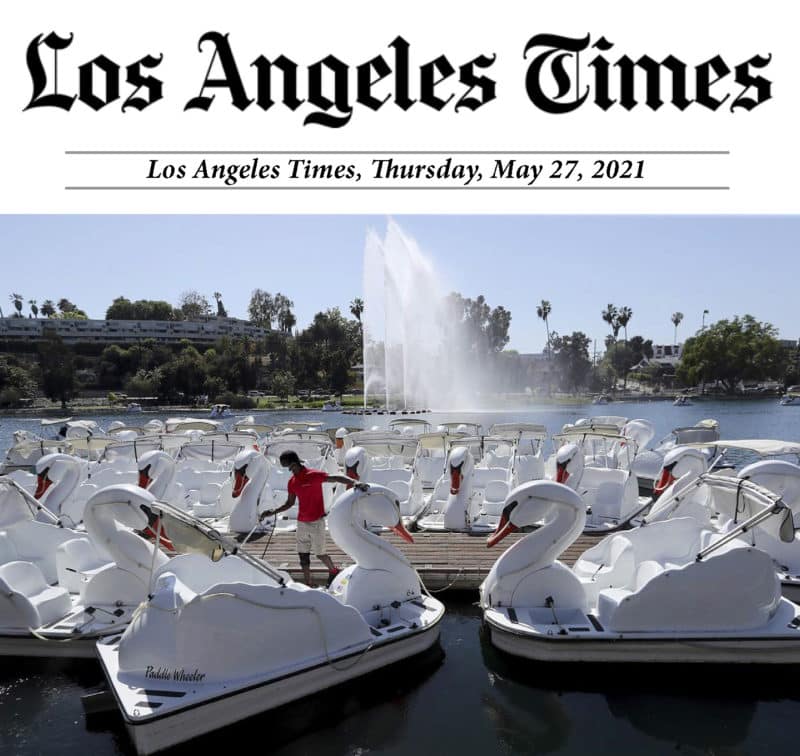 A spruced-up Echo Park Lake reopens two months after encampment cleared.
Within minutes of Echo Park Lake reopening Wednesday, much of what had come to define the green space over the last year had returned.
Kids giggled as they flew down the slide. Couples laughed as they waited in line for the swan boats. Friends convened to drink beer and grill. Homeless Angelenos came to take stock of the place where they used to pitch a tent, and protesters yelled at City Councilman Mitch O'Farrell as he made a brief appearance to celebrate the lake's opening before returning to his district office a block away.
What hadn't returned were tents, which had sprung up in the park over the last year and were removed after a forceful police crackdown. The tents won't be coming back anytime soon, city officials said.
"At 10:30 [every] evening we'll be doing a sweep," Chief Park Ranger Joe Losorelli said.
"Anybody that's in the park will be removed from the park, either by their own volition, or if when we ask them to leave and they don't, they'll be subject to arrest and or citation."
Losorelli said the municipal code prohibiting tents and camping in city parks would be enforced and the four gates to a fence that surrounds the park would be shut nightly. Certain areas remained fenced off to let the grass grow back. That didn't stop two horses with park rangers on their backs from indulging in some lunch by ripping up what had only just been replanted.
Recreation and Parks workers had pared back weeds that hadn't been touched in months before the park closed.
Trees were trimmed and graffiti removed. Every fixture, door and piece of hardware in the bathrooms was replaced.
Quickly the playground filled with screaming children chasing each other. Their guardians watched from the side, seemingly relieved the kids had a place to play.
It had been two months since the park was closed by city officials, who kept their plans secret until the last minute.
After police issued a dispersal order, protests erupted and protesters, journalists and legal observers were detained. On one night of protests, authorities said 182 people were arrested for failing to disperse.
In the preceding weeks and months, outreach workers had been able to get more than 180 people living in the park into hotel rooms rented by the city under the Project Roomkey program, as well as other forms of interim housing.
The pandemic's limits on dispersing encampments meant prohibitions on pitching tents in parks weren't immediately enforced.