Back to All News
Swan Boats
Featured on "Sorry for Your Loss" a Facebook Watch TV Series
Wheel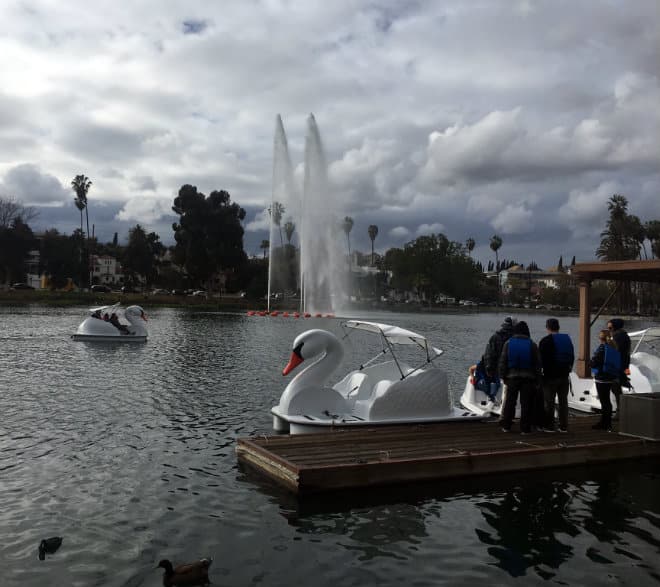 Fun Rentals' Echo Park Swan Boats, will be one of the site locations for Sorry for Your Loss, a web TV series on Facebook Watch. 
Created and written by Kit Steinkellner, Sorry For Your Loss explores the life of young widow Leigh Gibbs (Olsen) as she deals with the grief of losing her husband while reconnecting with relationships of her past. Leigh's journey will teach us that grief is not something merely to endure, medicate away, or "muscle through," but an essential part of life — even a kind of privilege.
McTeer will play Amy, the mother of Leigh (Olsen) and Jules (Kelly Marie Tran). Amy is a fitness maven, fierce mama bear, and total force of nature who is borderline evangelical re: her mystical connection to the universe. She's a powerhouse, but far from perfect. Amy's also overbearing, self-serving, and completely lacks awareness re: the darker side of her role as a mother. She's determined to be the woman who solves all the problems, and it's not rare for her to actually create problems in order to solve them.
In addition to Olsen and Tran, other cast members include Jovan Adepo and Mamoudou Athie. James Ponsoldt is executive producing and directing the pilot and multiple episodes of the series. Switched at Birth creator Lizzy Weiss is showrunner.
The series will also be executive produced by Robin Schwartz, Marc Turtletaub and Peter Saraf for Big Beach TV, and Cynthia Pett, Brad Petrigala, and Jon Liebman for Brillstein Entertainment Partners. Big Beach TV, a subsidiary of independent film powerhouse Big Beach, will serve as the studio.
Golden Globe, Tony and Olivier Award-winning McTeer will next be seen in major roles on the upcoming second seasons of two  Netflix drama series, Marvel's Jessica Jones and Ozark. English actress McTeer received best actress Oscar nominations for her performances in Tumbleweeds and Albert Nobbs. Her recent film credits include MGM's Me Before You, Paint It Black, which McTeer also executive produced, and David Leyeaux's The Exception. She is repped byMGMT. Entertainment and UK's Curtis Brown.
Original Article by: Deadline.com