Back to All News
Los Angeles Times
California Bucket List: Pedal-Power Cruise on Echo Park's Lake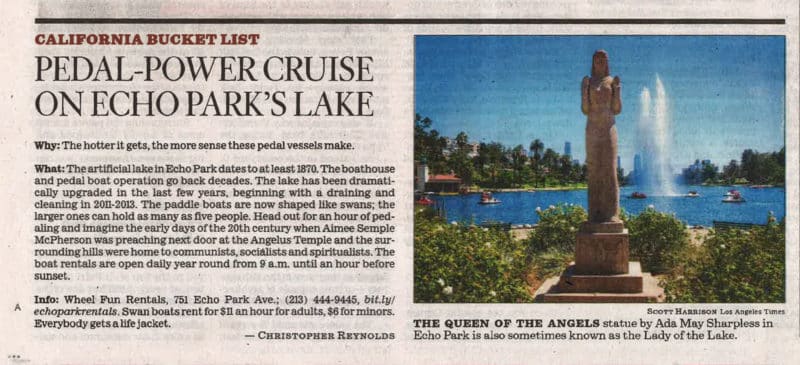 Why: The hotter it gets, the more sense these pedal vessels make.
What: The artificial lake in Echo Park dates to at least 1870. The boathouse and pedal boat operation go back decades. The lake has been dramatically upgraded in the last few years, beginning with a draining and cleaning in 2011-2013. The paddle boats are now shaped like swans; the larger ones can hold as many as five people. Head out for an hour of pedaling and imagine the early days of the 20th century when Aimee Semple McPherson was preaching next door at the Angelus Temple and the surrounding hills were home to communists, socialists and spiritualists. The boat rentals are open daily year round from 9 a.m. until an hour before sunset.
Info: Wheel Fun Rentals, 751 Echo Park Ave.; (213) 444-9445, wheelfunrentals.com/echo. Swan boats rent for $11 an hour for adults, $6 for minors. Everybody gets a life jacket.
Written by Christopher Reynolds