Back to All News
Modern Luxury Angeleno
The 10 Most Romantic Spots In Los Angeles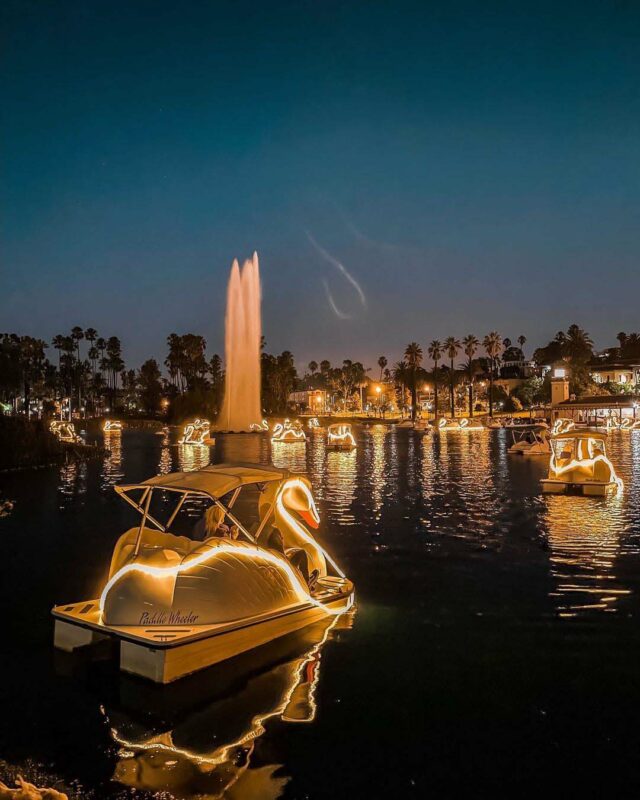 Explore these ten most romantic spots in Los Angeles for your next Southern California date night!
Dinner and an Overnight Stay at Inn of the Seventh Ray
Nestled in the enchanting woodland setting of Topanga Canyon, Inn of the Seventh Ray is the ideal spot for an evening of fairytale magic and romance. Grand old sycamores, waterfalls and a flowing creek create the storybook ambiance in this charming Los Angeles getaway.
The Venice Canals
A sunset stroll through the iconic Venice Canals emulates the dreamy experience of roaming the picturesque Italian haven, nicknamed "the Floating City." Venice, California is known for its bohemian spirit, and a walk along the canals is sure to inspire a unique sense of wanderlust.
The Echo Park Swan Boats
A great way to keep our bodies and minds healthy in Los Angeles while still maintaining that element of romance is through the swan boat rentals at Echo Park. Opt for a whimsical sunset adventure with that special someone as you pedal amongst the twinkling L.A. city lights.
An Evening at the Santa Monica Pier
For an exciting evening of fun and fantasy, consider taking your date to one of the most photographed locations in the world. From the mini amusement park, concession stands, arcade and breathtaking views, the Santa Monica Pier offers a night of adventure and passion.
Griffith Observatory
The Griffith Observatory has been a historical heart of Los Angeles for over 85 years. Enjoy a romantic evening while experiencing the wonders of the universe and the incredible L.A. skyline at this free-admission facility.
The Huntington Botanical Gardens
The Huntington includes a luxury art museum, library and collection of botanical gardens for visitors to marvel at year-round. Thousands of different varieties of plants, tens of thousands of works of art and millions of library objects including rare books await you as you roam around the property's 120 acres, making for a fascinating and romantic experience.
Solstice Canyon Hike in Malibu
This three-mile loop near Malibu features a remote grotto and waterfall and is rated a moderate journey. The scenic, mostly shaded Solstice Canyon Hike trail is accessible year-round and is a perfect climb for adventurous couples who value fitness, nature and passion, as the spectacular canyon and ocean views make for a romantic excursion.
Stay-cation at Hotel Bel-Air
A trip to this classic estate, featuring 12 acres in the luxurious neighborhood of Bel-Air, is sure to provide a glamorous and dreamy stay for you and your loved one. With world-class chefs and gorgeous garden landscapes, Hotel Bel-Air promises extravagance and creativity.
Couples Massage at Tomoko Spa in Beverly Hills
If physical touch is your love language, consider treating your significant other to a couples massage at Tomoko Spa in Beverly Hills. Providing you with the highest level of excellency and confirmed by numerous celebrity clients, Tomoko Spa's couples massages ensure a whimsical and relaxing experience for you and your partner.
Drinks and an Ice Cream Sundae at Tower Bar
At this newly renovated, unofficial epicenter of Hollywood, visitors can enjoy the understated yet luxurious style of Tower Bar at Sunset Tower Hotel. For an evening of chic cocktails, rose-colored lights and sweeping views of the city, a night of romance is guaranteed in this elegant safe haven in Los Angeles—where you're sure to spot a few famous faces.
Read the Full Article on mlangeleno.com>>