Back to All Press Release
Echo Park Swan Boats Re-Open May 26th, 2021 After a 2 Month Park Renovation Closure
For Immediate Release: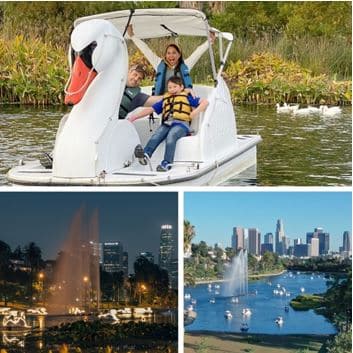 May 24, 2021
Los Angeles – Wheel Fun Rentals is pleased to announce the re-opening of Echo Park Swan Boats on Wednesday, May 26th after closing earlier this year for a park renovation project by the City of Los Angeles. Renovations included resurfacing and improvement of the playground, improvements to the restrooms, replacement of drinking fountains, upgraded lighting, refurbishment the turf, and many other improvements. Swan Boat Rentals at Echo Park Lake will be available starting Wednesday, May 26, 2021 just in time for the Memorial Day weekend.
Wheel Fun Rentals, who has operated the swan boat rental concession at Echo Park Lake since 2018, will re-open swan boat rentals by reservation only starting on Wednesday, May 26, 2021. Swan boat rentals will operate daily and are $11 per hour for adults 18 years and older and $6 per hour for children 17 years and under. Due to limited capacity and social distancing measures, reservations are required and can be made online at wheelfunrentals.com/book-echo.
"We're thrilled to re-open the Swan Boats at Echo Park," said Michael Ullerick, Wheel Fun Rentals' Director of Operations, "Spending quality time with friends and family just can't be beat, and in today's world having options for fun outdoors has become a priority.  We are excited to once again be able offer this iconic, safe and fun outdoor recreation option for Angelinos and visitors alike at Echo Park."
Wheel Fun Rentals has been in the recreation business for over 30 years, and customer safety and health are always a top priority. With pandemic restrictions beginning to lift, studies show people continue to prefer, and feel safer, participating in outdoor activities with family and friends. With locations all over southern California that provide open-air, safe, and fun outdoor recreation at a reasonable price, Wheel Fun Rentals makes it easy to stay connected with others, while staying safe.
Wheel Fun Rentals continues to follow all local and CDC guidelines to promote a safe environment for everyone. Safety protocols include: social distancing, disinfecting of rental product, touch-less payment, and more. For more information on the Wheel Fun Rentals enhanced safety measures visit wheelfunrentals.com/COVID-19.  For more information on Wheel Fun Rentals and Echo Park Swan Boats hours of operation, visit wheelfunrentals.com/echo.
###
Media Contact:  Sheena Walenta  •  (805) 650-7770  •  sheena@wheelfunrentals.com
About Wheel Fun Rentals
Founded in 1987, Wheel Fun Rentals started with four wheel Surrey cycles, evolved into specialty bike rentals and bike tours, and now offers recreational rentals of all kinds from more than 100 outlets in 16 states.  Specializing in unique bikes and tours, Wheel Fun Rentals has been offering clean, healthy family fun and affordable outdoor entertainment to nearly 3 million customers annually from city and state parks, resorts, and retail outlets through corporate locations and franchised territories. For more information about Wheel Fun Rentals please visit www.wheelfunrentals.com or call 805-650-7770. Follow Wheel Fun Rentals: @WheelFunRentalsOfficial on Facebook, @WheelFunRentalsOfficial on Instagram, and @WheelFunRentals on Twitter.