Back to All News
Thrillist
Make This Beachy San Diego Suburb Your Next Weekend Destination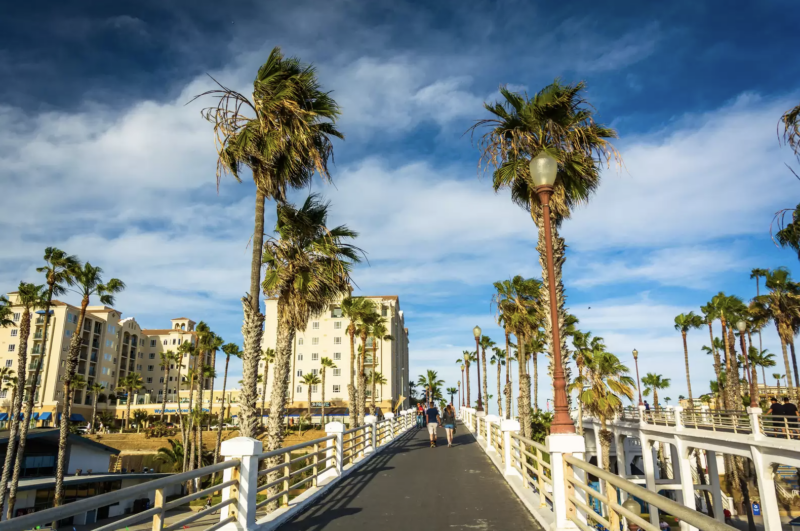 Oceanside has miles of beaches, an emerging craft beer scene, and an epic weekly food festival.
If the word "suburb" conjures up images of gated communities with manicured lawns and a Costco that's close, but not close enough, Oceanside, California is not that. There's a Costco in nearby Vista, but that's pretty much where the similarity ends. The northernmost suburb of San Diego had, for years, barely been a blip on the road from Los Angeles to San Diego, with a downtown area that could politely be described as "unsavory."
"Nobody wanted to go downtown," says Kim Heim, Director of Special Projects for MainStreet Oceanside, whose mission is to attract new, pedestrian-friendly activities and businesses to Oceanside's downtown. "Bar brawls were fairly commonplace, and the fights didn't always end at the sidewalk," Heim continues. "It scared people, and locals weren't going to come downtown for dinner."
That sentiment is echoed by Harrison Dwelley, co-owner of Beach Break Cafe in South Oceanside. "I was born in Oceanside and grew up here. There's a photo of Gary Blair, my business partner and me when we were in Little League on the back wall. I've seen the changes. Downtown Oceanside was definitely pretty sketchy not so long ago. But this is one of the last undeveloped beach towns in Southern California. It's beautiful, and it was just a matter of time before the big hotels came."
No one is knocking the arrival of the beachside hotels, though. Tourism in Oceanside was enjoying record growth pre-COVID-19, and with travel restrictions eased, there's plenty of pent-up demand for sun and fun getaways. Oceanside's proximity to both Los Angeles and San Diego make it a perfect day trip or long weekend jaunt.
Dwelley takes the changes in stride. "Tourism is a bigger piece of Oceanside's economy now, and that means people are more willing to make the investment in new businesses. A lot of former military members stay in Oceanside; they want to be part of the community, to raise their family here."
"But even with all the growth, Oceanside is still Oceanside," Dwelley continues. "We like it that way and we're working to keep that local feel. So far, we've been successful."
How to get there
Oceanside is easy to get to by car from either Los Angeles or San Diego—Interstate 5 or Highway 101 are the most popular routes, with CA-76 and CA-78 also running through the city. By train, take Amtrak's Pacific Surfliner from Santa Barbara or the Metrolink from LA, Orange County, San Bernardino and Riverside. From San Diego, hop on the Coaster or take the Sprinter from Escondido.
Hit the beach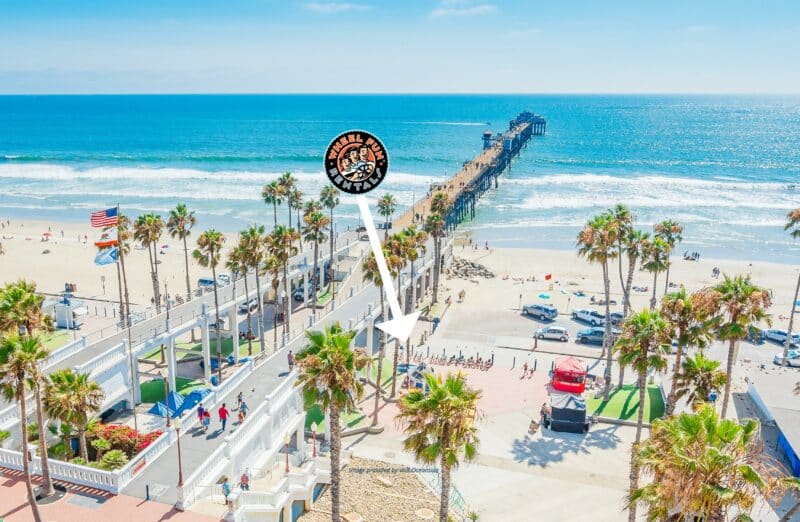 It's not called Oceanside for nothing—the city enjoys near-perfect weather and what the Encyclopedia of Surfing calls "one of Southern California's most consistent surf spots" along its nearly four miles of coastline. The most popular beach is easily accessible on foot with a walk down Pier View Way, through a short tunnel under the railroad tracks, and straight to the Oceanside Pier, the longest wooden over-water pier on the West Coast. The most popular surfing spots are here, at Oceanside Pier View South Beach and Oceanside Pier View North Beach, which have consistently solid waves and can get crowded during good conditions. It's also popular with non-surfers for its wide swaths of sand and proximity to restaurants and shopping. Check out nearby Wheel Fun Rentals for cruiser bikes, tandems, single and double surreys, quad sports and beach choppers to rent by the hour, half-day, and full day.
Oceanside has a total of nine named beaches that range from expansive to petite, some of which require a little foresight and may disappear completely at high tide. Keep this in mind before you decide to wander off and leave your stuff on the sand.
Oceanside Harbor is a mecca for water activities of all kinds—you'll find deep sea fishing, whale watching, and sunset cocktail cruises here, as well as a fuel dock, launch ramp, bait receiver, and slip rentals available for those visiting by sea. It's also a smooth, quiet place for stand up paddleboarding and kayaking, as well as having its own beaches and great surfing conditions. You can easily rent SUPs, kayaks, jet skis, electric boats, and power boats for use in the harbor at Boat Rentals of America. Grab a bite to eat or do some shopping at Harbor Village, and check out the Insta-worthy Oceanside sign, which welcomes visitors to the harbor.