Back to All News
Lonely Planet
Get ready for Indy: all you need to know before your trip to Indianapolis
With its vibrant public art, booming craft beer scene, iconic museums and a state park smack dab in its center, Indianapolis is much more than just the host city for the largest single-day sporting event on the planet, the Indianapolis 500.
While car culture is indeed king in Indy, countless public trails and a central canal make the capital of Indiana easy to explore by foot, scooter, bike, kayak or other means. Everywhere around town, public art installations shine.
It's no surprise that many visitors flock to this vibrant Midwest metropolis. So here's our list of everything you need to know before visiting Indianapolis.
Stay in the Fountain Square, Chatham Arch or Broad Ripple neighborhoods to experience small-town charm in the city
While Indianapolis is a major city, each of its neighborhoods has a distinct personality that lends a small-town feel. If you don't want to stay in a hotel downtown, opt for a boutique hotel or Airbnb in a neighborhood that matches your mood.
Southeast of downtown, Fountain Square is dotted with 19th-century homes, green spaces and (naturally) fountains. Art galleries and local theaters thrive in Chatham Arch, part of the Mass Avenue Cultural District. Home to Butler University, Broad Ripple Village offers a lively social scene. Indianapolis' newest neighborhood, the Bottleworks District was once the largest Coca-Cola bottling plant in Indiana; today, it's anchored by the luxury boutique Bottleworks Hotel (which once housed company executives' offices) and a food hall with more than 21 local vendors.
Whether you choose to stay downtown or in a neighborhood enclave, you're bound to experience Indiana's small-town feel and meet down-to-earth, friendly people.
See downtown differently with an offbeat method of transport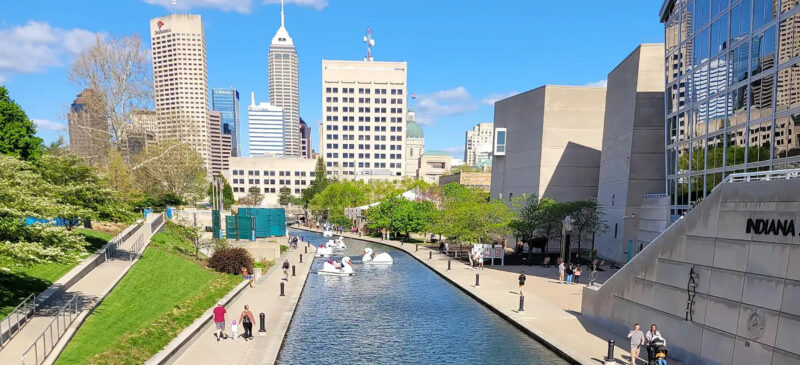 You can also explore downtown Indianapolis with more unusual modes of transportation. Rent a swan pedal boat or kayak at Wheel Fun Rentals at Canal Walk and paddle the Indiana Central Canal, a 3-mile commercial waterway. Otherwise, hop on a surrey, chopper, quad sport or deuce coupe and ride along the many trails of the 267-acre White River State Park, Indianapolis' green jewel.