Back to All News
KSTP-TV
Construction on new Bde Maka Ska concessions pavilion to start Monday
Construction is scheduled to start on the new concessions pavilion at Bde Maka Ska on Monday. The original concessions building was burned down by arson in May of 2019. The new pavilion will be at the same location on the northeast side of the lake.
Due to construction, the Minneapolis Park & Recreation Board says the Bde Maka Ska boat launch will be closed from June 6 to Sept. 16. Trailered boats will not be allowed on or off the lake while the boat launch is closed. Road and trail closures could also happen during construction. Minneapolis Sailing Center and Wheel Fun Rentals will operate at the northwest part of the lake again this summer.
The concessions building, which had stood at the same spot since 1930, was deemed unsalvagable following the arson and demolished.
The new pavilion will have two buildings instead of one, new bathrooms and lots of outdoor public seating.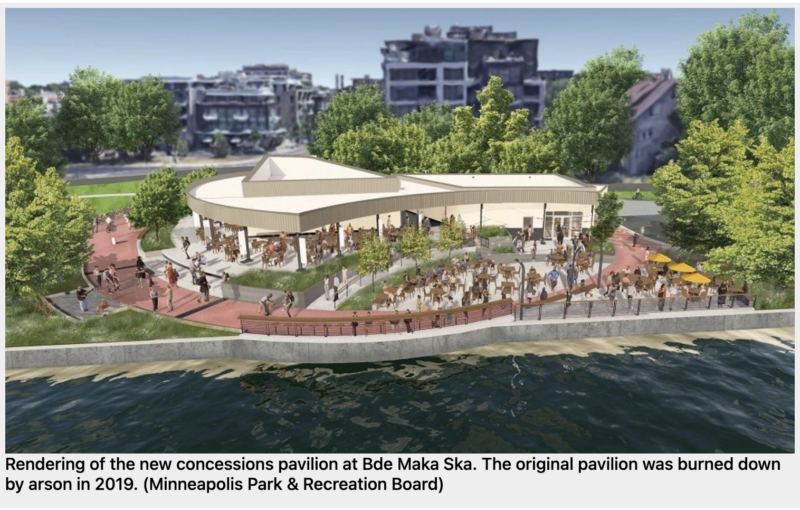 Nouh Elmi pleaded guilty to one count of negligent fire causing property damage and was sentenced to one year at the Hennepin County Workhouse, which was stayed for two years.
At the time of the arson, Lola on the Lake had been operating out of the building for a year. Previously, Tin Fish had sold food at the site from 2004-2017.
The MPRB approved the new pavilion design a year ago. The new building is expected to be finished and ready to serve food again next summer.