WELCOME! WE'RE GLAD YOU ARE HERE. WE OFFER SAFE OUTDOOR ACTIVITIES FOR ALL AGES. WE CONTINUE TO OPERATE WITH ENHANCED SAFETY MEASURES IN 2022. SEE "CONTACT" PAGE FOR BUSINESS HOURS.
VIEW ENHANCED SAFETY MEASURES
Find out how to
Contact Us
If you have questions about our Queens' location at Flushing Meadows Corona Park at David Dinkins Circle, need assistance, or would like to let us know about your Wheel Fun Rentals experience, we're here to help! You can reach us by phone or email. We look forward to hearing from you!
Wheel Fun Rentals
Flushing Meadows Corona Park at David Dinkins Circle
Meridian Road
Queens, New York 11368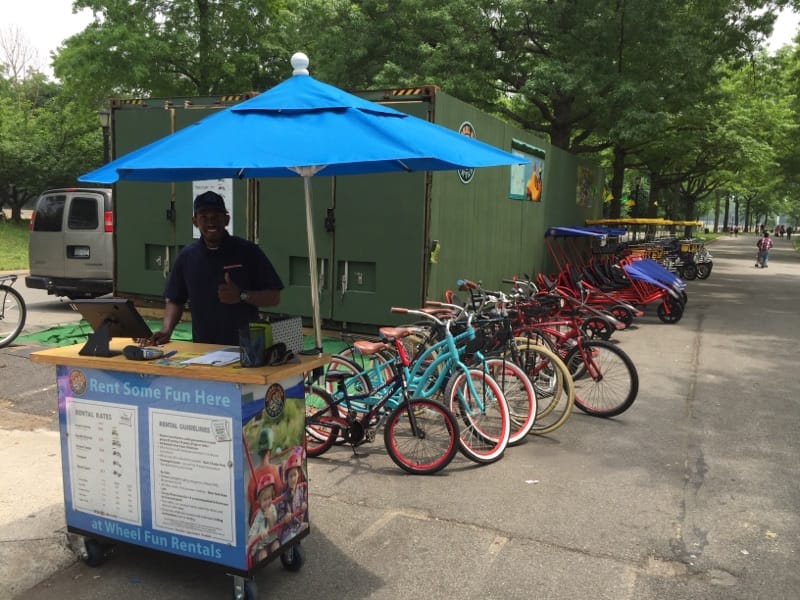 Hours of Operation
---
All hours are weather permitting – 50 °F and above, and dry.
Last rental goes out 1 hour prior to sunset.
Hours

May 21 - Aug 28

OPEN 7 DAYS-A-WEEK: 9AM – SUNSET

Today's Last Rental Goes Out at 07:30 pm

Hours

Aug 29 - Sep 11

CLOSED DURING THE US OPEN

Hours

Sep 12 - Sep 25

OPEN 7 DAYS-A-WEEK: 9AM – SUNSET

Hours

Sept 26 - Nov 6

MON – FRI: 12PM – SUNSET
SAT, SUN, & HOLIDAYS: 10AM – SUNSET

Hours

Nov 7 - Nov 13

SAT, SUN & HOLIDAYS: 10AM – SUNSET

Hours

Nov 14, 2022 - Mar 17, 2023

Closed for the Season: Come visit us March 18, 2023!

Hours

Mar 18 - Mar 25

Sat, Sun & Holidays: 9am – Sunset

Hours

Mar 26 - Apr 14

Mon – Fri: 11am – Sunset
Sat, Sun & Holidays: 9am – Sunset

Hours

Apr 15 - May 19

Mon – Fri: 10am – Sunset
Sat, Sun & Holidays: 9am – Sunset
Special
Directions
---
Driving Directions
The easiest way to find both of our two locations within Flushing Meadows Corona Park is to enter from the park's "Rodman" entrance located right off College Point Boulevard, 1/4 mile north of the Long Island Expressway. After entering the park, turn left at the first stop sign. From there:
To Find our David Dinkins Circle Location:
Continue straight on Meridian Rd. you will pass the Queens Museum then the USA Tennis Center on your right, turn right at the intersection just past the tennis center to continue on Meridian Rd. Our location is immediately past the tennis center parking lot near the park entrance between the USTA Tennis Center and the Golf Center.
Click here for driving directions to from your current location.
To Find our North Meadow Lake Location, click here >>
Parking
There are several small parking lots on the northern end of the park, including a lot to the west of the USTA Tennis Center off Meridian Road, a lot located to the south of the Queens Museum of Art, and another lot located to the northeast of the Golf Center. There is additional parking off of Meadow Drive past the Amphitheatre Bridge and on the east shore of the lake off of Meadow Lake Road West. Parking is free of charge. See parking icons on the map.
Public Transportation
Access Flushing Meadows Corona Park easily using public transit – exiting the Mets-Willets Point Station. For information on trains, subway, and buses use the MTA Trip Planner website.
To get to our Kiosk from Mets-Willets Point Station, cross Roosevelt Avenue along the path into the park and directly to David Dinkins Circle [Walking time from the subway station is approx. 1min.]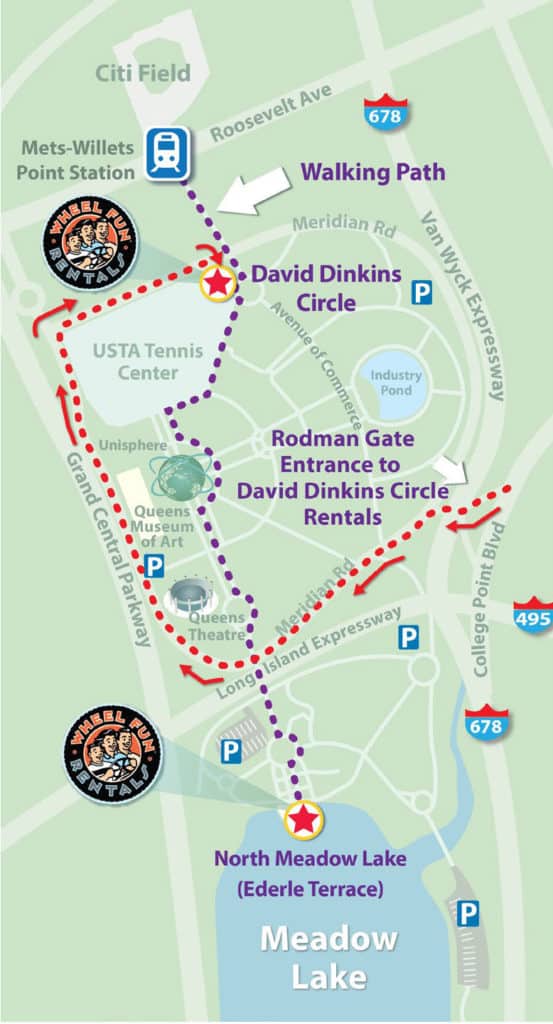 View Full Image
We're always looking for passionate, hard-working staff. Apply using our online application or send your resume to: info@wheelfunrentals.com


Share the fun!
Give a Gift Certificate
---
Give the gift of fun! Gift certificates make great gifts for birthdays, graduations, holidays, anniversaries, and more. When you give a Wheel Fun Rentals gift certificate, you're actually giving someone a memorable experience with the people closest to them — an experience that's not only fun now but also memorable for years to come.