Back to All News
The Bulletin
Central Oregon Number 1 Fourth of July Road Trip for Oregonians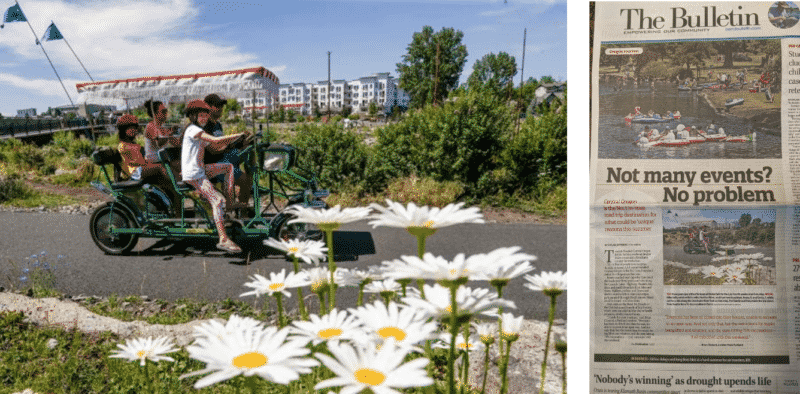 Tourists flooded Central Oregon for the holiday weekend despite fewer events and a Deschutes County fireworks ban. The influx of people is no surprise, though. A recent AAA report revealed Central Oregon is the No. 1 road trip destination for Oregonians this year.
Mike Salk pedals with his wife, Heather Wind, and their two daughters while out for a Surrey ride together along the Deschutes River Trail on Saturday, July 3, 2021. The family said they made the trip down from Seattle for a 10-day vacation.
Hotels reached near capacity. Cars lined the roads near Bend parks and sites along the Cascade Lakes Highway. Floaters, kayakers and paddle-boarders filled lakes and rivers. Walkers, cyclists and Onewheel electric skateboards in stars and stripes garb paraded through Bend's streets. Music could be heard in all directions.
Even without the Bend Pet Parade or the Old-Fashioned Fourth of July Festival, which were canceled in May due to health concerns, revelry was in the air… Read the Full Article on bendbulletin.com >>