(Last updated August 26, 2022)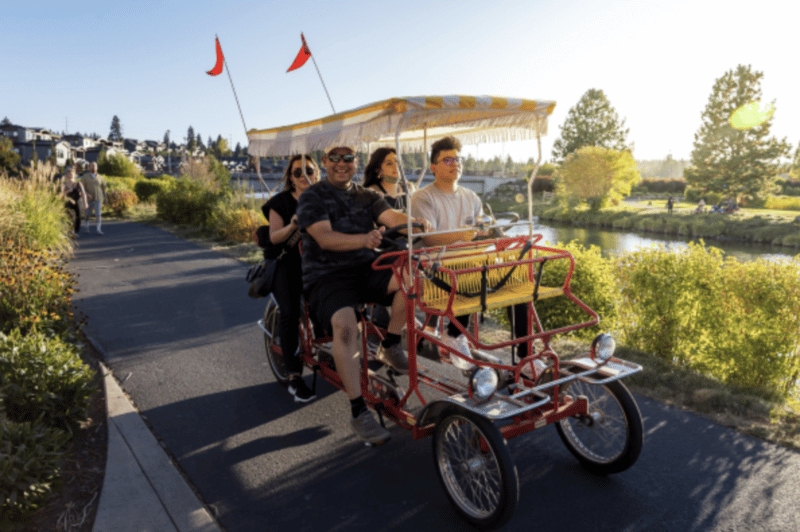 So you're headed to the Bend area for a long weekend, congrats!
We're guessing you've already scoped out the plethora of hiking trails and Tumalo Creek Kayak & Canoe river floating options, so we're here to help with the rest of your trip. Here's some of our favorite activities in Bend and Central Oregon as a whole any time of year!
Wildlife, art, history, living history – the High Desert Museum has it all! Located five minutes south of Bend, the museum sits on 135 acres and features river otters, porcupines, an authentic homestead and sawmill from 1904 as well as seasonal exhibits. Current museum exhibits include "Art in the West" a celebration of the landscapes, wildlife, people, cultures and history of the High Desert; "Lair: Light and the Art of Stephen Hendee" a look into the spaces in which we live both physically and virtually; and "Imagine a World" an exhibition asking us to consider the ambitions, intentions and outcomes of intentional communities in the High Desert and Western United States over the past half century.
Nestled along the banks of the Deschutes River in the heart of Bend's Old Mill District lies Oregon's largest outdoor music venue. To date, 2022 marked the biggest, and most diverse array of artists and genres, and as of Labor Day weekend the fun is still rolling! On Saturday, Sept. 3 Incubus is set to rock Bend with their unique brand of alternative metal along with very guests Sublime with Rome and the Aquadolls!
Is this heaven for an 8-year-old? No, it's Sweet Tooth. Located in the heart of the Old Mill District, this family-owned and operated candy shop has everything you and your family can image. We invite you to stop in and and check out the epic selection of nostalgic candy, enjoy handcrafted chocolates, Harry Potter treats, chocolate-covered gummy bears, and more! Here is where you'll find the perfect gifts for any occasion and discover international treats from all over the world, too.
10 miles northwest of town is Shevlin Park, a beloved gem of trails and old-growth forest featuring Tumalo Creek and offering  an abundance of beauty. Covering Shevlin Park's nearly 1,000 acres, featured trails include a 6-mile loop along the canyon rim, the 2.5-mile Tumalo Creek Trail which travels upstream eventually joining with the Deschutes National Forest trail system, and the Mountain Bike Trail which also follows the canyon linking to the Forest Service Mrazek Trail. Remember to be kind to other adventurers and respect the park's wildlife.
Tiki drinks on the second-story patio of Rapa Nui are a whole new Bend tradition we highly endorse. This traditional tiki bar has fresh pressed cocktails and Asian-inspired tapas plates that are spectacular, too. Grab a table for indoor dining or enjoy your Tahitian Rum punch with a side of Korean BBQ ribblets on the patio overlooking Bend's Old Mill District.
Bend's newest toy store is home to a selection of beautifully curated and sustainable toys, games and crafts. We're also in love with all the gorgeous books and wall hangings owner Keri Travis has stocked her store with. Located next to Regal Cinemas in the Old Mill District, this is the go-to spot for something special while you're here in Central Oregon.
Spanning from Sunriver to Sisters to Redmond to Prineville and, of course, Bend, cruise through 30 local breweries serving an abundance of award-wining craft beer. Swilling suds soaking in the Central Oregon sunshine and the last bits of summer – does it get any better?
Another experience we love are the casting lessons and fly tying classes at Confluence Fly Shop. Enjoy the scenery along the river while the experts at Confluence Fly Shop teach you how to cast and tie flies. Then laugh about it over a local craft beer at the new indoor-outdoor bar at the shop while planning your next adventure.