Back to All Press Release
Wheel Fun Rentals
Night-Time LED Surreys Light Up Boathouse Row
For Immediate Release – June 6th, 2018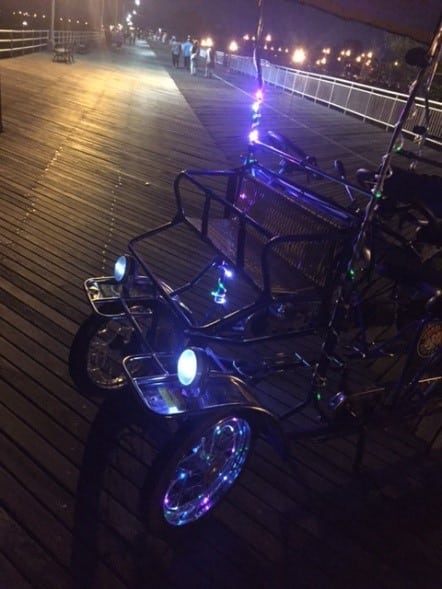 Philadelphia – Just because the sun sets doesn't mean the fun stops. In fact, it's only just begun! When the sun goes down, Wheel Fun Rentals unleashes their night-time Surrey rides! Park visitors will be able to light up Boathouse Row and Fairmount Park with Wheel Fun Rentals' signature cycles throughout the summer. LED lights will be mounted on their Single and Double Surreys every night for an unforgettable night-time cycling experience!
Night rides are available every night from June 8th through September 3, from sunset to 10 p.m. (last rental goes out at 9:00pm). There are no reservations required! Rentals start at just $27 per hour.
During regular operating hours, Wheel Fun Rentals at Boathouse Row offers bicycles, tandem bikes, kids' bikes, and other specialty cycles. Guests can also enjoy a self-guided bike tour of Philadelphia's Old City or of the famous Fairmont Park. Group rental rates and reservations are available for birthdays, private parties, corporate team-building, and other special events. For more information about Night Rides or Wheel Fun Rentals at Boathouse Row, please visit: www.wheelfunrentals.com/boathouse-row
###
Wheel Fun Rentals Media Contact: Sheena Walenta (805) 650-7770
                                                                                                           For Immediate Release: June 6, 2018
About Wheel Fun Rentals
Founded in 1987, Wheel Fun Rentals started with four-wheel Surrey cycles, evolved into specialty bike rentals and bike tours, and now offers recreational rentals of all kinds from more than 100 outlets in 16 states.  Specializing in unique bikes and tours, Wheel Fun Rentals has been offering clean, healthy family fun and affordable outdoor entertainment to more than 2.5 million customers annually from city and state parks, resorts, and retail outlets through corporate locations and franchised territories. For more information about Wheel Fun Rentals please visit www.wheelfunrentals.com or call 805-650-7770. Follow Wheel Fun Rentals: @WheelFunRentalsOfficial on Facebook, @WheelFunRentalsOfficial on Instagram, and @WheelFunRentals on Twitter.