Back to All Press Release
Wheel Fun Rentals
Wheel Fun Rentals is now Open for the Season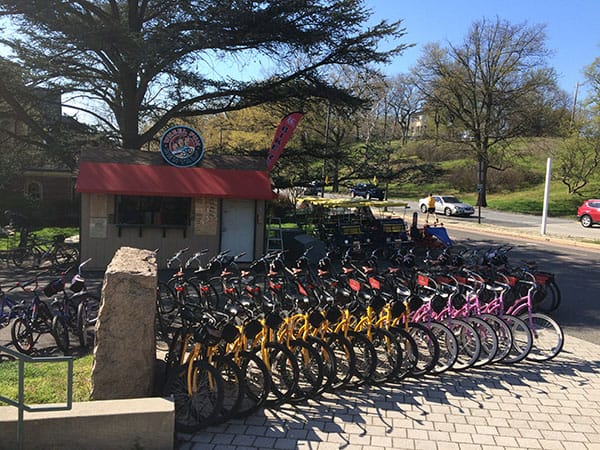 For Immediate Release:
March 22, 2016
Philadelphia – Wheel Fun Rentals is excited to announce it's now open for the season. Chase away any winter blues that may be lurking with two great recreation rental locations to choose from: Boathouse Row, and the Independence Visitor Center (IVC), both open 7 days a week.
Wheel Fun Rentals at Boathouse Row offers bikes and specialty cycle rentals for people of all ages and skill levels, including classic cruiser bikes, hybrid bikes, road bikes, tandem bikes, kids bikes, kid trailers, and a variety of specialty cycles. Specialty cycles include three and four-wheel cycles that anybody can ride, experienced or not. Wheel Fun Rentals' iconic Surrey cycles seat up to 6 people (plus 2 small children in the front basket) and are the perfect way to get outside and explore what Philadelphia has to offer.
"We are so excited to open for the season!" said Sheena Walenta, Marketing Director. "2015 was our most popular year to date. Since we're in the business of providing good, clean, and healthy fun to all Philly residents and visitors alike, we'd also like to announce the inclusion of a new guided bike tour that launches from the Independence Visitor Center! Now that the weather is steadily warming up, it's the perfect time to explore all the hidden gems Philadelphia has to offer."
The guided bike tour is a 2 hour excursion and is great for both beginners and the most experienced bikers. Get an insider's look into The City of Brotherly Love with a knowledgeable tour guide equipped with a state-of-the-art wireless audio communication system! From the beautiful parks and historic buildings to the less traveled neighborhoods and other exciting stops, there's no better way to explore Philadelphia's rich past than on our guided bike tour!
Conveniently located in East Fairmount Park off Kelly Drive, Wheel Fun Rentals at Boathouse Row encourages park exploration with a range of vehicles, from Surreys to cruiser bikes. Feel like a kid again as you achieve low-to-the-ground glory with a Chopper, Quad Sport, or Deuce Coupe. Bike rentals start at $10 an hour. Half-day, full-day, and multi-day rentals are available. For more information, including pricing, visit http://www.wheelfunrentals.com/Locations/Philadelphia or call (215) 232-7778.
For more information on the Guided Bike Tour launching from the Independence Visitor Center, including schedule and pricing, please visit www.philadelphiabiketoursbywheelfun.com or call (805) 650-7770.
Come visit Wheel Fun Rentals for fun that just can't be beat! Extra items free of charge include a bike lock, map of the city, helmet, and tour bag to hold belongings. Don't pass on this opportunity to see Philly like you've never seen it before. Rental products vary by location.
###
About Wheel Fun Rentals
Founded in 1987, Wheel Fun Rentals started with four-wheel Surrey cycles, evolved into specialty bike rentals and bike tours, and now offers recreational rentals of all kinds from more than 100 outlets in 16 states.  Specializing in unique bikes and tours, Wheel Fun Rentals has been offering clean, healthy family fun and affordable outdoor entertainment to more than 2.5 million customers annually from city and state parks, resorts, and retail outlets through corporate locations and franchised territories. For more information about Wheel Fun Rentals please visit www.wheelfunrentals.com or call 805-650-7770. Follow Wheel Fun Rentals: @WheelFunRentalsOfficial on Facebook, @WheelFunRentalsOfficial on Instagram, and @WheelFunRentals on Twitter.