Back to All News
Kloiber Jewelers
Summer Proposal Ideas
Summer may be wedding season, but it's also a time when many couples get engaged. The summer months provide plenty of outdoor opportunities to get down on one knee and ask that special someone to spend the rest of your lives together. If you're not already entirely sure about how you want to ask that ever important question, here are fifteen ideas to get the creativity flowing.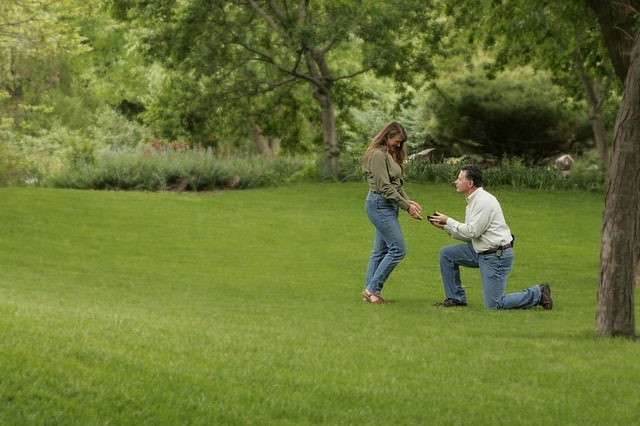 A destination proposal.
Many couples like to plan a romantic getaway in the summertime. Consider making your trip even more special with a marriage proposal.
Rent a pedal boat (or canoe) from Wheel Fun Rentals and take a romantic ride along Veteran's Park lagoon. Just make sure you don't end up accidentally dropping the engagement ring in the water!
A treasure hunt proposal.
Because no one wants to travel all around town when it's cold and snowy, plan a little treasure hunt proposal when the weather is warm and sunny. Select different spots that are meaningful to the both of you and have her collect clues that eventually lead up to you proposing.
A baseball game proposal.
If she's someone who likes big displays of affection, consider proposing during a Brewers game at Miller Park. Coordinate with the video display team to make sure your proposal gets shown on the big screen.
A romantic picnic.
Pack a meal of her favorite foods and take her to Lake Park, Lyons Park, or another one of Milwaukee's gorgeous parks.
A fireworks proposal.
Whether it's the 4th of July or German Fest, create the perfect backdrop of fireworks for your proposal.
A camping proposal.
Perfect for the outdoors enthusiast, propose in the tent or next to the campfire. If roasting marshmallows/creating s'mores is on your agenda, you could always cut an opening into a marshmallow and place the engagement ring in there.
A drive-in theater proposal.
If she's a movie lover, consider taking her to the outdoor theater at Highway 18 in Jefferson. You could place the engagement ring on top of the popcorn or propose during a romantic scene in the movie.
A starlight proposal.
Whether you're viewing the latest meteor shower or searching for all the different constellations, nothing is more romantic than proposing under the stars.
A dinner proposal.
You may be able to go out to dinner anytime throughout the year, but you can only experience Milwaukee's rooftop and patio dining atmosphere for a few months every summer.
A musical proposal.
If she's a jazz lover, consider proposing at one of the Jazz in the Park performances, which occur every Thursday in summer at Cathedral Square Park.
An animal themed proposal.
The perfect place for any animal lover, the Milwaukee County Zoo offers you several memorable opportunities to propose. Whether you decide to propose on the carousel, safari train, or sky safari, she'll always remember her animal-themed proposal.
A hiking proposal.
Mother Nature sure knows how to create the perfect backdrop for your romantic proposal. The Oak Leaf Trail, Riverside Park, and the Milwaukee Rotary Centennial Arboretum are all excellent spots for getting down on one knee and asking that life altering question.
Another musical proposal.
Who says you can't get engaged at a concert? Summerfest provides you with the perfect opportunity to propose during a live performance of one of her favorite musical artists.
A beach proposal.
What could be more romantic than proposing on a Lake Michigan beach at sunset? Just make sure to have someone take your picture while you're proposing!
Any of these ideas combined with a Kloiber Jewelers engagement ring will ensure your summer marriage proposal is absolutely perfect!