Back to All News
Visit Long Beach
Aquatic Adventure: Mix & Match Your Long Beach Vacation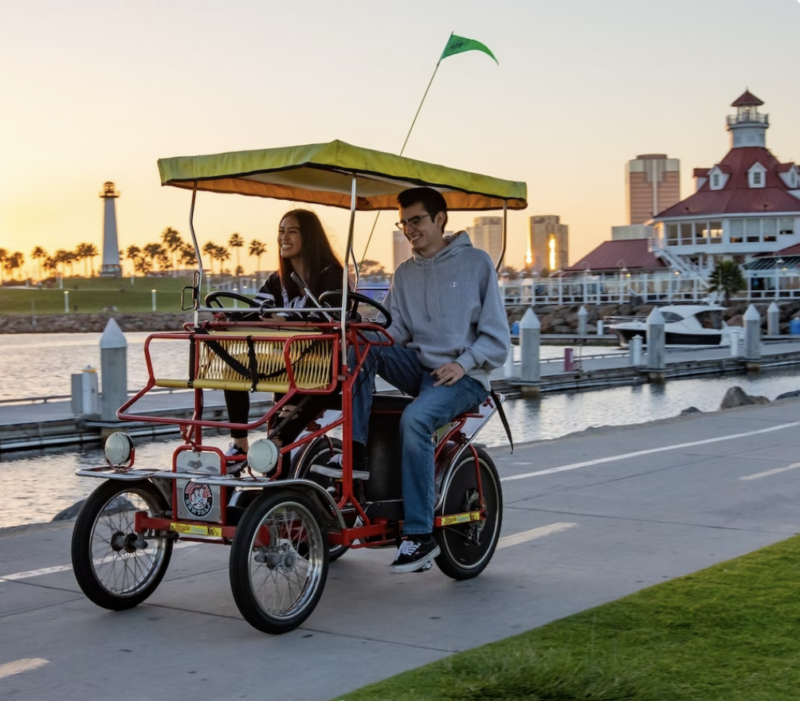 In a world that's 71% H2O, searching for your next waterfront getaway can easily turn into an unending scroll fest. Allow us to save you the time. Where else can you feed penguins, take a gondola ride through Italian-inspired canals, play with your dog on the beach, go whale watching, jet-ski to an island, hike around an idyllic lagoon, and play nearly any watersport you can think of – all in one place? Long Beach, California. With 11 miles of protected waterways, Long Beach is beloved by parents, kids, sports aficionados, and fun-seekers alike as a water-lovers paradise. This summer, if you're looking for a getaway on the water with the whole family, we've got all the tips to plan your next trip. Mix and match these waterfront activities and restaurants to plan a full on trip of fun – and visit our hotels portal to book your stay!
WATERSPORTS
With 11 miles of waterways of varying types – a five mile stretch of the Pacific Ocean, canals, bays, a lagoon, and marine stadium, etc. – it's no wonder that Long Beach is known as a mecca for watersports. In fact, Long Beach is known as something of a factory for Olympic aquatic athletes – think rowing legend Joan Van Blom, for who a local bridge is named after, swimmer Jessica Hardy, and many others.
A south-facing beach makes for mild winds, and the ocean waters are protected by a break wall, making Long Beach a hub for watersports you can't do in most Southern California beach cities. Think parasailing, jet skiing, kayaking, rowing, paddle boarding, sailing – the "long beach" of the city's namesake has it all, with a number of reliable vendors to rent from. If the ocean isn't your scene, try Rainbow Harbor, Alamitos Bay, Marine Stadium, Colorado Lagoon, and the Naples Island canals for watersports on calmer waters.
BICYCLE & PEDESTRIAN BEACH PATH
A more than five-mile long, flat trail runs along the sandy waterfront in Long Beach, welcoming walkers, bikers, and rollerskaters from Belmont Shore to Downtown. With separate paths for those on wheels and those on foot, there's room for lots of fun. If you're looking to get out with a group, be sure to stop by Wheel Fun Rentals at Shoreline Village and rent a surrey!