Back to All Press Release
Wheel Fun Rentals
Wheel Fun Rentals to Expand Shoreline Village Location in Long Beach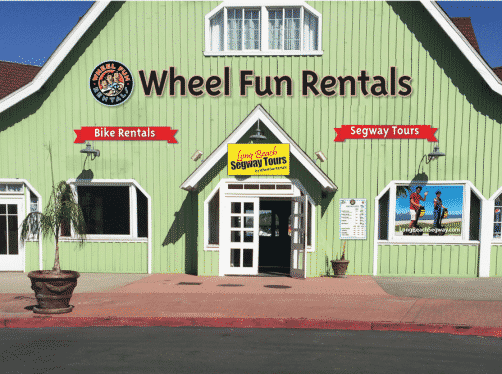 Long Beach, CA – Wheel Fun Rentals will be expanding its existing location at Shoreline Village in Long Beach. The building formerly known as the All American Melodrama Theater and Music Hall will soon be home to Wheel Fun Rentals' unique Surreys and specialty cycles.  In addition to a large variety of bikes, stand ­up paddleboards and Segway tours will also be offered in the near future. Doors officially open at this new location on September 15th, 2014.
"We've been renting specialty cycles in Shoreline Village for over 14 years, but today we are very excited to announce our expansion, allowing us to offer even more recreational vehicles to Long Beach locals and visitors," said Al Stonehouse, President and CEO of Wheel Fun Rentals. "In addition to adding to our existing fleet of bikes and specialty cycles, we will also soon be offering stand up paddleboards and guided Segway tours."
Located at 429 Shoreline Village Drive, Suite G in Long Beach, the former All American Melodrama Theater and Music Hall hosted comedy melodramas, improv shows, and musical concerts from its establishment in 2008 until its closure in 2012. The theater building will give Wheel Fun Rentals a significant increase in floor space, allowing further expansion of their current product variety which includes four-wheel Surrey cycles that seat up to eight people, side-by-side tandem Deuce Coupes, 2-wheel multispeed bikes, and much more. Self-guided bike tours are also available.  The increase in floor space in the new building will not only spearhead the addition of new rental equipment, but also allow for the launch of stand up paddleboards and guided Segway tours.
In conjunction with the move, Wheel Fun Rentals at Shoreline Village will offer new ways to explore Rainbow Harbor and the surrounding area. Long Beach Segway Tours by Wheel Fun are slated to launch early 2015, possibly sooner, and stand up paddleboards will be available for rent in the near future. Stand up paddleboards are a fantastic way to explore the harbor and nearby marina. These unique watercraft are easy to balance, a blast to ride, and provide a fun core and upper body workout. Lifejackets and safety equipment will be included with every rental.
Wheel Fun Rentals at Shoreline Village will be open seven days a week, from 9:00 AM to sunset. See the expansion firsthand at their new location on Monday, September 15th. One-hour rentals start at $12.00 an hour. More adventurous cyclists can take advantage of half-day or full-day rental options. Learn more by visiting Wheel Fun Rentals at Shoreline Village online at wheelfunrentals.com/shoreline.
###
Media Contact: Sheena Walenta 805-650-7770
For Immediate Release: September  11,  2014
About Wheel Fun Rentals
Founded in 1987, Wheel Fun Rentals started with four-wheel Surrey cycles, evolved into specialty bike rentals and bike tours, and now offers recreational rentals of all kinds from more than 100 outlets in 16 states.  Specializing in unique bikes and tours, Wheel Fun Rentals has been offering clean, healthy family fun and affordable outdoor entertainment to more than 2.5 million customers annually from city and state parks, resorts, and retail outlets through corporate locations and franchised territories. For more information about Wheel Fun Rentals please visit www.wheelfunrentals.com or call 805-650-7770. Follow Wheel Fun Rentals: @WheelFunRentalsOfficial on Facebook, @WheelFunRentalsOfficial on Instagram, and @WheelFunRentals on Twitter.