Back to All News
KCET Los Angeles
13 SoCal Open-Air Adventures That Are Off the Beaten Path
13 SoCal Open-Air Adventures That Are Off the Beaten Path by Sandi Hemmerlein for KCET Los Angeles
The year may look a lot different than previous years, but there are still plenty of ways to make the most of your time in Southern California — even if your access to the indoors is restricted.
You may just have to get a little creative — and step out of your comfort zone.
We've learned to pivot to outdoor dining and drive-thru experiences — but it's also time to embrace the wonders of SoCal that are out in the open air.
And I'm not talking about our vast network of hiking trails, many of which have gotten jammed with foot traffic over the last several months, when there hasn't been much else to do around town.
So, if you're feeling short on inspiration — and are looking for outdoor options that go beyond your local park or playground — here's a guide to going off the beaten path with some of the best open-air attractions SoCal has to offer.
Pedal a Boat
You could kill your quads hiking one of SoCal's many mountain peaks — but you could also get a heck of a leg workout by pedaling across our lakes in a rental boat! On Echo Park Lake in Los Angeles, Wheel Fun Rentals offers the chance to ride a larger-than-life swan boat across the historic lake and around its central cascading fountain (installed around the 1984 Olympic Games). Now there is an additional option of pedaling at night, while the swans are lit up in LED. To ensure social distancing, guests must reserve their spot online ahead of time; and they must wear a face covering both at the historic boathouse (circa 1933) and on the boats themselves.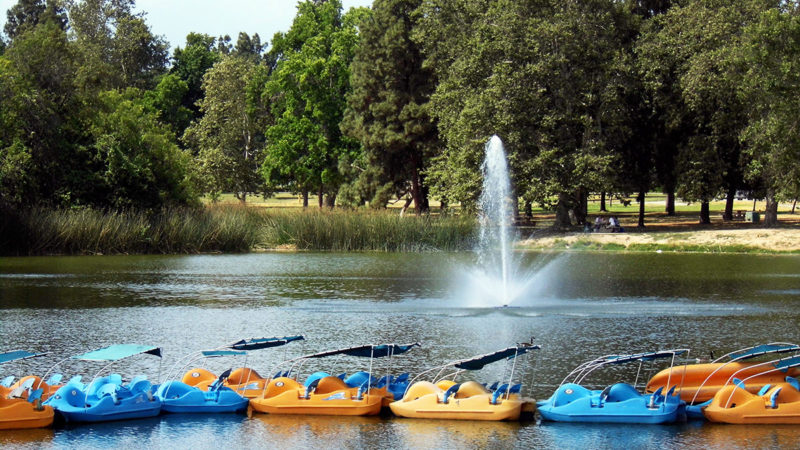 Wheel Fun Rentals has instituted enhanced safety measures at all of its locations — including disinfecting and sanitizing equipment between users and making all transactions touch-less. At Irvine Regional Park in Orange County, you can pedal a water tricycle under O.C. Parks' COVID-19 modified operations; and at Legg Lake at Whittier Narrows Recreation Area in the San Gabriel Valley, you can rent pedal boats for either two or four passengers under L.A. County Parks' COVID-19-modified operations. At both locations, parking may require a fee. Check the Wheel Fun Rentals website to find a location near you.