Back to All News
Mommy Poppins
Families Can Paddle with the Swans at Echo Park Lake
Families Can Paddle with the Swans at Echo Park Lake by Matt Matasci for Mommy Poppins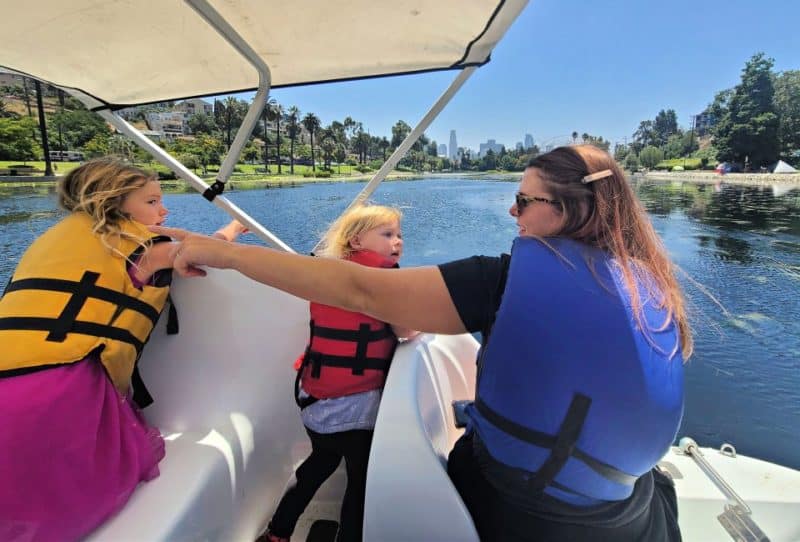 Echo Park Lake's Swan Pedal Boats by Wheel Fun Rentals offer a new and unique activity for the entire family to enjoy together where everyone can turn brains off, decompress, and just have a blast.
Tickets for Swan Boats are timed, limited, and must be purchased in advance, which cuts down on the wait time in line—always a relief for parents of small children in the COVID era (or any time, really!).
Quick note on COVID protocol: The employees were masked and did a great job of social distancing. I'd recommend bringing hand sanitizer and disinfectant wipes, just to be safe. After each swan boat ride, the employees put used life jackets into a bin for sanitization.
When the sun goes down and the downtown skyline starts to shimmer in the distance, the boats are illuminated with glowing LED lights. There's no additional cost for a ride at night, but you will need to plan further in advance because slots are limited and sell out quickly, particularly during the warmer summer months.
Due to COVID-19-related restrictions, a reservation is needed in advance. Normally it's not hard to get one the day of your visit, but it's always better to plan ahead. Children's tickets cost $6 and adults' are $11 for an hour-long ride.