Back to All News
Secret LA
Take A Magical Night Ride On An Illuminated Swan Boat In Echo Park
Take A Magical Night Ride On An Illuminated Swan Boat In Echo Park by Secret Los Angeles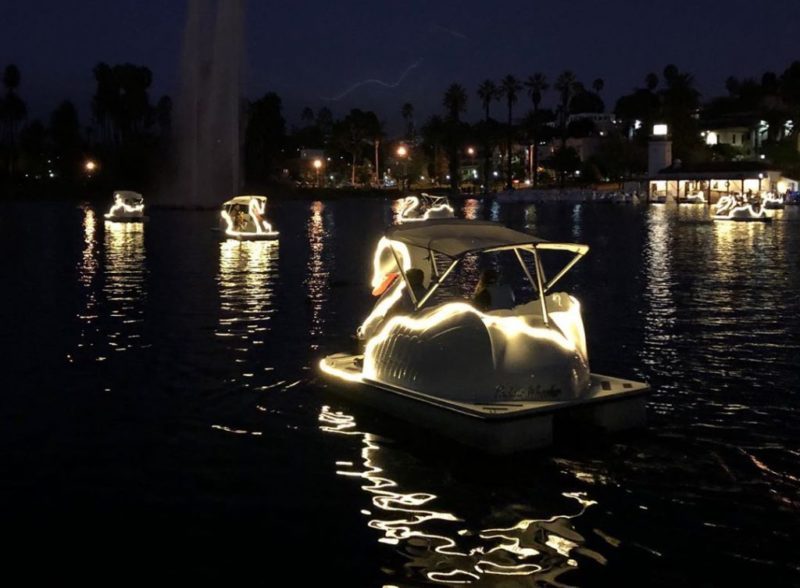 Most Angelenos will either love or hate Echo Park, but it's hard to fault a ride on a swan boat on Echo Park Lake. Pedaling around on spring day surrounded by lush greenery, lotus flower beds and the Downtown skyline in the backdrop is a classic L.A. experience. But on a balmy summer night, the swans are illuminated and the city lights dance across the dark waters turning the lake into a pool shimmering reflections.
Start your evening with a stroll through the park taking in the fresh evening air before going on a twilight swan boat trip. You'll watch the sun sink into the L.A. skyline as you pedal around the fountains and past the Art Deco Lady of the Lake statue. It's the perfect date night spot and even comes with a back seat—for that third wheel who prefers not to pedal. You can complete the magical experience and bring your own drinks and snacks onboard, unless it's alcohol.
It's arguably the best way to see the lake and the perfect way to practice social distancing while having some fun. Due that due to COVID health and safety measures, there are limitations on capacity, so you'll need to make a reservation in advance.
You can book day rides online here. Night ride tickets are $11 per adult and $6 per child (17 years or younger) and you can book them online here.