Back to All Press Release
Wheel Fun Rentals Re-Opening on Jan. 9th 2023 at Lakes Regional Park in Fort Myers
For Immediate Release:
January 6, 2022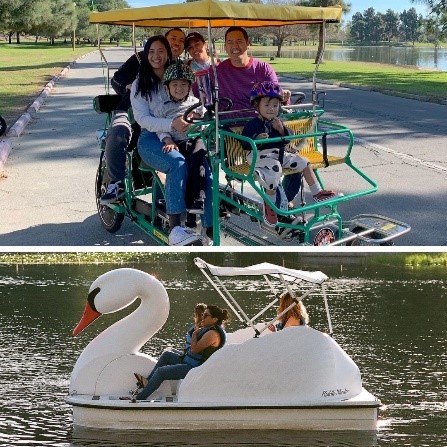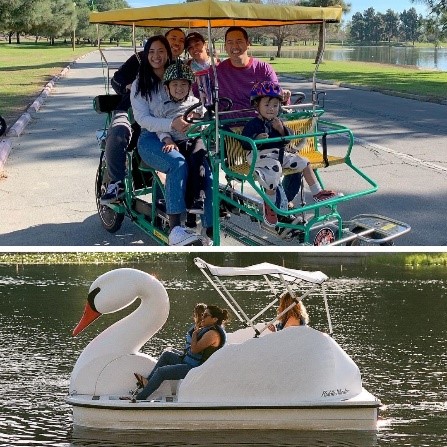 Lee County, FL – Lakes Regional Park will open its gates to the public again on Jan. 9! Activities like bike rentals, boat rentals, the Whistle Stop Ice Cream Shop, Railroad Museum of South Florida, trains, and other attractions will be open again for normal business starting Monday Jan 9th.
The park has been closed to the public while being used for recovery operations since Hurricane Ian made landfall on Sept. 28. FEMA and thousands of contractual workers for the Florida Division of Emergency Management and other responders from all over the United States had been living and working on park property during the last 3 months. Without all of these workers, many community members would still be waiting for help. In addition to the emergency responders, many dedicated Lakes Park staff members, in spite of damage to their own homes, showed up to work every day to restore the park.
Now, Lee County is excited to welcome the community back into the park for recreation and leisure uses. "We are all excited to get to the Farmers Market on Wednesdays, ride a bike, enjoy nature, ride the train and get out on the Lakes in one of the beautiful new Swan paddle boats," Barbara Manzo, President Lakes Park Enrichment Foundation.
The majority of all park amenities will be open starting Jan. 9th. The brand new swan boat rentals are available for rent by the hour and pricing varies starting at $25. Wheel Fun Rentals at Lakes Regional Park is open 7-days-a week and offers a full variety of outdoor recreational rentals including their flagship 4-wheel Surrey cycle, sporty specialty bikes, two-wheel bikes, and more. For full information on available rentals, hours of operation and directions, visit wheelfunrentals.com/ft-myers.
For more information about each park amenity, click the links below:
– Bike and Boat Rentals: wheelfunrentals.com/ft-myers
– Railroad Museum of South Florida and Train Rides: rrmsf.org
– Lakes Park Farmer's Market: facebook.com/LakesParkFarmersMarket
– Lakes Park Enrichment Foundation: lakespark.org/
– Lee County Lakes Park: leegov.com/parks/parks/lakespark
###
Wheel Fun Rentals Media Contact: Scott Ellington• (239) 707-5994 • wheelfunswfl@comcast.net

About Wheel Fun Rentals
Founded in 1987, Wheel Fun Rentals started with four wheel Surrey cycles, evolved into specialty bike rentals and bike tours, and now offers recreational rentals of all kinds from more than 100 outlets in 16 states.  Specializing in unique bikes and tours, Wheel Fun Rentals has been offering clean, healthy family fun and affordable outdoor entertainment to nearly  3 million customers annually from city and state parks, resorts, and retail outlets through corporate locations and franchised territories. For more information about Wheel Fun Rentals please visit www.wheelfunrentals.com or call 805-650-7770. Follow Wheel Fun Rentals: @WheelFunRentalsOfficial on Facebook, @WheelFunRentalsOfficial on Instagram, and @WheelFunRentals on Twitter.