Back to All News
Indy's Child
Where to Canoe and Kayak in Central Indiana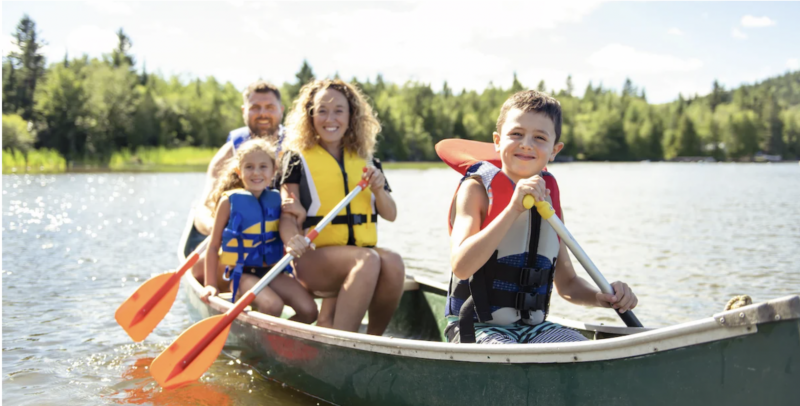 Climbing inside a canoe or kayak paves the way for perfect summer adventures! Exercise, family time, fresh air… what more could you want?
If you're not a family with a kayak or canoe in your vest of sporting goods at home, there are plenty of places around central Indiana that can help. Most boat outfitters offer everything from hourly floats to overnight adventures, so take a peek at this guide for rental spots close to Indy and get your trip planning started.
Please check ahead for updated reservation policies, hours, restrictions and safety precautions at any of these locations.
Where to Canoe and Kayak in Central Indiana
7602 Walnut Point Road
Indianapolis, IN 46254
317-327-7130

Eagle Creek Outfitters and Adventure Outpost offers more than just standard kayaks. Families have the opportunity to rent kayaks, canoes, stand-up paddleboards, paddle boats,  and pontoons! All rentals are offered in 1-, 2-, or 4-hour increments, except pontoons with 2-, 4- or 6-hour increments. Eagle Creek Outfitters takes reservations for group programs. Visit their website to learn more!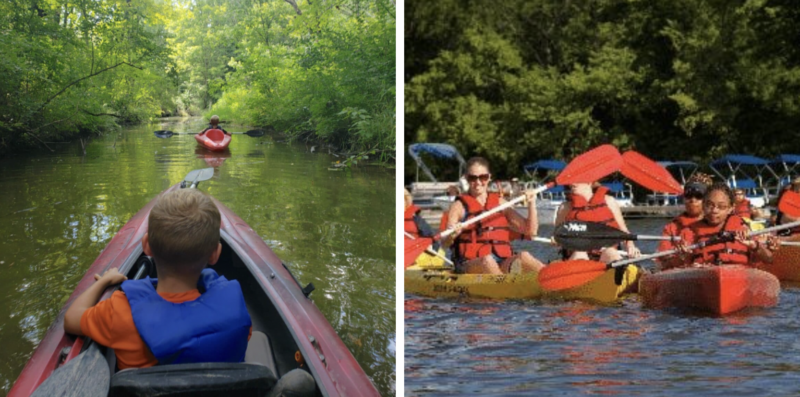 17180 River Avenue
Noblesville, IN 46062
317-867-4233
Based in Noblesville, Indiana, White River Canoe Company is a canoe, kayak, and river tube outfitter serving the White River in Hamilton and Madison counties, from Anderson to Fishers. Be sure to check out their most popular launch point, Our Rusty Oar. The rustic property lies at the tail waters of the low-head dam on the river four miles north of downtown Noblesville.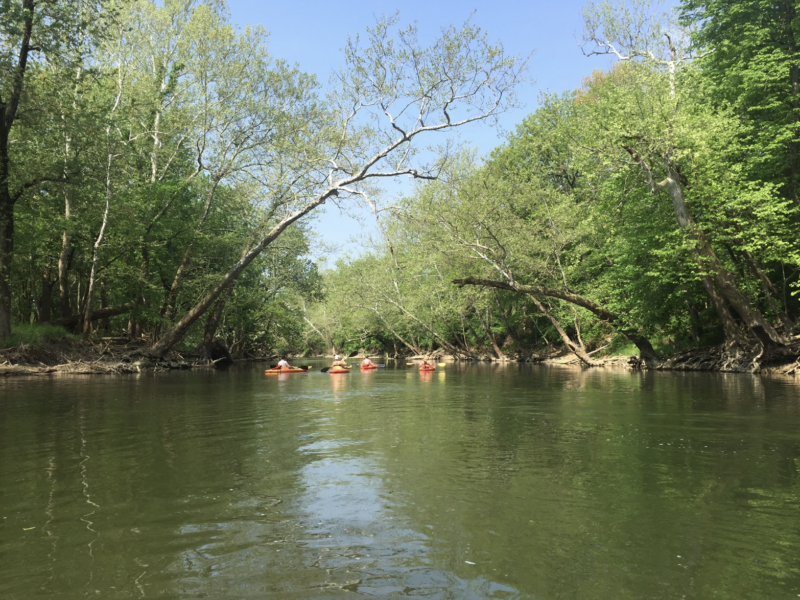 13288 Pennington Road
Fishers, IN
888-830-4531
Saxony Beach offers a calm venue for beginners to try kayaking. Over the summer, single seat kayaks, tandem kayaks, pedal boats, and paddleboard rentals are available every weekend.
1467 E State Road 47
Marshall IN 47859
765-597-2364
Conveniently located near Turkey Run, you can experience it all while drifting through the valley in a canoe or kayak! Come paddle through Turkey Run and Shades State Parks and under 4 historic covered bridges. Stop along the many sandbars to hunt for rocks and fossils. Paddle down the stream that Piankeshaw Indians once called "Pun-go-se-co-ne" or "Water of Many Sugar Trees". Reservations are highly recommended!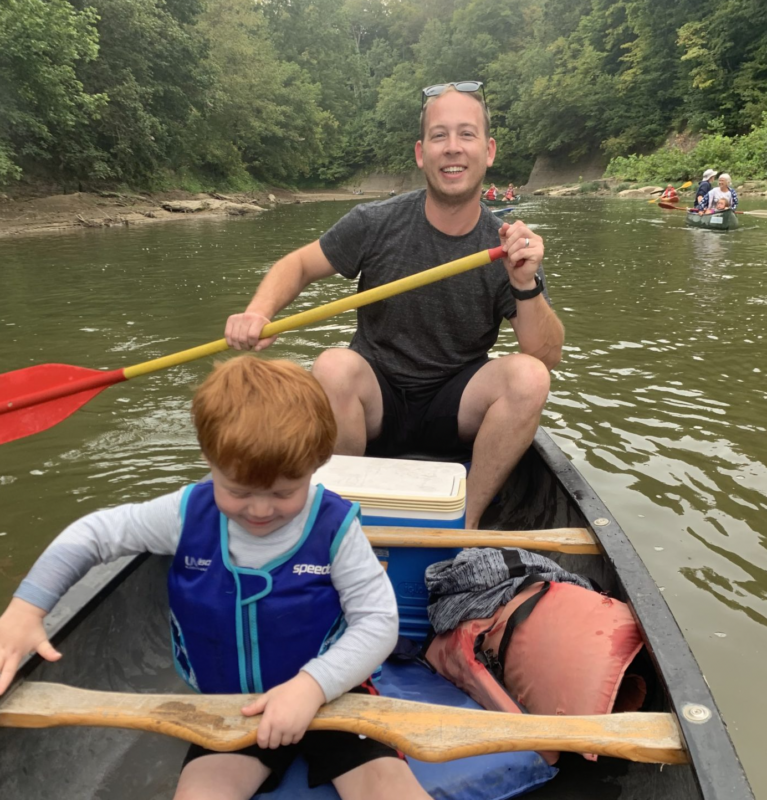 1154 Main St.
Brookville, IN 47012
or
6288 US Hwy 52
Cedar Grove, IN 47016
1-800-634-4277
Whitewater Canoe also features pre-established trips instead of rentals. There are short, half-day, and all-day trips to accommodate all groups and families. Canoeing is the more popular boat of choice and allows kids to ride free in a canoe with two paying adults, but Whitewater also offers kayaks for the trips. Whitewater Canoe Rental also offers trips on Brookville Lake, which is ideal for youth group trips or on days when river levels are too high. Make sure to call in advance to prearrange your river trip, walk-in rentals are not currently available! 
429 W Ohio St Firehouse #13
Indianapolis, IN 46204
317-767-5072
Explore the unique architecture and landscape of downtown Indianapolis in a unique way – on the water! The Canal Walk is a 3-mile loop and is dotted with pedal boats, kayaks, gondolas, and bicycles. Life jackets and instructions are included with every rental, making this a fun and safe adventure for all ages. All rentals available at hourly rates.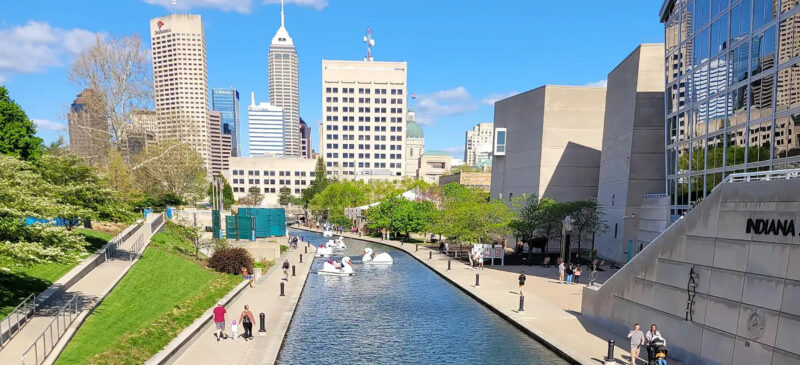 8295 W SR 234
Waveland, IN
765-435-2070
Located on beautiful Sugar Creek, Clements Canoe has a myriad of canoe adventures, ranging from overnight excursions to day trips. Whether you are looking for the excitement of a white water canoe or a relaxing, scenic canoe trip, this is the place for you! The trips are generally recommended for families because you can set your own pace, stop for picnics, and hunt for fossils. Families can rent one person kayaks, two person canoes, single tubes for the half-day adventures, and much more. Reservations are now required and can be made HERE!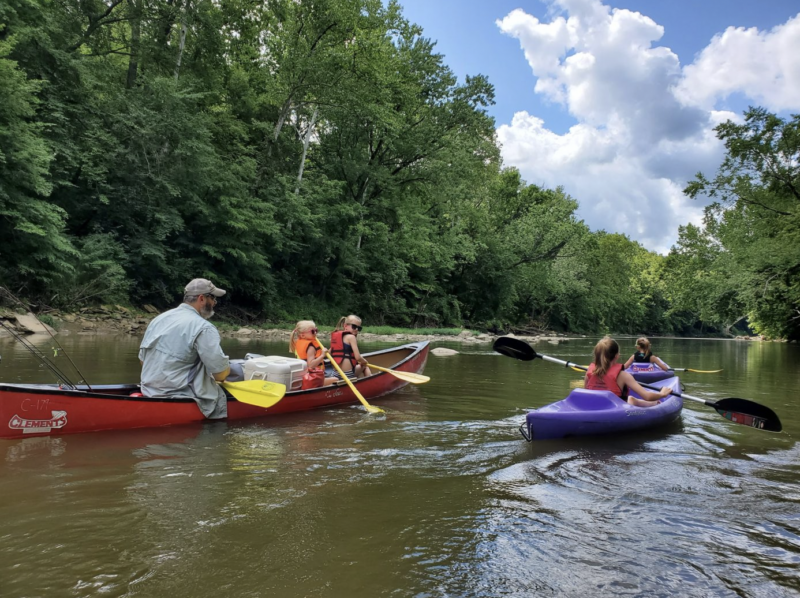 6660 S. County Rd. 900 W
Daleville, Indiana 47334
765-378-7358
Serving the West Fork of the White River, the Canoe County rents out kayaks, tandem kayaks, canoes, and tubes. Renters can select courses that can range from 2 miles to 10+, or simply rent for the day. Group rates also available.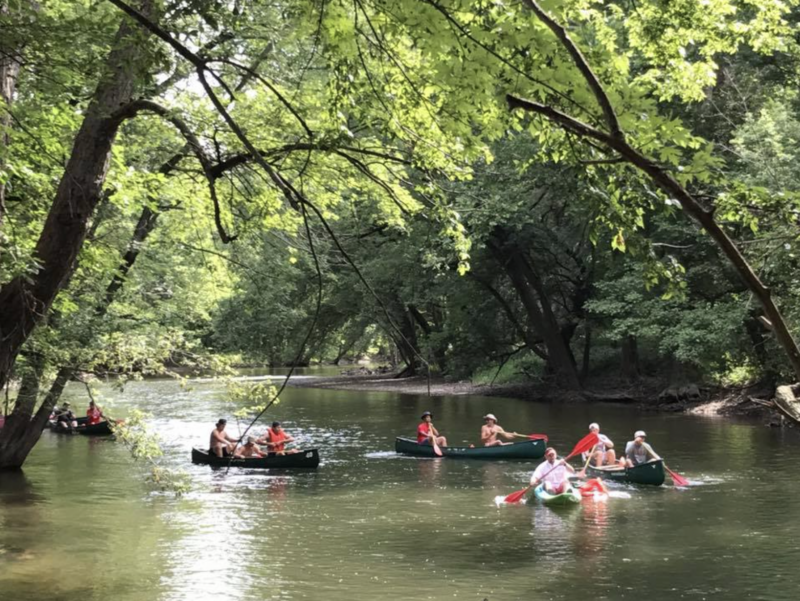 1223 South Raccoon Parkway
Rockville, IN 47872
765-344-1989 

Raccoon Lake offers a bit of everything, making the trip worth it. Families can rent pontoon boats, ski boats, wave runners, kayaks, and paddle boards. There are many different kayaks for public use, including one that carries four passenger and one for fishing. All rentals are based on hourly rates.
6640 N. Old State Rd. 37
Bloomington, Indiana 47408
812-340-0700
Located just about an hour south of Indianapolis in beautiful Brown County, Most High Adventures offers canoe, kayak, and mountain bike rentals and is ready to accommodate you and your family! Guided trips are available and a shuttle service is offered if you bring your own gear. Give them a call to plan your perfect trip!