Back to All Press Release
Wheel Fun Rentals
Wheel Fun Rentals Introduces Guided Kayak Tours on the Canal Walk in Downtown Indianapolis
For Immediate Release:
June 25, 2021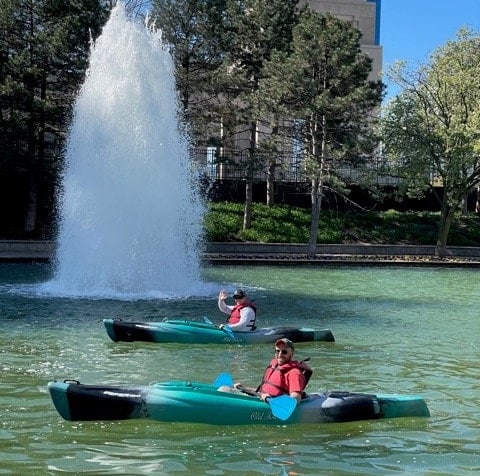 Indianapolis – Wheel Fun Rentals is excited to announce it is now offering Guided Kayak Tours of the Canal Walk in Downtown Indianapolis. Conveniently located on the Canal west of the Indiana State Museum near the corner of West and Ohio Streets, Wheel Fun Rentals now offers locals and visitors a new way to experience the Canal Walk and learn about its rich history.
Guided Kayak Tours of the Canal Walk depart at 6pm every Wednesday from June – September. Reservations are required and can be booked online at wheelfunrentals.com/canal-tour. Each tour is limited to 18 participants, so book early. The cost is $29 per person and is open to those 6 years of age and over. Minors between the ages of 6 and 15 years old must share a double kayak with a parent or guardian 18 years of age or older. Minors 16 years and older may be in their own kayak but must be accompanied on the water by an adult 18 years of age or older.
Visitors on the guided paddle will learn about the Canal Walk's rocky beginning and how a 9-year beautification project, completed in 2001, created the full 3-mile loop that exists today. The tour includes a beautiful historic narrative about the city of Indianapolis and viewings of multiple historic buildings, outdoor art installations, memorials, museums, and more.
"Our pedal boat and kayak rentals have been a popular downtown Indy activity for years," said Marc Dixon, District Manager for Wheel Fun Rentals. "We're thrilled to offer a new guided kayak option that both locals and travelers can enjoy and learn about the Canal Walk's amazing history."
Also available this summer are the popular Sunset Pedal Boat Rides on the Canal every Friday and Saturday night. Once the sun begins to set, the sparkling city lights create an electrifying twilight experience on the Canal that illuminates the stunning Downtown Indianapolis skyline. Sunset rides are perfect for date nights and outings with friends or family.  For more information on Sunset Pedal Boat Rides on the Canal, visit wheelfunrentals.com/canal-sunset-rides.
Kayak and pedal boat rentals at Wheel Fun Rentals on the Canal Walk are available 7 days-a week (weather permitting) from 10am -9pm, Sun – Thurs., and 10am – 10 pm, Fri. and Sat. with the last rental going out one hour prior to closing.  Bike rentals are also available nearby at Wheel Fun Rentals in White River State Park, which offers specialty cycles, 2-wheeled bikes, and kids' bikes! For more information about Wheel Fun Rentals on the Canal Walk and at White River State Park in Indianapolis, visit wheelfunrentals.com/Indy.
###
Media Contact: Marc Dixon  •  (317) 908-8984  •  marc@317outfitters.com
About Wheel Fun Rentals
Founded in 1987, Wheel Fun Rentals started with four wheel Surrey cycles, evolved into specialty bike rentals and bike tours, and now offers recreational rentals of all kinds from more than 100 outlets in 16 states.  Specializing in unique bikes and tours, Wheel Fun Rentals has been offering clean, healthy family fun and affordable outdoor entertainment to nearly 3 million customers annually from city and state parks, resorts, and retail outlets through corporate locations and franchised territories. For more information about Wheel Fun Rentals please visit www.wheelfunrentals.com or call 805-650-7770. Follow Wheel Fun Rentals: @WheelFunRentalsOfficial on Facebook, @WheelFunRentalsOfficial on Instagram, and @WheelFunRentals on Twitter.