Back to All News
Travel Age West
A Guide to Bike Rentals in New Orleans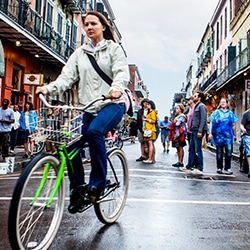 Biking has recently exploded in New Orleans, pushing the Big Easy into various top 20 lists of best U.S. cities for cycling. (Forbes ranked New Orleans as No. 16 in its 2015 "Most Bike-Friendly Cities in the U.S.," and the city landed at No. 19 in Bicycling.com's "The 50 Best Bike Cities of 2016.")
But New Orleans boasted an avid cycling scene long before that, too.
"Even before Hurricane Katrina, the number of people riding bikes to work in New Orleans increased," said Dan Favre, executive director of Bike Easy, a local advocacy group for biking in the city. "It's nearly three times the amount since 2000, and that's really evident by just looking around the streets of New Orleans."
Wheel Fun Rentals
Visitors booking with Wheel Fun Rentals can opt for the approximately three- to four-hour self-guided tour that includes City Park's massive trails, the French Quarter and several local landmarks.
Located in City Park, at Big Lake near the park's main entrance, the company rents out fun bikes such as cruisers, tandems and a double surrey that seats four.