Join us in the evening for
LED-Lit Swan Boat & Surrey Night Rides
The fun doesn't stop when the sun sets – it's just getting started!
Join us for a once-in-a-lifetime illuminated rental experience. We illuminate our iconic swan boats and 4-wheel Surrey cycles with LED lights that add a little after-dark ✨ sparkle✨. Whether you're romancing that special someone or goofing off with friends, it's the perfect opportunity to have some fun after the sun goes down and explore all that beautiful New Orleans City Park has to offer. Illuminated Night Rides are open year round.
HOURLY PRICING: $30 for a Single Surrey; $40 for a Double Surrey; $35 for a Swan Pedal Boat
View location information and get directions >>
No reservations required. Last rental goes out 1 hour prior to close.
✨✨ Night rides are seasonal ✨✨
Click below for night ride availability and hours.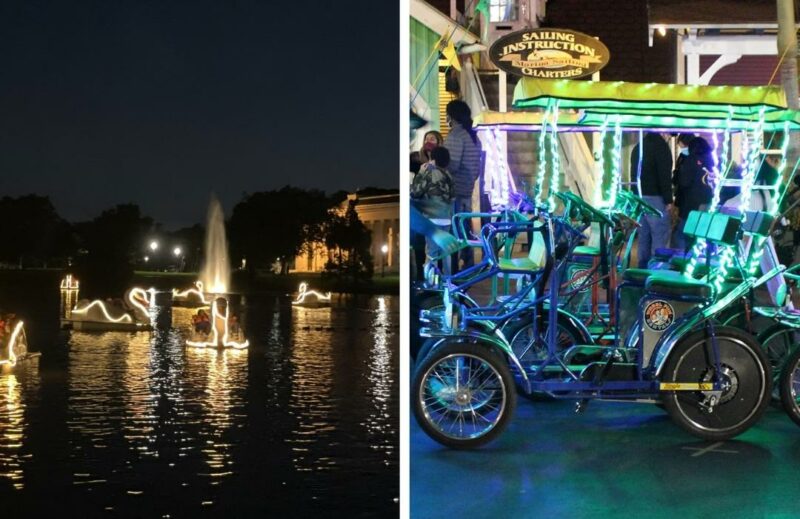 LED Illuminated Swan Boat Night Rides
Pedal your LED Illuminated Swan Pedal Boat across Big Lake for an evening of fun in New Orleans City Park. This once-in-a-lifetime activity is perfect for date nights, family fun or a night our with friends. And on cooler nights, we recommend bringing a blanket or wearing layers to stay warm and comfortable as you take in the night-time magic of New Orleans City Park.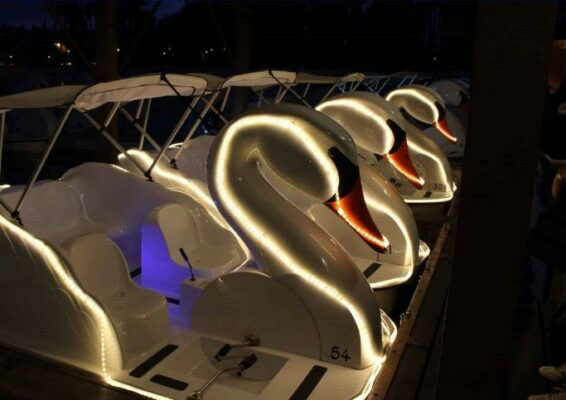 Surrey Night Rides
Explore the park after dark with Wheel Fun Rentals illuminated night-time Surrey rides in New Orleans City Park! Join us after sunset for a once-in-a-lifetime night time Surrey experience. We light up our signature Single and Double Surreys with colored LED lights making for an enchanting ride perfect for a date night or fun with the family!