Back to All News
Brooklyn Spectator
New program allows for bike, Surrey rentals along Shore Road Promenade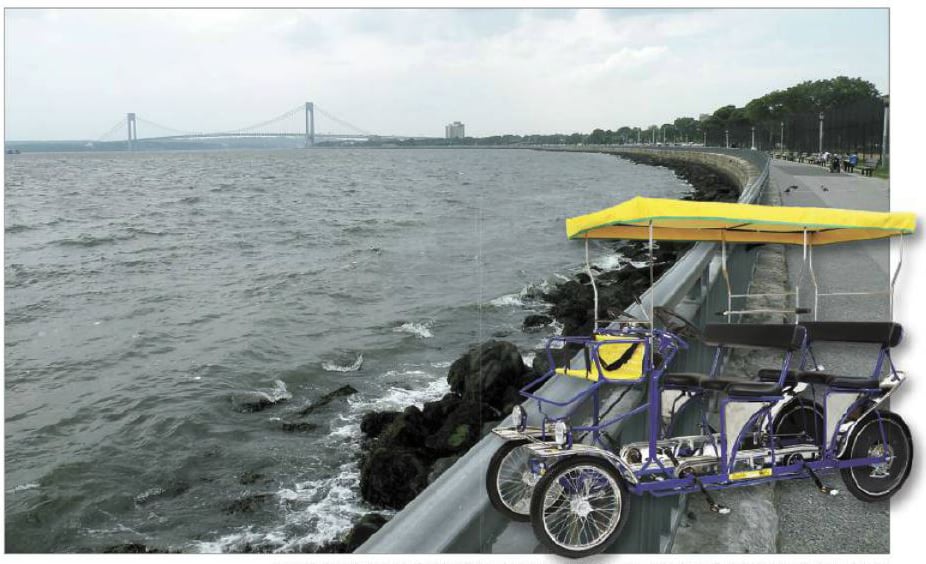 Bike on. Just in time for summer, the New York City Parks Department has partnered with peddle pushers Wheels Fun Rentals to bring rentable cruisers, bikes, and even Surreys to the Shore Road Promenade.
The program – which launched late last month- allows Brooklynites and tourists alike to rent the units by the hour, for a half-day or for a full-day.
Wheels Fun Rentals has three other bases in the borough – one at the Aviator Sports Center, another at the LeFrak Center at Lakeside Prospect Park and a third at Avenue U and East 33rd Street, near the entrance to Marine Park.
The new"Bensonhurst Park" rental center is based at 9000 Bay Parkway, near the Ceasar's Bay Shopping Center, on the northern end of the promenade. Renters can then enjoy their rides either along the promenade or within the boundaries of Bensonhurst Park, which goes from Cropsey Avenue to the water and from Bay Parkway to 21st Avenue.
The addition to the neighborhood and its scenic pathway – which runs from Ceasar's Bay to 68th Street in Bay Ridge, past the Verrazano-Narrows Bridge – has been met with mostly fanfare.
"There have been a lot of people taking advantage and looking like they really enjoy [this program]," noted Community Board 11 District Manager Marnee Elias-Pavia at the panel's June full board meeting, held on Thursday, June 8 at the Bensonhurst Center for Rehabilitation and Healthcare (1740 84th Street), adding that, as of right now, her lone complaint is that she'd like to see the bike's storage unit (now a "bright blue") repainted green to blend in with its surroundings and be "less of an eyesore."
However, in the name of proactivity Ellias-Pavia noted, Board 11 plans meet with Parks later this month to discuss the impact of the service on traffic on the promenade, which consists of just two lanes – one for bikes and another for pedestrians.
"One of the concerns is . .. once the warm weather hits and a lot more people are going to be on the promenade, we need to come up with a plan on how [those visitors and renters] can share the roadway," she said. "So, we're going to be meeting with Parks in the next week or so to have that discussion and see how they're going to address that and see that we have no incidents there. That way, everyone can utilize that space together."
"Parks is happy to partner with Wheels Fun Rentals, offering a wide range of recreational bicycles for rent Bensonhurst Park," said Parks spokesperson Maeri Ferguson.
Rides available for rent at the new base include Surreys, double Surreys, deuce coupes, choppers, quad sports, cruiser bikes, hybrid bikes, tandem bikes, kid's bikes and kid's trailers for attachment to other cycles. Rentals range from $8 to $35-per-hour, $18 to $38-per-half-day and $25 to $45-per-full-day for select rides.
Despite minor backlash on social media (one Facebook user a!Ieged that the rides create "a mess" at Marine Park and that they're only going to do the same for Bensonhurst), some riders were quick to share their positive experiences with the service.
"My husband and I rented one yesterday," noted a rider who went on to call the rentals "a great addition to the bike path." "[I] don't know why everyone is stressing about them[.]"
For more info on the rentals, visit http://wheelfunrentals.com/ny/brooklyn/bensonhurst-park.
Written and originally published by Brooklyn Spectator. Authored by Meaghan McGoldrick.