Back to All News
Brooklyn Daily
Surreys by the Shore: Bike rental opens shop in Bensonhurst Park in Brooklyn
Ride a bicycle built for two — or four or six!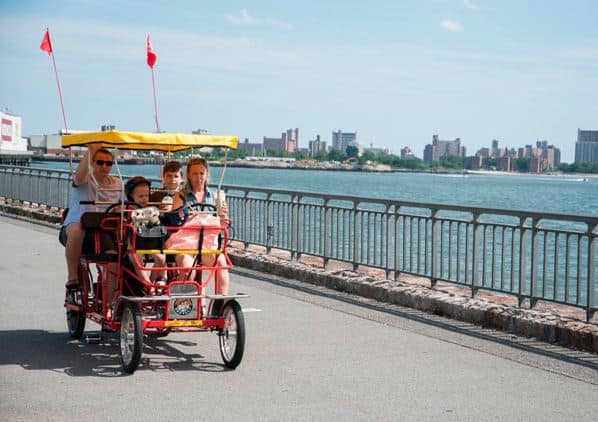 Southern Brooklynites can hop into pedal-driven carriages and toodle along the Shore Parkway promenade with their families at the new Wheel Fun Rentals location in Bensonhurst.
Riders can choose from a traditional pair of wheels to a four-seater Surrey to a three-wheeled chopper that looks more like a souped-up Big Wheel, for hourly, half-day, or full-day outings. It's fun for the whole family, said one Bensonhurster.
"It's a great way to spend the day out with the kids," said Susan Kovac, who spotted the rental booth on a shopping trip to Caesars Bay and decided to test a Surrey out with her husband and two daughters. "I'm always looking for some neat activity for all of us to do as a family, and this is nice because you're getting your exercise while you take in the ocean views. It's a perfect spot for this."
The rental stand set up shop on May 20 just off of Shore and Belt parkways and hawks a range of vehicles great for families, couples, or a solo bike ride.
The four-wheeled cruiser is the ultimate set of wheels for a casual roll along the coast, but for adrenaline junkies, the shop offers a hybrid bike equipped with a lightweight frame and a range of gears to accommodate rugged riders whether it's city street or dirt trails.
Or embrace the side-by-side "Deuce Coupe" the swan boat of bikes with laid back seating great for getting close to a special someone. And there is even an available kid's trailer to safely tow toddlers so everyone can get in on the fun.
But the crown jewel of Wheel Fun Rentals are the Surreys a brightly colored chariot that can fit four or even six depending on which model recreationists spring for.
Hourly rates run the gambit from $8–35 for the various bikes and Surreys with half day rates from $18–38 and full day from $25–45.
Wheel Fun Rentals 9000 Bay Parkway at Shore Parkway in Coney Island, wheelfunrentals.com, (347) 786-2203.
Reach reporter Caroline Spivack at cspivack@cnglocal.com or by calling (718) 260–2523. Follow her on Twitter @carolinespivack.