Back to All Press Release
Wheel Fun Rentals
Wheel Fun Rentals Upgrades Pedal Boat Fleet on North Meadow Lake
For Immediate Release:
June 24, 2022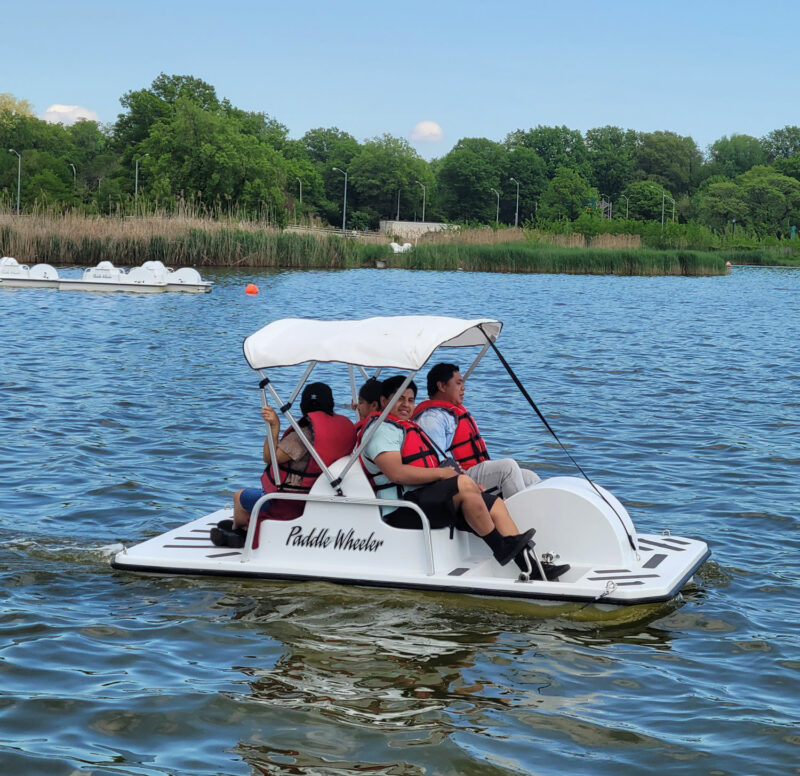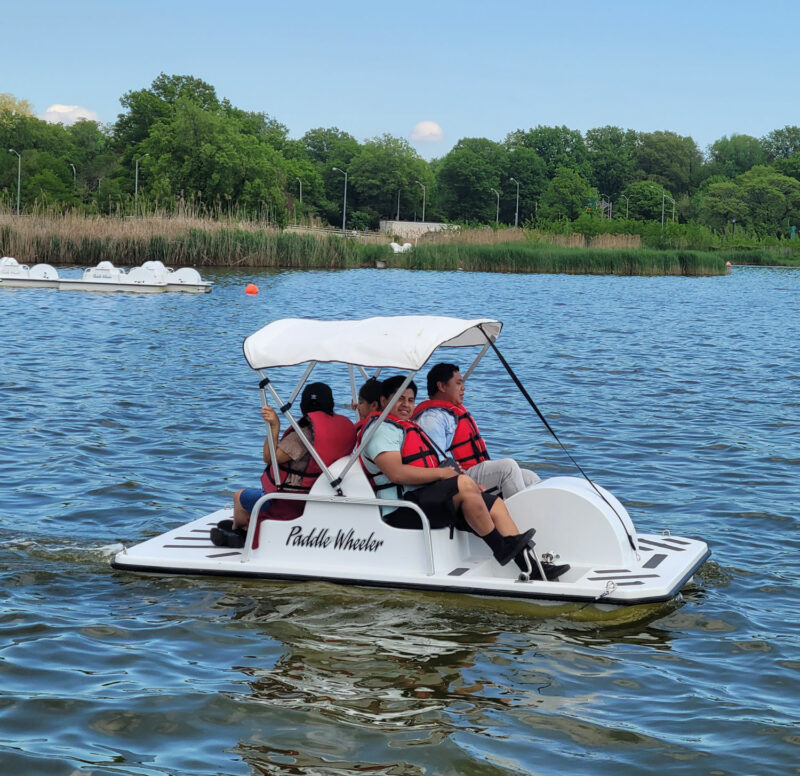 Queens, NY – Wheel Fun Rentals is excited to announce a brand-new, upgraded fleet of pedals boats at their North Meadow Lake bike and boat rental location within Flushing Meadows Corona Park. Wheel Fun Rentals' new pedal boat offering gives boaters a stylish and fun new way to enjoy a day at the park just in time to kick-off summer and are now available for rent!
The entire fleet of boats has been upgraded to new commercial grade boats featuring a stainless-steel paddlewheel for a more efficient pedaling experience. The new pedal boats are also engineered for more comfort and safety with ergonomic upright seats and large pontoons for increased buoyancy making boarding and exiting from the dock much easier. 
"With FUN as our middle name, we like to see people moving, pedaling, and enjoying the great outdoors," said Michael Ullerick, Wheel Fun Rentals' Director of Operations. "Our new pedal boats are an exciting upgrade to our fleet at North Meadow Lake that will allow locals and visitors to enjoy being out on the water even more than before."
Pedal boat rentals are $30 an hour and each boat can seat up to four people and one small lap child making them perfect for any sized family or group outing. The new boats now also come equipped with a Bimini top for sunshade helping guests beat the heat and enjoy a shaded pedal on the water on those hot New York summer days. Guests are also welcome to bring food and drinks aboard the boats in a small soft cooler or bag (No alcohol or large coolers allowed.) Plus, life jackets are included with every rental to ensure a safe, smooth ride. For more information on the bike and boat rentals available within Flushing Meadows Corona Park at North Meadow Lake, visit wheelfunrentals.com/NML.
In addition to the the new pedal boats, Wheel Fun Rentals offers a full range of recreational rental products to enjoy at five New York City locations: two within Flushing Meadows Corona Park on North Meadow Lake and at David Dinkins Circle, at Bensonshurst Park and Marine Park in Brooklyn, and on the FDR Boardwalk at Sand Lane on Staten Island.  Available rentals include the flagship 4-wheel Surrey cycles, sporty recumbent specialty bikes, cruiser bikes, self-guided bike tours, kayaks, stand-up paddleboards, and more.  For additional location information, current hours of operation, and to learn more about Wheel Fun Rentals available recreational rental options, visit wheelfunrentals.com/NYC.
Wheel Fun Rentals has been in the recreation business for over 30 years and has been the official bike and boat rental concessionaire for New York City Parks since 2016. Wheel Fun Rentals continues to operate with enhanced safety measures in 2022. For more information visit wheelfunrentals.com/enhanced-safety.
###
Wheel Fun Rentals Media Contact: Sheena Walenta • (805) 650-7770 • sheena@wheelfunrentals.com
About Wheel Fun Rentals
Founded in 1987, Wheel Fun Rentals started with four wheel Surrey cycles, evolved into specialty bike rentals and bike tours, and now offers recreational rentals of all kinds from more than 100 outlets in 16 states.  Specializing in unique bikes and tours, Wheel Fun Rentals has been offering clean, healthy family fun and affordable outdoor entertainment to nearly 3 million customers annually from city and state parks, resorts, and retail outlets through corporate locations and franchised territories. For more information about Wheel Fun Rentals please visit www.wheelfunrentals.com or call (805) 650-7770. Follow Wheel Fun Rentals: @WheelFunRentalsOfficial on Facebook, @WheelFunRentalsOfficial on Instagram, and @WheelFunRentals on Twitter.