WELCOME! WE'RE GLAD YOU ARE HERE. WE OFFER SAFE OUTDOOR ACTIVITIES FOR ALL AGES. WE CONTINUE TO OPERATE WITH ENHANCED SAFETY MEASURES IN 2022. SEE "CONTACT" PAGE FOR BUSINESS HOURS.
VIEW ENHANCED SAFETY MEASURES
Find out how to
Contact Us
If you have questions about our Brooklyn location at Bensonhurst Park, need assistance, or would like to let us know about your Wheel Fun Rentals experience, we're here to help! You can reach us by phone or email. We look forward to hearing from you!
Wheel Fun Rentals
Bensonhurst Park
9000 Bay Parkway
Brooklyn, New York 11214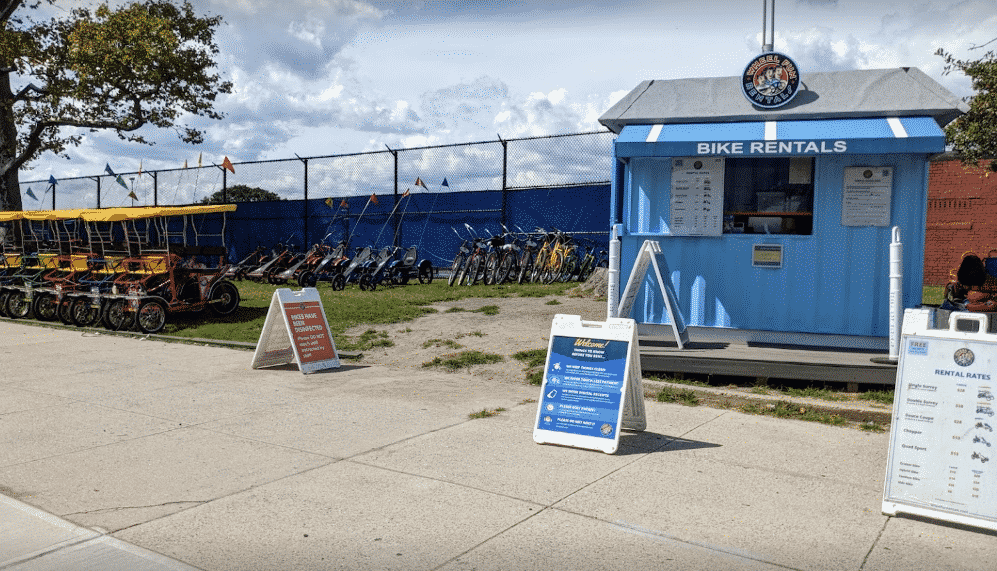 Hours of Operation
---
All hours are weather permitting – 50 °F and above, and dry.
Last rental goes out 1 hour before closing.
Hours

May 21 - Sep 5

Mon – Thur: 9am – Sunset
Last Rental Goes Out at 07:03 pm this Mon – Thurs.

Fri – Sun & Holidays: 9am – 10pm

Night Rides
Fri – Sun & Holidays: Sunset – 10pm
Learn More About Night Rides >

Hours

Sep 6 - Sep 16

Mon – Fri: 10AM – Sunset
Sat, Sun & Holidays: 9AM – Sunset

Hours

Sep 17 - Sep 25

Open 7 Days A Week: 9am – Sunset (Sukkot)

Hours

Sep 26 - Nov 13

Sat, Sun & Holidays: 10AM – Sunset

Hours

Nov 14, 2022 - Mar 24, 2023

Closed for the Season: Come visit us March 25, 2023!

Hours

Mar 25 - Apr 14

Mon – Fri: 11am – Sunset
Sat, Sun & Holidays: 9am – Sunset

Hours

Apr 15 - May 19

Mon – Fri: 10am – Sunset
Sat, Sun & Holidays: 9am – Sunset
We're always looking for passionate, hard-working staff. Apply using our online application or send your resume to: info@wheelfunrentals.com


Share the fun!
Give a Gift Certificate
---
Give the gift of fun! Gift certificates make great gifts for birthdays, graduations, holidays, anniversaries, and more. When you give a Wheel Fun Rentals gift certificate, you're actually giving someone a memorable experience with the people closest to them — an experience that's not only fun now but also memorable for years to come.