Back to All Press Release
Wheel Fun Rentals
Wheel Fun Rentals to Open New Bike and Specialty Cycle Rental Location at Point Ruston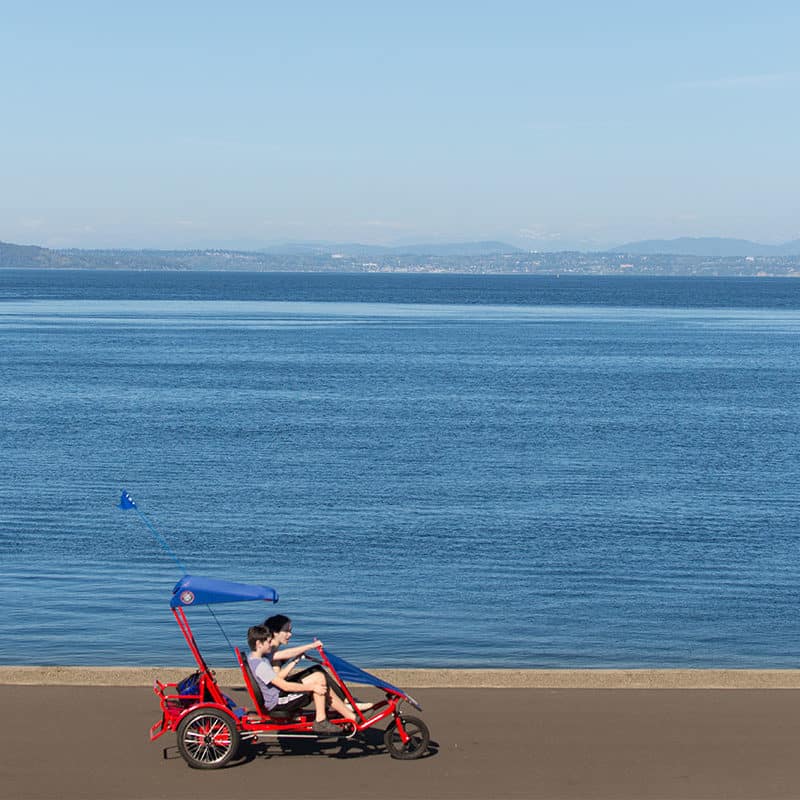 For Immediate Release:
March 21, 2016
Tacoma, WA- Wheel Fun Rentals is pleased to announce a new location is opening at Point Ruston. Located at Tacoma's North End, Wheel Fun Rentals offers the opportunity to rediscover the joys of having some old-fashioned outdoor fun, providing a large selection of two, three, and four wheeled cycles to the Puget Sound's premier waterfront destination. Doors officially open at this brand new location Saturday, March 26, 2016.
Located at 5005 Main Street, Wheel Fun Rentals at Point Ruston offers traditional and unique cycles for the whole family to rent. Take a ride on Wheel Fun Rentals' flagship cycle – the Surrey with your whole family! You'll be able to seat up four adults and two small children on the Single Surrey or up to six adults and two small children in the roomy benches of the Double Surrey. Classic cruiser bikes, tandem bikes, kids bikes, and a variety of three wheeled cycles are also available. Enjoy a casual bike ride along the shores of Puget Sound, or race a low-to-the-ground Deuce Coupe along the gorgeous seven mile bike-friendly Ruston Way Path.
Local operator Tim Sharman is betting this location will be a new favorite activity for Tacoma locals and tourists. "There's something for everyone, no matter what your plans are," echoes Tim. "From day one, we made sure to provide a variety of equipment for cyclists of all ages and skill levels. We like to see everyone moving, laughing, and enjoying the beautiful Pacific Northwest outdoors with their friends and families. Our unique rentals provide the perfect opportunity to have some quality family time away from the television."
Make sure to visit Wheel Fun Rentals at Point Ruston – you'll be a quick ride away from some of the hottest Tacoma attractions like the Point Defiance Park or the Chinese Reconciliation Park! Wheel Fun Rentals is the perfect starting point for any biking adventure you have in mind. Take an hour of free time to get some exercise, pedal on one of the many bike trails, have tons of fun, and see why Tacoma's natural scenery is famous.
Surrey rentals start at $25.00 per hour and cruiser bike rentals are $12.00 per hour. For those feeling a bit more adventurous, half-day and full-day rental options are also available. Extra items free of charge include a bike lock, map of the city, helmet, and tour bag to hold belongings. Don't pass on this opportunity to see Tacoma like you've never seen it before. For more information, including pricing, hours, and more, visit wheelfunrentals.com/point-ruston or call (253) 503-1487.
###
About Wheel Fun Rentals
Founded in 1987, Wheel Fun Rentals started with four-wheel Surrey cycles, evolved into specialty bike rentals and bike tours, and now offers recreational rentals of all kinds from more than 100 outlets in 16 states.  Specializing in unique bikes and tours, Wheel Fun Rentals has been offering clean, healthy family fun and affordable outdoor entertainment to more than 2.5 million customers annually from city and state parks, resorts, and retail outlets through corporate locations and franchised territories. For more information about Wheel Fun Rentals please visit www.wheelfunrentals.com or call 805-650-7770. Follow Wheel Fun Rentals: @WheelFunRentalsOfficial on Facebook, @WheelFunRentalsOfficial on Instagram, and @WheelFunRentals on Twitter.
Wheel Fun Rentals to Open New Bike and Specialty Cycle Rental Location at Point Ruston