Back to All News
Trekkn
4 Things to do in Santa Barbara if You Only Have 24 Hours
4 Things to do in Santa Barbara if You Only Have 24 Hours by Julie of Trekkn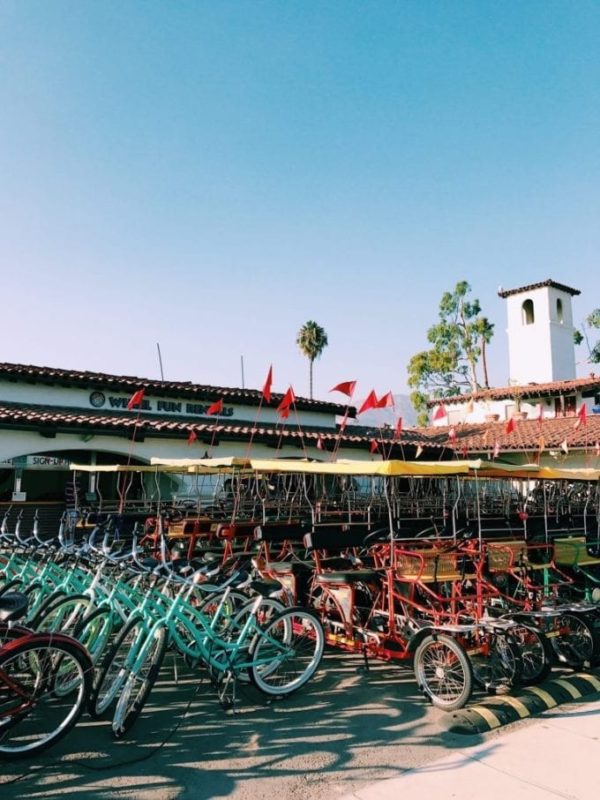 One look at the clean white structures topped with red tile roofs amongst the palm trees and brick walkways, you can see why Santa Barbara is also called the American Riviera. And with the MOXI, the new science and tech museum, the iconic Santa Barbara beaches, and the extensive selection of local wineries, you'll find anything you could want in this perfect vacation spot. One of the most iconic Santa Barbara activities is our four-wheeled Surrey bikes, available at our Wheel Fun Rentals location on Mason Street. One bike can seat up to either four or six people plus two small children, making for an excellent excursion for your entire party!
RENT A SURREY
The most obvious thing to do after wine tasting is rent a bike, right? We rented a Surrey, which is a 4-person bike, from Wheel Fun Rentals. They have a really large selection of surreys, plus mountain bikes, beach cruisers….just to name a few.
So for an hour, we rode along the sidewalks with a view of the beach and boats, stopped to get ice cream and had a really fun time. There was lots of laughter and 'Can I PLEASE drive now?' from our 13-year-old. This is a unique and memorable way to see some of the city.