Back to All News
The Colorado Expression
Under the Sunshine Spell

Take a short flight to Santa Barbara for a wealth of activities suited for everyone
Santa Barbara is filled with architecture of the Mission Revival style derived from the Spanish, such as here at the Mission Rose Gardens.
WITH A CHILL in the Colorado air, you might feel ready to pack a bag and soak up some sun in a warmer climate. Whether you want relaxation, a romantic getaway, fine dining or an adventure-filled experience, a weekend escape to sunny Santa Barbara can provide what you crave.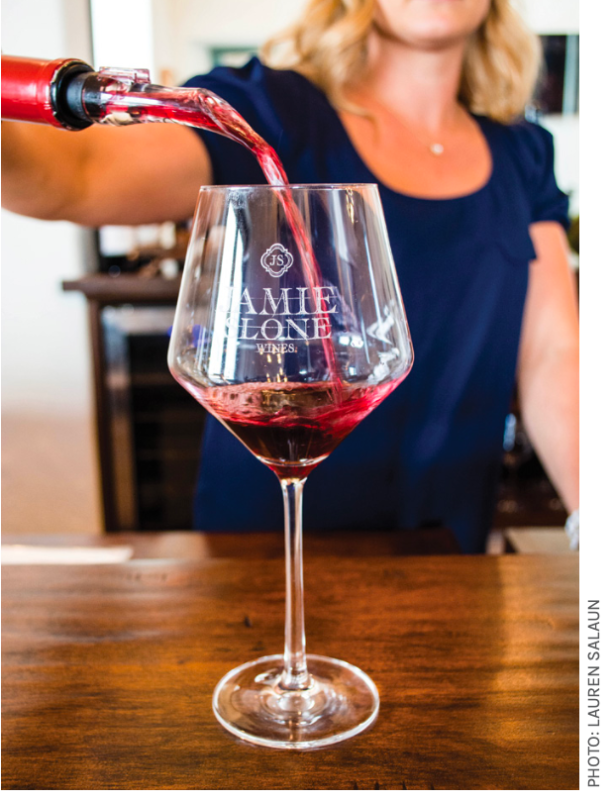 Jamie Sloan is just one of the many tasting rooms of handcrafted 90-plus-point wines available from local vineyards.
When I had the opportunity to take a quick trip to this seaside retreat, my boyfriend and I eagerly packed our bags. With direct flights on both Southwest and United, the quick two-hour flight got us to our destination in no time.
Your trip begins the minute you get off the plane in the quaint Santa Barbara airport, which is surrounded by the Santa Ynez Mountains. The enchanting Mediterranean-style terminal is adorned with colorful tiles, unique lanterns and beautiful Spanish murals. The ease of making your way through the small footprint of the airport gets you to your transportation in a matter of minutes.
A PLACE TO REST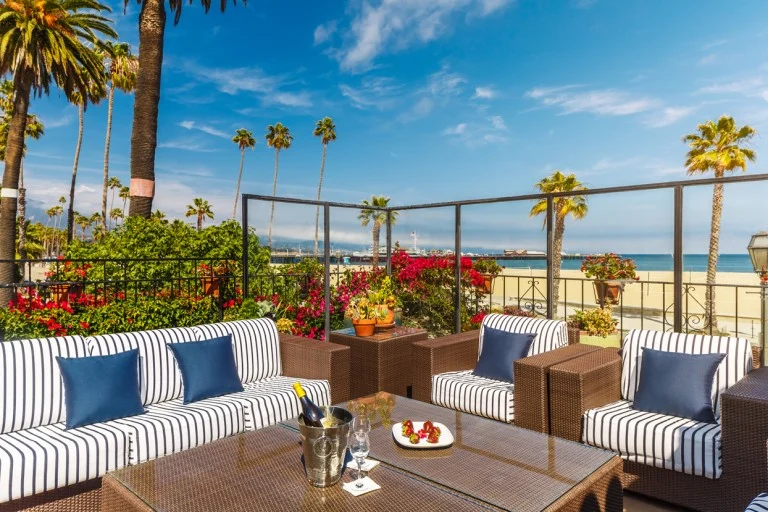 Hotel Milo
Choosing a place to stay won't be hard. If you like an ultra-luxurious experience, opt for the Rosewood Miramar Beach Hotel in nearby Montecito. The estate-style atmosphere, located on one of the most beautiful beaches in Southern California, is both captivating and exclusive. If location is most important, beachy Hotel Milo might suit your needs. Located across from the pier and steps from State Street, this casual hotel is a walkable option for all of your excursions.
TAKE IN THE SIGHTS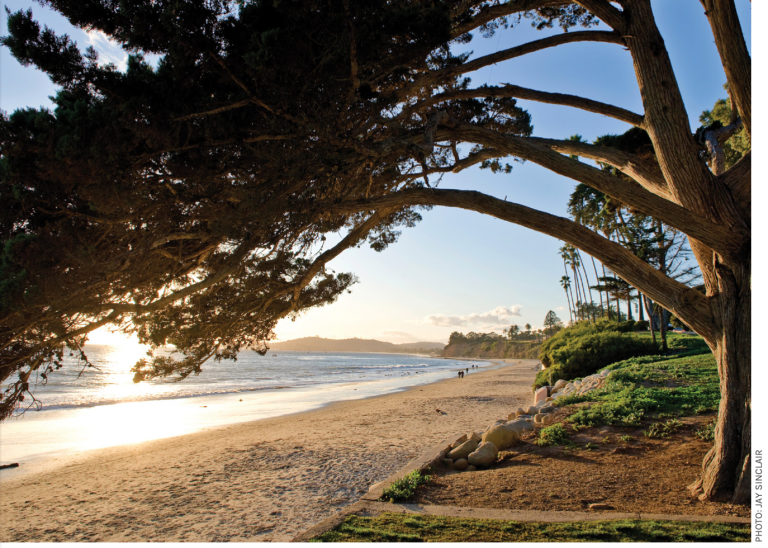 Butterfly Beach, known for its dolphins and millions of butterflies, is a perfect place to watch the sunset.
A great way to get the lay of the land is to rent some bikes from Wheel Fun Rentals and meander down the coast. With expansive views of the Pacific and breathtaking mountains soaring above, the bike-friendly path is a safe and easy way to explore. Wind your way from downtown Santa Barbara, along Butterfly Beach, to the picturesque community of Montecito. For an unforgettable sight, keep an eye out for a beautiful pod of dolphins jumping along the shore.
DINING IN SANTA BARBARA
Dubbed the American Riviera, Santa Barbara has top-notch culinary options that you'll definitely want to explore. Start your day at one of many local coffee shops or bakeries. Goat Tree became a favorite during our stay. We enjoyed the al-fresco dining with cold-pressed juices and velvety espresso lattes.
Hands down, our favorite neighborhood go-to was Alessia Patisserie & Cafe. This foodie hot spot marries European pastry techniques with locally sourced ingredients to produce beautiful and delicious displays of mouth-watering goodies. Not only was my avocado toast one of the most elegant presentations I have ever seen, it was also both delicious and fresh. We couldn't decide on just one pastry, so we decided to take an assortment home with us to sample throughout the day.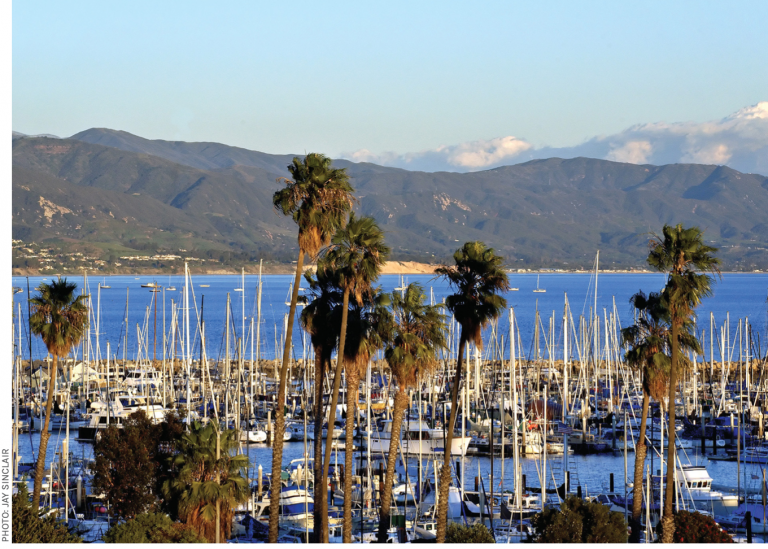 Santa Barbara Harbor with the Santa Ynez Mountains in the background.
For a truly local experience, plan ahead with a dinner reservation at La Paloma Café. The menu celebrates the cuisine of the Californios, early California settlers who incorporated Spanish and Mexican influences into meals cooked with indigenous ingredients over fire. The food is delicious but the service was not to be outdone. The staff went above and beyond with recommendations, attention to detail and true customer care.
TRULY REJUVENATING SPA TIME
My favorite weekend experience was at the Salt Cave on State Street in downtown Santa Barbara. Salt features the largest Himalayan salt cave in North America. Two serene and beautiful salt caves in the spa are crafted from 45 tons of 250 million-year-old Himalayan crystal salt—the most pristine and unpolluted salt on earth. The air in the cave is saturated with micro-particles of salt that can be easily absorbed through the skin and deep into the lungs, which is known to be a natural and effective way to improve respiratory health. You can simply meditate in the holistic space or opt for a spa treatment for the ultimate relaxing experience. From salt scrubs to facials and massages, each treatment is offered in a serene, ionic treatment room for added therapeutic benefits and revitalization.
THE ULTIMATE SUNSET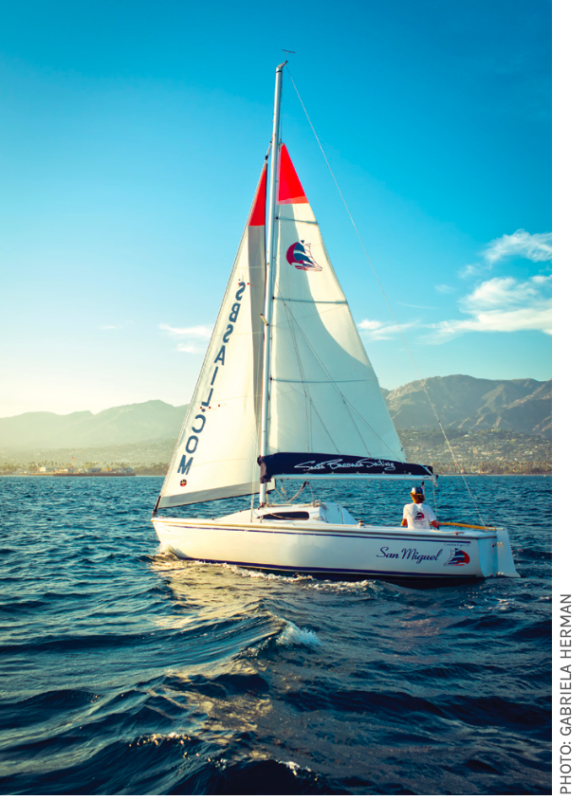 Top off your beach getaway with a sunset sail aboard the Double Dolphin with Santa Barbara Sailing Center. Our two-hour cruise offered stunning views of the San Ynez Mountains and the Channel Islands in the distance. We watched sea lions sunning on the buoys and coastal birds flying above. With a glass of champagne in hand, we watched the sun sink slowly below the horizon and came away with some Instagram-worthy photos and priceless memories.
Our Santa Barbara getaway was the perfect chance to soak up some sun and explore one of the most charming seaside towns in Southern California. Exquisite cuisine, panoramic views and tranquil relaxation will surely bring us back soon.
Read the Full Article here >> coloradoexpression.com